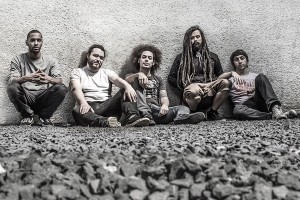 UK's MONUMENTS bring new life to the progressive metal scene. They push the envelope with complex instrumental metal grooves and are the fourth band to be announced on the Soundwave Festival 2015 line-up.
Now with Chris Barretto (ex-Periphery, Ever Forthright) on vocals, they have forged their own path staying ahead of the pack with their mind-bendingly progressive tech-metal artisanship. From a surprise appearance on BBC Radio 1 to countless international tours with bands such as Periphery, Tesseract, Born of Osiris and Protest the Hero to name a few, MONUMENTS earned a spot at Donnington Park's historic DOWNLOAD FESTIVAL 2014 alongside Aerosmith, Avenged Sevenfold and Linkin Park.
 "Monuments are stellar." – Post Blog As
"The mosh pit exploded almost immediately and they kept the crowd jumping for the whole set." –      The Circle Pit
"Chris Barretto's inclusion has taken Monuments to the next level. Luckily, for us, the next level kicks ass." – This Is Not A Scene
Expect to witness the brilliance of MONUMENTS at Soundwave Festival 2015.
__________________________________________________________________________
SOUNDWAVE FESTIVAL DATES
SATURDAY 21 FEBRUARY & SUNDAY 22 FEBRUARY, 2015
BONYTHON PARK, ADELAIDE
SATURDAY 21 FEBRUARY & SUNDAY 22 FEBRUARY, 2015
FLEMINGTON RACECOURSE, MELBOURNE
SATURDAY 28 FEBRUARY & SUNDAY 1 MARCH, 2015
OLYMPIC PARK, SYDNEY
SATURDAY 28 FEBRUARY & SUNDAY 1 MARCH, 2015
BRISBANE SHOWGROUNDS, BRISBANE