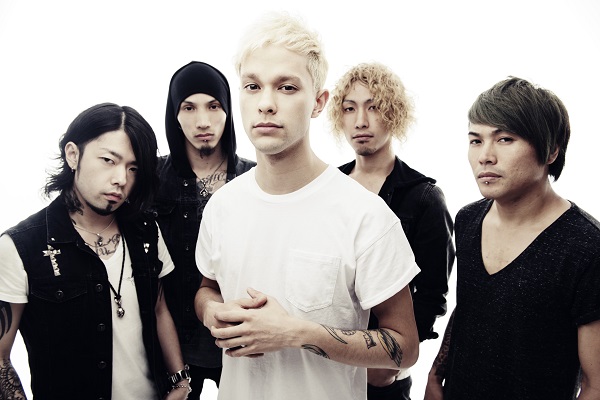 "…we're ready for anything that comes and I think the hardest part is that there was never a big scene in Japan, there wasn't a lot of people that listened to a Japanese band that only sang in English, so there was a little bit of those kind of bumps but I think everything we've done over the years has added to our growth so it's been cool"
From Tour Release: Nagoya rockers COLDRAIN have already made their mark in becoming a household name in their home country Japan and after building their international footprint with their blistering live show, we are thrilled to announce COLDRAIN on the Soundwave Festival 2015 line-up ahead of their debut international album, The Revelation out August 8 through Sony Music Australia. After already conquering Japan, COLDRAIN have set their sights on the rest of the world with their massive riffs, brutal breakdowns and their energetic, high-energy live show.
In Tokyo, Japan we chatted to Masato of coldrain about their upcoming appearance at Soundwave as well as their new international debut album 'The Revelation' which is well worth a listen! These guys are awesome
First things first, you were the first official band announced for Soundwave 2015, how pumped are you to be heading to Australia to play the festival?
It's crazy, we didn't know about the announcement until it happened and we're as shocked and surprised as everyone else is. We're so stoked to be playing the tour, definitely.
Have you heard much about Soundwave from any other bands that have played it before?
We're good friends with Crossfaith, they played main stage a year or two ago and they've always bragged about it, so we can't wait to play.
So talk us through a typical coldrain show, what can people expect should they come see you play?
A lot of head banging, a lot of crowd surfing I guess, a lot of jumping, mostly a lot of singing… I love it when people sing with us, so we'll try to bring all the energy with us.
What are you most looking forward to about coming to Australia?
People say the weather is amazing, definitely the country, I'm all for trying out new foods and meeting people, it's going to be the first time I've ever been there even to visit and I can't wait.
Obviously you can't tell me, but surely you'll have some mates you can hang out with around Australia on the tour?
*laughs* We don't know yet… but I know there's gonna be people we know and people we wished we know too… but it's definitely going to be a good time and I know there's going to be an amazing line up already.
You're also just about to release your international debut album 'The Revelation' in Australia so if you had to give us one word to describe the album, what would it be?
I think it's 'diverse' we have a lot of tracks that go heavy, there's tracks that go really melodic, it has all of the styles we've put in throughout the years in it, so I think it's the perfect first record to be releasing worldwide.
I love that there's actually a lot of tracks on it too, sixteen tracks is a great debut…
Yeah, we added six new tracks that we just recorded and released as an EP in June in Japan, so ten songs are a year old but the six are brand new, so that happened.
The title also, what does 'The Revelation' represent to you?
When we recorded the tracks and we were writing the album, it was a fresh start for us and for me personally and as a band we wanted to find something new in our band, as we were at a time we had done it for six years and we were kind of in a block, but when we came along to writing the songs and writing that word, it just felt right for it to be the title and to bring something out inside of us that was never seen and it just felt right.
When you know you're releasing an album the world is going to hear, how hard is putting it together to get it the way you wanted to for an introduction of the band to the world?
When you're writing the songs and thinking about the tracks I guess we always think about like when we recorded this one we always think about how the world will react to it but when it comes down to it it's what feels right to yourselves and if you can't love the tracks no one else is going to. So it's always interesting seeing how people react to it but it's always about how it feels right to the five guys in the band I guess.
You've been a band since 2007, what has been the biggest challenge you've had to face in the last seven years to get to where you are today?
I think for us when we started out we were never good at playing our instruments and I was never good as singing, I mean we grew along the years even after we debuted and were releasing records in Japan, so I think the Japanese fans have seen us grow throughout the years and I think it's cool as we're coming out at the right time as a band in the world, we're ready for anything that comes and I think the hardest part is that there was never a big scene in Japan, there wasn't a lot of people that listened to a Japanese band that only sang in English, so there was a little bit of those kind of bumps but I think everything we've done over the years has added to our growth so it's been cool.
I was going to ask about the Japanese scene of Metal, has the scene grown enough now with bands like yourselves and Crossfaith that are getting more exposure worldwide?
There's definitely bands that are getting more exposure, more bands that are getting signed to record companies, but it's still a small scene, I don't think there's a lot of bands that are actually metal bands that are in the scene. I think it's the younger kids, the next Crossfaith, the next coldrain is going to be what makes the newer scene I think, but it's going to be cool to see how this happens after we do this for a couple of years and Crossfaith do it for a couple of years we're going to see more and more bands come out wanting to do worldwide releases, more than we ever did, so I think it's still a start, and it's still going to grow from here. It's definitely cool to be one of the first in this scene.
You guys have been playing some killer shows and festivals around the world, has there been a stand out moment for you so far you've experienced?
Yeah the tour we did with Bullet (For My Valentine) in February was amazing, it was our first time in Europe and we got to play in front of a thousand, fifteen hundred, two thousand capacities of people, it's been crazy but I think to me one of the biggest highlights was when we played Rock Am Ring this June. It's one of those festivals I always watched on television and then to be standing at that festival and people cheering our name, it was crazy, it was surreal definitely.
Well wait for Soundwave, mate, it can only get better…
*laughs* I hope so…
In terms of touring, what does the rest of 2014 have in store for the band?
We have a Japanese tour, I think at the end of the year we're hoping to go to Europe, the US, somewhere around there. So we're still gonna keep busy… but the more that anyone brings on we're up to do it.
Let's try and predict the future, so finish this sentence for me, by the end of 2014, coldrain will…
Be known worldwide… hope so… *laughs*
Lastly, do you have a message for Australia?
I hope everyone picks up the new record, and we can't wait to see everyone at Soundwave.
Catch coldrain as part of Soundwave 2015 at the following dates:
SATURDAY 21 FEBRUARY & SUNDAY 22 FEBRUARY, 2015
BONYTHON PARK, ADELAIDE
SATURDAY 21 FEBRUARY & SUNDAY 22 FEBRUARY, 2015
FLEMINGTON RACECOURSE, MELBOURNE
SATURDAY 28 FEBRUARY & SUNDAY 1 MARCH, 2015
OLYMPIC PARK, SYDNEY
SATURDAY 28 FEBRUARY & SUNDAY 1 MARCH, 2015
BRISBANE SHOWGROUNDS, BRISBANE
Essential Information
From: Nagoya, Japan
Band members: Masato – Singing & Screaming, Y.K.C – Lead Guitars, Sugi – Rhythm Guitars & Vocals, RxYxO – Bass & Vocals, Katsuma – Drums
Website: http://www.coldrain.jp
Latest release: The Revelation (Out Now – Sony Music Australia)