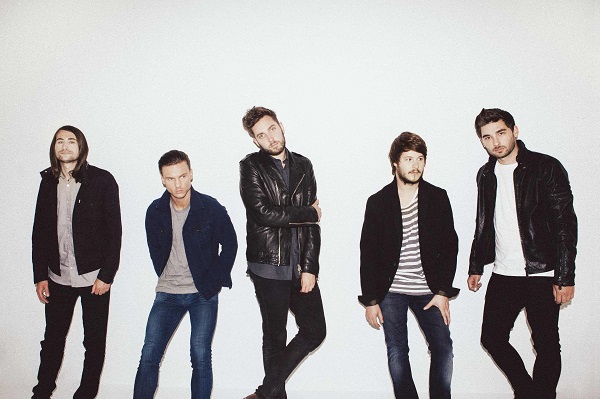 "I feel very lucky that I'm in a band that next year will be our ten years from when we first started kicking about at school and I don't think many people around us would've envisioned that ten years later, but also putting out records that are getting to number one."
From Release: YOU ME AT SIX are hailed as leaders of Britain's new rock by everyone from Radio 1 to Q Magazine and The Times. From their infamous sold out show at London's Wembley Arena to upcoming appearances at Reading and Leeds Festival, these lads are no stranger to bringing their absolute 'A' game to any stage around the globe. To top off a dizzying past 12 months YOU ME AT SIX have also scored their first ever UK Number One Album debut with their latest record, Cavalier Youth.…
In his flat in London just doing what people do, we chatted to Josh of YMAS about the upcoming Australian tour, arena songs, great memories and more…
We're here today because you're of course heading back to Australia for some shows, with 'Cavalier Youth' out now, what can we expect set wise at the upcoming shows?
Well I think it will be quite a nice mix of 'Hold Me Down', 'Sinners Never Sleep', 'Cavalier Youth' and maybe one or two songs off the record 'Take Off Your Colours', but ultimately I think this is our sixth time coming back to Australia I think, and last time we came was with Paramore we only got a forty five minute set and we'll be playing for almost double that, hopefully. So I'm really hoping we'll just get a chance to play a lot of songs and like most You Me At Six shows we've done, it will contain a lot of energy and a real good time for the audience, and we've got our good friends Tonight Alive who are home grown talent who can definitely hold their own in a live set, so as a package it's not too bad I think, it'll be a great tour we're looking forward to it.
As you said, these shows are with your mates in Tonight Alive and such a good pairing, so how much mischief is this tour destined to get up to?
Well we'll be on Australian turf, so I am a little bit concerned about where they might end up taking us on nights out or whatever, but as you said they're a great band and they're good friends and we have a good laugh with them and I'm just looking forward to being in their company and taking over the country with them.
We of course saw you here last with Paramore, and you guys looked to win over a lot new fans. How was that tour for you guys?
It was crazy, we'd actually just come off from being right through November and December doing arena tours in the UK with Thirty Seconds To Mars, so I felt that when the opportunity came up for the Australian tour in January, I felt that we were quite well practiced in playing in arenas because we'd done about twenty in the last month with Thirty Seconds. So when it came to Paramore we came in quite hard and to try and win over as many people as we could. I think though what was a real relief about that Paramore tour was that it felt like there were still a lot of people that knew about us, and that was exciting to see, it was cool.
What I loved about your show was when you played 'Crash' a huge power ballad arena type song, do you write some songs specifically with the live show in mind?
Yeah definitely I would actually say that was a recurring theme throughout the making of 'Cavalier Youth' we were writing songs and if we aspired to be filling arenas not only in England but all over the world one day that we need to write music that deserves to be there, and whether or not we achieve that is a perception kind of thing and up to the individual. I mean we definitely tried to work at that and you get a song like 'Crash' or on our new record 'Wild Ones' there are those sorts of moments in the show that suits our setting, so we always try and just make the best music we can with the skill that we have and the message behind our song writing. Like I said, yes on 'Cavalier Youth' there was a lot of talking saying 'is this good and will this sell out an arena in London purely based on this record, if not, let's keep working and re-take that vocal. A lot of the times we'd be recording the song and we'd say 'do you want to keep that take?' or 'you can sing that better' and it's good that we can do that, because it shows a total collaborative effort between the five of us and in this case with Neil Avron directing us.
How are the Australian fans compared to those around the world?
The fans are sort of indicative about what Australia's like. Australians are renowned for being a bit wild, a bit crazy, whether it be surfing, or whatever, but I always think that mentality of just wanting to have a good time and live the good life always comes through in the crowd, and I don't know if that's a strange thing to say or not, but that's one of the main reasons I love coming to Australia is that kind of optimism, but then you get in the show and they're some of the craziest shows I've seen.
'Cavalier Youth' was your biggest debut for one of your albums, how does it feel as you watch things like that happen?
I think it came in the top fifteen in Australia in the ARIA charts, that was pretty awesome for us, and in the UK it was a number one record, and in America and the other territories it did really well, but it's sort of a strange situation because we've always been told that the more records you make the less successful your band gets and at least right now we're on our fourth record and we feel like we could make our fifth. Our ultimate goal is longevity, of course everybody dreams of having the eighteen to twenty four months of complete madness when a band blows up so quickly and it's almost overnight they go to being a huge band, then the quicker you build the quicker you can fall as well, I feel very lucky that I'm in a band that next year will be our ten years from when we first started kicking about at school and I don't think many people around us would've envisioned that ten years later, but also putting out records that are getting to number one.
It's been out for about six months now, have you had time to step back and take everything in or has it all been a whirlwind since release?
It's been a bit of a whirlwind, yeah with 'Cavalier Youth', we've been really busy, we literally put out the record, I think we had two weeks off then we did a eight week tour and then my voice got shot, so we had to take two months off and postpone a US tour we were doing which sucked a lot, and then we've just been doing festivals for a few months, then we've got a few weeks off in August and then I think we're away until November 2nd or 3rd holiday for a few weeks and then we're doing some stuff through Europe, so time just flies and it makes it fun.
So you'll be home by around 2024 yeah?
Yeah something like that *laughs*
So in regards to touring, is there somewhere you want to tour that you've never been to yet?
I'd actually love to go to South America, South East Asia I'd like to visit, I'd like to go back to Japan again, as the last time we were there was about five years ago, now that I'm a bit older I think I'd have a different appreciation for it. Then there are places like the weird places like India or South Africa and places like that, I'd like to see, and if we can us the band as a vehicle that would be great.
The band is ten years old this year, looking back has there been a favourite moment for you throughout the time in the band?
Yeah I think I would say, actually, I think probably around the age of eighteen to twenty was when it was really good, in 2008 when our first album came out we were the band that actually at one point on certain blogs and stuff were called 'Power Support' as we were just on every single tour that was coming through the UK, it was just non-stop, we were either supporting bands or doing headline tours, and in England that's quite difficult to do. Historically you're only supposed to do two tours a year sort of thing. At that time money really wasn't an issue, it was just really about that you can play a show supporting or whatever it may be and the after show would just be crazy. We don't really party as much as we used to so in hindsight those were the good old days, but we get the sort of perspective now as we're a little bit older. It's a little bit of a blur to be honest and I can't figure out of that's a good thing or a bad thing… maybe I'll figure it out in a few more years.
Lastly, let's predict the remainder of the year. So finish this sentence for me, by the end of 2014, You Me At Six will…
You Me At Six will be tired… *laughs* again I can't say if that's a good thing or a bad thing… no, we will be well sung, we will have done a lot, I think we'll be looking forward and I think that's the best thing, to be looking forward and not backwards in terms of a band life as well, so I think looking forwards not backwards would be the appropriate thing.
Catch You Me At Six in Australia with Tonight Alive at the following dates:
FRIDAY 5 SEPTEMBER                  BRISBANE, EATONS HILL HOTEL – Licensed All Ages
www.oztix.com.au | www.ticketek.com.au
*For Brisbane ticket holders there will be limited free shuttle buses running from the city to the venue and returning after the show. More details to follow!
SATURDAY 6 SEPTEMBER                       SYDNEY, UNSW ROUNDHOUSE – Licensed All Ages
www.ticketek.com.au
SECOND AND FINAL MELBOURNE SHOW ON SALE NOW
MONDAY 8 SEPTEMBER               MELBOURNE, THE HI-FI – 18+
www.thehifi.com.au
TUESDAY 9 SEPTEMBER              MELBOURNE, THE HI-FI – Under 18
www.thehifi.com.au
WEDNESDAY 10 SEPTEMBER                  MELBOURNE, THE HI-FI – 18+ SOLD OUT!
www.thehifi.com.au
THURSDAY 11 SEPTEMBER                     ADELAIDE, HQ – Licensed All Ages
www.oztix.com.au | www.venuetix.com.au
Presented by Soundwave Tours
Essential information
From: Surrey, England
Band members:  Josh Franceschi – lead vocals, Max Helyer – rhythm guitar, backing vocals, Chris Miller – lead guitar, Matt Barnes – bass guitar, Dan Flint – drums, percussion, sampling
Latest Release: Cavalier Youth (Cooking Vinyl)
Website:  http://www.youmeatsix.co.uk