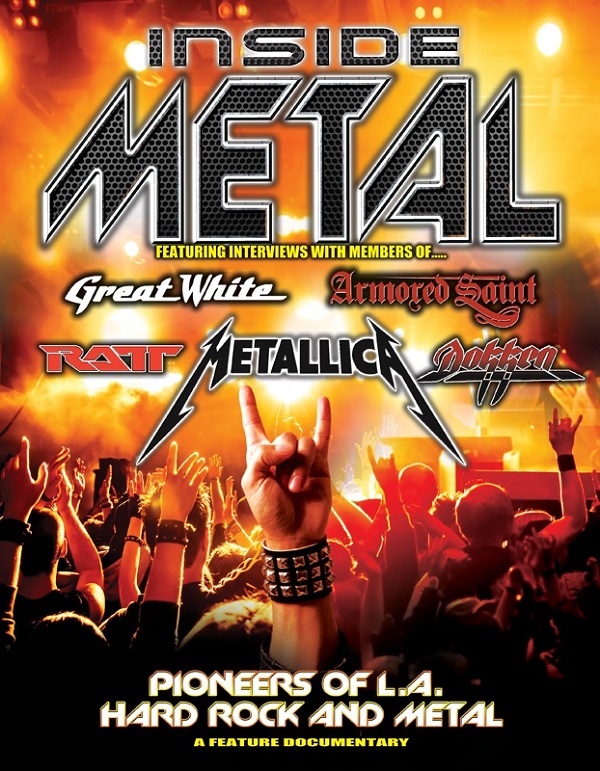 THE CREATORS OF 'INSIDE METAL: THE PIONEERS OF LA HARD ROCK AND METAL" DOCUMENTARY FILM SERIES, WHICH FEATURES THE BIGGEST NAMES OF '80S METAL, OFFERS METAL FANS A CHANCE TO BE INCLUDED IN THESE HISTORICAL MOVIES THOUGH FANBACKED
The early '80s metal scene in Los Angeles has become legendary, as it spawned such worldwide headliners as Mötley Crüe, Ratt, Dokken, W.A.S.P., and originally, Metallica (before the latter relocated to San Francisco). And the new documentary, 'Inside Metal: Pioneers of L.A. Hard Rock & Metal,' chronicles the entire scene.
This groundbreaking movie features exclusive and candid interviews with members of Metallica (Lars Ulrich), Ratt (Stephen Pearcy), Dokken (Don Dokken), Quiet Riot (Carlos Cavazo), W.A.S.P. (Chris Holmes), Megadeth (David Ellefson), Great White, (Jack Russel), Y&T, (Dave Meniketti), Stryper (Michael Sweet) and Armored Saint (Joey Vera).
'Inside Metal' is about giving fans the real inside story from the behind the scenes world of metal and hard rock with in-depth interviews, ultra-rare concert footage and photographs, and an original music score from that era; in this no-holds-barred, never before seen, recollection of untold stories.
To check out some sneak previews, check it out below:
Early feedback has been exceptional, including renowned video director Jonas Åkerlund (who has worked with the likes of Metallica and Ozzy) raving, "This film captures an era that catapulted metal into the spotlight and takes the audience on a wild ride down memory lane. After watching it I wanted to get in my time machine and experience those days for the first time. You're hit with a potent nostalgia, a time I thought we couldn't get back, not until I saw this film. I can't get enough of this shit, what an amazing film to watch over and over again, well done!"
Metalrock Films ask – and want – real and serious metal fans to be a part of this historic documentary and spread the word that this was the scene where it all began, ground zero.  "Our Fanbacked campaign will raise the direly needed financial support to bring this film to one and all in the US and Internationally in order to pay for the marketing and promotion to get it noticed by the general public. We want to bring this film to your theatre, town, bar, club and living room! Unite and support us. We have created some one of a kind opportunities for our friends and fans to participate with us in birth of this film. Get your name on the screen and let the world know that you support metal and the bands that create it. Help us tell the story of the music you love and let the world know you love it. Join in the festivities of our, and your, accomplishments by being at the premiere of the movie and interact with the artist that participated in its creation. Commemorate your participation with a plaque, t-shirt, poster or other limited edition merchandise items that says 'Metal Rules.' Keep checking back as we add more tasty premiums."
And thanks to you and your donation, 'Inside Metal' will finally get the true story of the scene heard – worldwide!
To make a donation, go to: