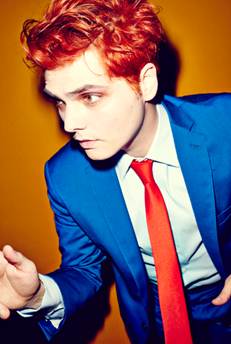 Former My Chemical Romance frontman Gerard Way will release his debut solo album, entitled Hesitant Alien, on September 26th via Warner Bros. Records.  The first track from the new album – Action Cat has already been doing the rounds with another No Shows expected mid-August.
Working with producer Doug McKean, Way knew immediately what he wanted Hesitant Alien to sound like. "I wanted to make the small things sound big," he says. "My intention was to make 100 percent uncompromised art, using the currently least radio-friendly instrument, the guitar. I knew there would be lots of fuzz pedals. I knew I would play Fender instruments. I knew I would look at who my guitar heroes were in art school, Mary Timony and Carrie Brownstein, and I drew a lot of influence from shoe-gaze and Britpop. I want the record to sonically galvanize people."  Hesitant Alien was mixed by Tchad Blake (Arctic Monkeys, Black Keys).
Lyrically, Way wrote about what he knew at the time, "which was struggle, beginnings, finding a newness in the mundane and the abstract," he says. "I looked to the Britpop poets like Jarvis Cocker and Damon Albarn, drawing upon everyday life. I also experimented with the abstract, and looked at Frank Black's work both with the Pixies, and as a solo artist. There was no concept and no call-to-arms."
Way performs his first solo shows at the Reading and Leeds Festivals in England at Reading on August 22nd and at Leeds on August 23rd.
Tracklisting:
Bureau
Action Cat
No Shows
Casting Shadows
Millions
Zero Zero
Juarez
Drugstore Perfume
Get The Gang Together
How's It Going To Be
Maya The Psychic
FOLLOW GERARD WAY
OFFICIAL WEBSITE | FACEBOOK | TWITTER | INSTAGRAM | YOUTUBE