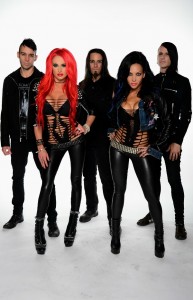 Hailing from the City Of Angels, BUTCHER BABIES offer redemption from the overplayed underground, exorcising internal demons with a visceral sound matched only in scope by their explosive stage show. BUTCHER BABIES are set to bring their high-energy live show to Australia as we welcome them as the third band added to the Soundwave Festival 2015 line-up.
Frontwomen Heidi Shepherd and Carla Harvey, guitarist Henry Flury, bassist Jason Klein and drummer Chris Warner juxtapose brutal, aggressive riffs with beautiful melodies that wail with anguish and a shattering stand for the message at hand.
"This band kicks ASS! The Butcher Babies are definitely a show you need to catch." – Metal Master Kingdom
"These gals can sing and growl unlike anything else in the metal scene." – Examiner.com
" The Butcher Babies turn in a spirited performance, choc full of raw energy and punk spirit, that surprises and impresses in equal measure." – ThisIsNotAScene.com
"…These ladies never fall short to engage the crowd with killer vocals and a heavy-riffed backbone from the band." – hardrockhaven.net
The five-piece began their unstoppable journey in late 2009 and after years of the bands relentless grind, world tours, humble determination and a ferocious debut album; BUTCHER BABIES are seemingly an unrestrained force to be reckoned with.
__________________________________________________________________________
SOUNDWAVE TOUR DATES
SATURDAY 21 FEBRUARY & SUNDAY 22 FEBRUARY, 2015
BONYTHON PARK, ADELAIDE
SATURDAY 21 FEBRUARY & SUNDAY 22 FEBRUARY, 2015
FLEMINGTON RACECOURSE, MELBOURNE
SATURDAY 28 FEBRUARY & SUNDAY 1 MARCH, 2015
OLYMPIC PARK, SYDNEY
SATURDAY 28 FEBRUARY & SUNDAY 1 MARCH, 2015
BRISBANE SHOWGROUNDS, BRISBANE