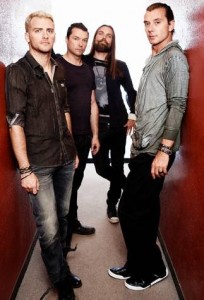 Multi-platinum alt-rock band BUSH has announced an October 21st release date for their highly anticipated new album, MAN ON THE RUN on Sony Music Entertainment Australia. The band's 6th studio album will be introduced via lead single 'The Only Way Out', which hits radio, iTunes, Amazon and all major retailers on September 9th.
BUSH (vocalist/guitarist Gavin Rossdale, guitarist Chris Traynor, bassist Corey Britz and drummer Robin Goodridge) recorded Man On The Run with Grammy-winning producer Nick Raskulinecz (Mastodon, Deftones, Foo Fighters, Alice In Chains) at Studio 606, the Northridge, CA-based studio owned by Foo Fighters frontman Dave Grohl.
BUSH has also teamed with PledgeMusic for a special campaign that offers fans a chance to take a behind-the-scenes look at the new album, along with a number of Pledge exclusives including limited-edition vinyl, hand-written lyrics, pre-order opportunities and more. View the campaign HERE.
MAN ON THE RUN is the follow-up to 2011's THE SEA OF MEMORIES, which was BUSH's first release in 10 years. That album saw them return to the top of the charts in grand style, with lead single 'The Sound Of Winter' making rock radio history as the first self-released song ever to hit No. 1 at Alternative Rock radio (where it stayed for six consecutive weeks). View 'Sound Of Winter' video HERE.
2014 marks the 20th anniversary of BUSH's debut album SIXTEEN STONE, which hit No. 4 on The Billboard 200 and included the No. 1 hits 'Comedown', 'Glycerine' and 'Machinehead', as well as fan favourites 'Everything Zen' and 'Little Things'.