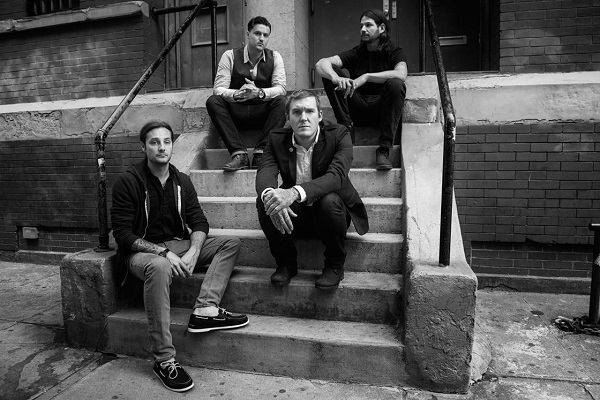 "…it's funny having a guy like Brian in the band and a lyricist like that, I'm just like anybody that listens to Gaslight at home when I hear these lyrics you know? So I rarely even ever ask Brian where it's coming from because I start to think about where I think it's coming from and the way that the lyrics connect with me…"
If there's one band I've attached to over the last few years it's been The Gaslight Anthem, when you listen to the band and I mean really listen to the band and the songs they create you get drawn in, you feel these words and to me that's what music is all about. With majority of their previous album 'Handwritten' mirroring my life, and now with 'Get Hurt' wanting to do the same, this is a band I relate to and it's a pleasure to have them around and able to create music for people. If you don't know of this band, do yourself a favour…
Sitting on the couch at home with a baseball game on mute, we had the chance to catch up with Benny again, but this time in support of the band's amazing new album 'Get Hurt', so he fills us in on its creation, its evolution, its simplistic cover… and more.
To start off, can you give us one word that you feel sums up the album perfectly?
Oh… one of these questions… hmm… *pauses* you know it's funny, the first word that comes to my mind is presumptuous but not the record being the record being presumptuous but me saying one nugget of a word to describe it. I can't think of a word that's not going to make me sound like an asshole *laughs* because I could say 'Awesome' or just some adjective, I don't know, man it's just a rock and roll record. I can't think of one word, maybe let's come back to it at the end, maybe it'll come to me then.
I've been playing the album nonstop since I received the stream, I instantly loved it, what feelings did you have when you finally heard the album finished in its entirety?
I was stoked man, I definitely was. When I'm in the studio and we're picking through songs it's almost impossible for me to hear them in sort of a more open objective kind of way, then we go home and I start hearing mixes and that's when I can start hearing the whole thing, and when I started hearing mixes man, I got really excited. I'm super happy with the way the record panned out and I feel like it has like a kind of energy that maybe we haven't been able to capture for a little while on our records which really excites me you know? I always want our records to almost sound like we sound live and that hasn't been the case for a little while, so I'm super excited about it man, glad you like it, thanks.
Can you tell us about the title track and namesake of the album 'Get Hurt' and what it represents to you?
Yeah, well… I think it's more of a cool song to me, and it's funny having a guy like Brian in the band and a lyricist like that, I'm just like anybody that listens to Gaslight at home when I hear these lyrics you know? So I rarely even ever ask Brian where it's coming from because I start to think about where I think it's coming from and the way that the lyrics connect with me, so I definitely hear that song and I think about like those heartbreaking situations that I'm in *laughs* and just the way it feels. It really connects with me when I hear the lyrics and I really hope it's one of those songs that different people can take different things from you know? It's funny, he always keeps surprising me with the stuff he makes, just keeps writing really great songs, and I learned fast in this band that we early on in the band we would write a song and Brian would be 'Nah I don't like this' and we started throwing it away and I'd be like super scared to throw it away because I thought it was pretty good. Then he just kept on writing more really good songs and it's pretty much just kept coming since then and it's pretty awesome.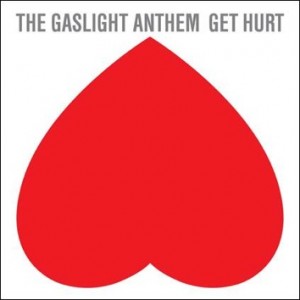 I have to ask about the album cover and the upside down heart, so very simple, why was this the choice for 'Get Hurt'?
It was one of those things, we were looking through a few different covers and options and that came in and it was one of those things where all of us had the same reaction, you're looking at it and the first thing I want to think is 'oh no… it's too simple, upside down heart, whatever…' and I just kept looking at it and I'm thinking about 'Get Hurt' and we already knew that was going to be the album name and it was yeah, it kind of just says it all with a lot of brevity you know… we couldn't think of a cooler association, the image just matches exactly how the record wants to feel. It's just super cool, I'm really happy just having this one strong image to go along with it. We worked with this guy John who had worked on 'Exile on Main St' for The Rolling Stones and the cover of 'Endless Summer' the surfing movie, we were working with him and he came to New York and he's taking a lot of photos and we met at a museum and got all this imagery together and we were putting covers together and he came up with this concept, he sent it and yeah it was one of those easy, easy band decisions and something like a record cover can go on and on and on with people and their opinions *laughs* but this one we just saw and we were all completely on board with.
'Handwritten' was hands down my album of the year in 2012, when you have to follow up what was such a perfect album for the band, do you have an idea of how you wanted it to go or did you let it naturally evolve?
I think a little bit of both, we always in song writing need to have this natural evolution where you don't step outside of yourself too much but you move, you don't stay in the same place and I think one of the things we just knew we wanted to do was not spin our wheels and not make the same record and not become one of those bands that's just afraid to keep challenging themselves and be confident about what they want to write and try some new things you know? I think that was really important to us, I really found in my head it was much more of a risk to just go ahead and make the same record we know how to make and making something that was different. You know what? It's just not as fun and not as creative to not try new things and challenge yourself, I mean it's one of the coolest things about playing music for your life is the fact that I do something that you can never perfect you know what I mean? It's not like a video game you can play perfectly or anything like that, you can always get better at this, you can always learn more and you can always get deeper into it, so it's like I'm glad I play with a bunch of guys that feel the same way and we can keep taking steps and do something interesting.
Now recording this album in 'Music City' in Nashville, was the city itself somewhat of an influence on you as you made the album?
Ummm…
You can say no… *laughs*
You know *laughs*, maybe not… and that's no diss to Nashville, that's more about us spending six days a week, twelve hours a day in the studio you know *laughs* so if you can get a great idea from a town from the twenty people that work in the studio and takeout food then it was probably more of an effect *laughs*. I mean we got out into town more than we did last time, like we went to go eat a bunch, meet people and go out drinking a little bit, but one of the reasons we do like going to Nashville is that we don't know a lot of people down there and we can kind of do our thing, and if we went to New York or LA we would feel obligated to hang out with people and see our friends and stuff like that. So we like to get away when we're doing the record anyway because it just works out for us, so Nashville's the perfect place for that.
 'Helter Skeleton' was an absolute stand out for me on the album, how stoked were you when you came up with that name?
Oh yeah, I don't think twice about something like that, he says we're going to name a song 'Helter Skeleton' and I'm like 'Yeah Rad!' *laughs* you're not going to find any debate from me with something cool like that.
Five albums in now, what do you see as the biggest challenge the band has had to face to get to where you are today?
The biggest… I mean I don't know man, it's tricky, what we do is tricky because you're dealing with music, you're dealing with creative stuff, you're dealing with environments with four to five and now up to ten to twelve people, travel together nine months out of the year piled on top of each other and it's just any manner of things that can go wrong at any point in that process, there's so many variables that have to go right. So much of it's just like putting your head down and actually working hard… So what's like the hardest thing we've had to overcome?… probably ourselves *laughs* that's a tricky question, I know you've stumped me twice in this interview, it's one of those things, there's a lot of hurdles that you have to get through and a lot of variables and trying to think of one challenge is a little difficult. That being said in order to keep the same four guys in a band and spend as much time together as we have and do all that stuff, I mean there's a level of respect and a level where people need to know the push and pull and that buttons of other people to really make it work functionally and I think while you're doing that you manage to learn a lot about yourself you know, it's easier to see yourself when you see yourself through the eyes of another person you know? I think that's the biggest challenge for any band and you've got to make sure these people are communicating and staying on the same page, or else it's just going to get ugly and go in directions you just don't want it to go. I think we really learned that you really need to take control of shit like that, the way your band goes and the direction it goes, I think people get into it and they forget that it's all in your hands, but you've got to fight for that, that's a challenge in the sort of industry that we work around, so I think to give you some to that question that's definitely a part of it.
It would be remiss of me to not ask about Australia, so any chance we'll see you here again soon?
I can't say exactly and just to leave myself a little out I can say that 90% chance we'll be in Australia next year, I know it's been talked about and definitely in the plans but nothing set at all yet. It's a great place for us to go, I love the shows there, I love the people, I love the place so we're always looking forward to get back, yeah, I'm almost certain we'll be there next year.
Well feel free to come back for Soundwave…
Oh yeah, that's definitely one of the possibilities, like I said, nothing's concrete yet… but that was one of the funnest tours I've done for sure. Loved that tour.
Lastly, with the year over halfway done, let's try and predict the remainder of it, so finish this sentence for me, by the end of 2014, The Gaslight Anthem will…
Still be a band, still playing shows, and by the end of 2014 we're going to be in a deep freeze in the New Jersey winter chilling out *laughs* and then getting ready for 2015. You won't find too much drama here, we just do our thing you know? *laughs*
Essential Information
From: New Jersey, USA
Band members:  Brian Fallon – Vocals / Guitar, Benny Horowitz – Drums, Alex Levine – Bass, Alex Rosamilia – Guitar
Website: http://www.thegaslightanthem.com
Latest release: Get Hurt (out now – Warner Music Australia)