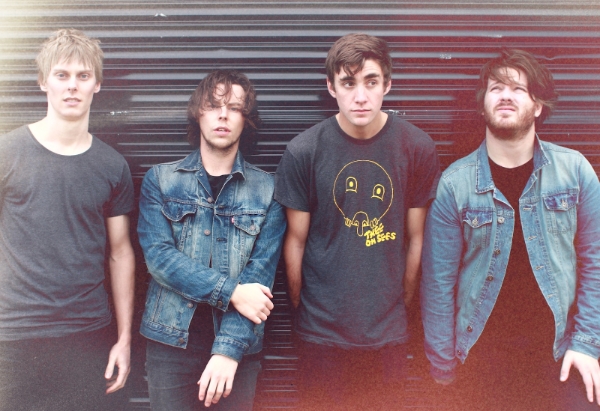 "For us, I guess the thing that's crucial the most is melody. We tend to riff out and jam a lot and that's great fun and serves as the balls of the track, but what brings the song from being a blueprint of a potential track to an actual "song" is the melody. Lyrics will then follow in-toe and we can really try to get the best out of the track once we have those things."
From Bio: Concentrating this past twelve months on solidifying their fanbase and tailoring their sound, Apes are the archetype of a young act with a bright future ahead of them. Heavy triple j and BBC radio support has seen their star rise rapidly, as have impressive showings on the Big Day Out and Groovin' The Moo stages, plus dates with Kingswood, Stonefield, The Love Junkies, Fidlar and Royal Blood. They're currently catching their breath after tearing it up on tour with Band Of Skulls. Next stop is Sydney and Melbourne single launches in August, both tiny club shows that will no doubt sell fast and result in much beer spilt and many hands in the air, followed by a coveted spot on the live program at BIGSOUND 2014. Brash and tight, Apes' live show will do them many favours as the band continue to work their way into the popular favour.
We had Sam from Apes answer some questions for us about the band, their new single and tour and much more!
Let's start with the basics; for those that aren't aware of you, can you please give us the abridged version of the Apes story, how you all came to be and the decision on the name of the band?
APES essentially started on a battered down porch at mine & Ben's old place in Ballarat. We played together for a couple years in another band when we all still lived at home. Ben & I then moved out, played a lot of music and basically sat around drinking every afternoon and decided to start a new band and take it in a different direction haha. Along came Toohey who we met through mutual friends and Rowan who I had known since I was young and BANG! We had a band. The name APES came after we had a few licencing issues with another name which we won't say haha (clue: another famous ape in popular culture with initials K.K) and then we had it, plus we were over picking a name and before we knew it we were booked under the name "APES" haha.
Can you now please introduce each band member including yourself, and give us a rock 'n' roll fact or myth about each of you?
Ben:  Once got wasted and woke up naked at 9am out front of his nan's house and didn't remember a thing… you know, as ya do haha!
Toohey: Climbed a tree in the nude at Meredith Music Festival in front of a sea of onlookers and carried on for a few minutes yelling things (the lads like their nudity)
Sam: Once had my …. (special place) grabbed by a "banchong" in Bali, don't google image that  word at work.
Rowan: Has partied around the world more than any of us! He wins!
You have just released your latest single 'Pull The Trigger', so instead of giving us a standard review, let's say if you had to give us your best door to door sales pitch to try and convince someone to listen to it before they slam the door in your face, what do you say to them?
This reminds me of the 'sell me this pen' scene in "Wolf of Wall Street" haha. I guess I would be like
"Do you like music" (hope they say yes)
"What was the last song you bought" (if they don't buy music, make them feel bad) then proceed to convince em that they need this song, isn't that what sales telemarketers do ? I'd take that route for sure
You guys hail from Ballarat in Victoria, now besides being one of the coldest places in the world, how many times have you been to Sovereign Hill and can we expect a song dedicated to it one day?
Honestly! I've only been to Sovereign Hill once! I feel ashamed; it's hardly a place to frequent when you have the lovely Karova Lounge just down the way haha! Sovereign Hill is yet to turn heads, maybe they should put on a music festival there and everyone can dress in western gear and party for 3 days.
In all seriousness, with an EP out prior and the single out now, when can we expect to hear more from you guys in terms of a new EP or album?
We will hopefully have a new track out for you in the next couple months! It's almost done and is just getting mixed & mastered at the moment, we hope you'll dig it! Otherwise plans for an Album are already in the works and I reckon we can get that out early next year if all goes to plan!
Lyrically and musically, currently what or who inspires/influences your music the most?
I guess this type of thing ranges from artist-to-artist, as you know bands have different ways which works for them. For us, I guess the thing that's crucial the most is melody. We tend to riff out and jam a lot and that's great fun and serves as the balls of the track, but what brings the song from being a blueprint of a potential track to an actual "song" is the melody. Lyrics will then follow in-toe and we can really try to get the best out of the track once we have those things.
On the other side of that, what bands did you grow up listening to and how did they help create the style of music that can now be heard throughout your music?
The first album I really went out and bought was The Strokes "Room on Fire" I was 14 I think, I remember even saving the 14 $ to get it from "Sanity" haha, they were huge to me and the guys and basically a big reason why we got into music in the first place. When I moved out with Ben he showed me a lot of things like Jeff Buckley and Bon Iver which was big for him growing up. I guess he learnt a lot from those modern crooners! Alternatively, Jack White was really influential, Toohey's dead set obsessed with Radiohead and Rowan's always been mad for Oasis, so plenty of brit stuff in there as well!
In terms of touring, you're playing a couple of shows in support of the single release, how would you describe a typical Apes live show?
It goes all over the place really! I mean, certain parts of the set can be fairly jacked up, fast and bit heavy but I mean we love a good sing along too so there is the more intricate moments of course! We usually have old mate Braiden our lighting tech with us going to town on the strobes at times so maybe you can expect a bit of that thrown in there! Generally really fun, we love talking to people during and definitely a few drinks, so come have a few with us!
For a bit of fun, say you get the chance to open for any artist or band in the world, who would they be and why?
Good Question, even though it mayyyy not fit, can I say a "reformed" LCD Soundsystem ? That would be the funnest show ever; James Murphy's shows are crazy, so much fun, emotion and dancing! I guess the audience would rock to play to as well, they would be up for a good time and so would we!
If you could cover one song in your live set that no one would ever expect, what would it be and why?
If we could pull it off that "no one would expect" I would love to do justice to a Kanye West track, because a rock bands to predictable!  Although it would never happen! In a perfect world, a cover of "Niggaz in Paris" or "Runaway" would be boss! I hope Bens practicing his hip-hop chops in the mirror hahaha! Jokes, Rowan is not a fan and would kill me if I suggested it haha.
What kind of movie do you think your music would be best suited to for its soundtrack and why?
Hmmmm, probably the Coming-of-Age type of film, you know your Adventurelands, Dazed and Confused's, Almost Famous anything with that jerk Michael Cera… Probably just because our song has been used in montages previously which appear at the climax of just about all coming of age movies hahaha.
Lastly, with 2014 over half way done, here's a chance to gaze into your crystal ball and see the future.  So, by the end of 2014, Apes will:
1. Tour & Tour & Tour some more
2. Release another single
3. Make plans to play overseas!
Catch APES at these TOUR DATES
SINGLE LAUNCH – Friday August 8th – Brighton Up Bar, Sydney
Tix via: www.oztix.com.au
SINGLE LAUNCH – Saturday August 9th – The Grace Darling, Melbourne
Tix via: www.oztix.com.au
Essential Information
From: Ballarat, VIC, Australia
Sounds like: Rock/Heavy Pop/Garage
Band members: Ben Dowd – Vocals/Guitar James Toohey – Guitar/Vocals Sam Reale – Bass/Vocals Rowan M.T – Drums
Latest Release: Pull The Trigger (single out now)
Websites: www.apesmusic.com
www.facebook.com/apeshq
www.twitter.com/APESofficial
www.youtube.com/user/APESofficial
Pull The Trigger is out now via Inertia Access.