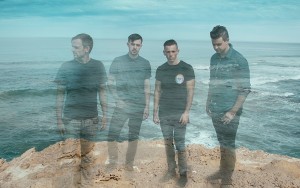 Melbourne's Antiskeptic have announced a huge national tour to accompany the release of their third album Stare Down The Ocean. True to the form of hard-working, old-pro road dogs, these guys aren't doing things in half measures. The tour takes on Sydney, Newcastle, Adelaide, Brisbane and Melbourne and will see the four-piece stir up ALL of the feelings with their carefully crafted alt-rock jams.
Grab some friends and simultaneously reminisce and rejoice in some of the best local tunes you'll hear this year.
"They certainly haven't lost any of their edge…Antiskeptic are back with a bang and their upcoming album should be a corker"- The Music Perth
Stare Down The Ocean's lead single Hey Dissident has already seen love from triple j's Short Fast Loud as well as recently hitting rotation on Rage. The video for the track- a melodic jam with a slow-burning build to boot- is a homage to Back To The Future and precedes a much anticipated crowd funded clip for their follow up single.
2014 has seen Antiskeptic return after six years on the bench. Hard work, determination and a resilient attitude have seen the band return to top form, in time to unleash their aptly titled, epic third album 'Stare Down The Ocean'. The LP will be released independently on September 19.
Adored for their famously exciting and energetic live shows, Antiskeptic's fanbase have stuck with them since the act's disbanding, so much, so that they assisted in funding 'Stare Down The Ocean' via successful Pozible campaigns that raised over $20,000. Working closely with admired producer Forrester Savell (Karnivool, Dead Letter Circus), Antiskeptic have crafted their most cohesive and anthemic release to date, highlighting singer/guitarist Andrew Kitchen's signature soaring vocals, catchy melodies and emotionally resonant songwriting.
Stare Down The Ocean Tour – with special guests Young Lions
Thursday September 25th
Sydney – Newtown Social Club
with Special Guests Young Lions + Cambridge
Tickets via www.newtownsocialclub.com or 1300 724 867
Friday September 26th
Newcastle – The Small Ballroom
with Special Guests Cambridge
Tickets via www.oztix.com.au
Saturday September 27th
Adelaide – Enigma Bar
with Special Guests Young Lions + All Year Round
Tickets via www.moshtix.com.au
Saturday October 4th
Brisbane – The Brightside
with Special Guests Young Lions, Alibrandi + Beth Lucas
Tickets via www.oztix.com.au
Saturday October 11th
Melbourne – The Evelyn
with Special Guests Young Lions + Portraits of August
Tickets via www.oztix.com.au