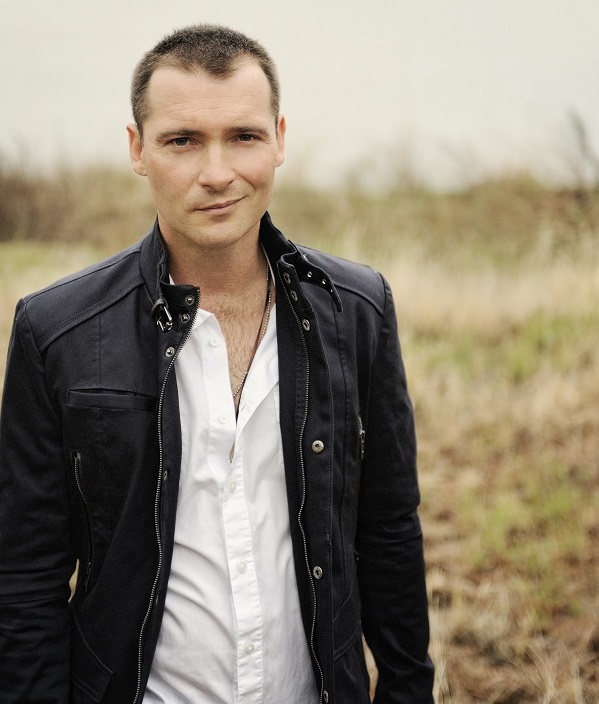 "…at the end of the day I think music should be played and written and sung without the thought of a genre or a title, it should be played, written and sung from your heart and just enjoyed from your heart rather than pigeon holed."
From Release: Whatever gives Aussie music its heart, Adam Brand breathes plenty of life into its soul. For more than fifteen years, Brand has been one of the country's best-loved and most successful recording artists. On August 8, 2014, Adam Brand will release his 10th studio album, the soulful 'My Side Of The Street'. The guitar-heavy, soaring rock-tinged lead single 'What Your Love Looks Like' captures Brand in his element, as he sings "I want to close my eyes, and see what your love looks like", drawing listeners in as a love-fuelled narrative unfolds.
We caught up with Adam Brand again, this time on the eve of the release of his newest album 'My Side of The Street' and he fills us in on the album, the country music scene and much more.
So your album hits on August 8th, without it being out yet can you give us one word that you feel sums up your new album perfectly?
It's kind of a personal word and kind of difficult for people to get much out of it until we talk about it some more but I would say 'balance'…
This is in fact your tenth studio album, when you think of a milestone like that, what goes through your mind?
Numbers and things like that rarely have much of an effect on me actually, I wish I had a better answer for you but it doesn't feel like a milestone, it doesn't feel like I've reached any point that I need to sit down and look at myself. For me it's more about where I'm at in life rather than the album side of things…
Well at least you're still making music, let's put it that way…
Absolutely, see that's how I feel about it, I feel from an overall perspective that I'm lucky to be able to do this, I'm lucky to make my living from music and so I don't have achievement goals so to speak that are based on success factors or sales factors or those kind of things. For me it's about the fact as you said, still making music.
The title itself, what was the idea behind 'My Side of The Street' and what does it represent to you?
That comes back to that word balance I think, for some people it takes a long time, for some people not so long, but it takes us a while to find out who we are and to be comfortable in our own skin and the title of the album 'My Side of The Street' kind of reflects that and is indicative of me going this is my side of the street, it might not be in the best suburb, it may not be on the flashest side of the street *laughs* it may not be where people expect me to be or think I should be, but it doesn't matter, I'm happy here, I feel at peace, I feel very calm with where I'm at especially musically, I feel I found, I feel settled with where my music is at with who I am and what I want to say. It's my side of the street, its ok… you hear so many different things over the years, people's opinions of where you should be or who you should be or be further ahead this way or that way, or you should be representing this or blah blah blah, but really where you should be is making sure that you've got integrity with what you do and that comes back to feeling comfortable in your own skin and this is who I am and that's ok.
Did you go into making this album with an idea of how you wanted it to sound or did you just let it naturally evolve?
Certainly let it naturally evolve, but knowing where I was musically in my head and my heart I kind of knew where it was going to go, and that was just a big organic raw sort of sound. I went to see Bruce Springsteen when he came out and you've got an absolute living legend on stage playing with his incredible band behind him without any need for special effects or anything else, but just playing loud crunchy guitars and soulful Hammond organs and gospel harmonies, that's the kind of music I love, so it was natural that the music went that way.
What I love about your music is that your heart is out there in these songs, you can tell they're not just written for the sake of it you know what I mean? How hard is it to pour it out sometimes?
It's kind of all I know how to do *laughs* I certainly don't pull any punches, I wear my heart on my sleeve and when I stand on stage, actually when I'm in the studio even before that when I'm either writing or listening to a song for the first time from another song writer I go straight to the point of being on stage and imagining myself singing it and imagining people listening to it and imagining how I'm gonna feel singing it and whether I'm going to believe in those words and whether those words are coming from my heart or coming from my head because I'm thinking I might sell a few CD's from it. It's certainly how I'm geared or how I'm wired in seeing things that are very representative of where I'm at in my heart and in my life.
In the two years since 'There Will Be Love', inspiration wise, what was the main catalyst behind the songs that ended up on this album?
Not really, definitely it's my art mirrors my life, I didn't write a great deal of these songs at all, I've been collecting a bunch of songs for a few years now that I've had in a file that I marked 'Favourite songs, will record one day' *laughs* and it just seemed that this was the one day, so I got a lot of the songs out and this was the time and it's been funny as a lot of these are written by my friends, my song writing mates and people I've written with before and they were kind of summing up what I'd been going through and what I'd been feeling and they were summing it up better than I could in time because emotionally I wasn't in the right headspace to be writing but they said it beautifully. So the inspiration for these songs, or the decision to record these songs I should say was a very easy and natural decision.
I was a big fan of 'Stupid What You Do' great hooky song, is there a story behind that one you can share with us?
It's from a really good mate of mine, we've written a number of songs over the years like 'It's Gonna Be OK' and 'Hell of a Ride' and 'Blame It On Eve' and a whole bunch of songs, but yeah 'Stupid What You Do' is like you kind of know you're being stupid, you know it's gonna hurt and you still go there. *laughs*
Story of my life, mate…
Yeah, me too buddy… *laughs*
When you look back to your first album compared to now, what do you feel has been the most notable change in the country music genre?
Yeah I think the country music genre in itself is evolving, it's growing, you still and always will have people that will resist that and just want it to be a certain way, they want it to sound Australian they don't want any other influences, they want every song to mirror Banjo Patterson and all that kind of stuff, and while I think that's great and there's definitely a place for it, there's definitely a place for country music to grow in other directions as well and that's what I think comes down to creativity, that's what music is about, music is about exploring tunes and lyrics in different ways, so I think country music has to evolve, I'm not even comfortable using the term country music you know because it's music, and I think there are fairly loose or broad terms that you can use to define country music, but at the end of the day I think music should be played and written and sung without the thought of a genre or a title, it should be played, written and sung from your heart and just enjoyed from your heart rather than pigeon holed.
Last year you released 'My Acoustic Diary', was it a great experience going back and revisiting and reworking some of your songs?
Oh it was, it was so much fun, a lot of those songs were over ten years old and so to be able to sit in a studio just acoustically and play then in a raw form and just play them not massively differently but different enough and just playing from my headspace I'm in now and singing the way I am now was just a real treat, I really enjoyed it. Probably something I would want to do another one of those at some point.
Back to the album and it'd be remiss of me not to ask about your awesome cover of Thorpey's 'Most People I Know' why was that the perfect choice to cover?
*laughs* Firstly because there's a lot of people that agree with that statement, they think I'm crazy, but I just love this song mate, I've loved it for years, I've done it quite a few times with that band and it's just a killer song and a tip of the hat to Thorpey and I hope he's looking down and nodding and going 'yeah you did alright there young fella' and not only that, the V8 Ute series want to use it as their theme song, as those ute racers are absolutely nuts and crazy so it kind of fits that too.
In terms of touring, you're out soon, where can people catch you?
Yeah, September, October and November, I'm hitting the major cities but not right in there, I'm doing Rooty Hill, I'll be doing a couple on the outskirts of Melbourne, Lilydale, Hallam, Geelong, so it's quite extensive, doing some Tassie, some south Australia, some WA, a bit of everywhere.
Lastly, with 2014 over half way done, let's get you to predict the remainder of it, so if you can finish this sentence for me, by the end of 2014 Adam Brand will…
be completely buggered and need a holiday *laughs* I've opened two restaurants in the first half of this year, they're both called 'Brandy's' as I'm a big foodie and I've wanted to do this for quite a while and I was always intending to open one in Townsville and then the opportunity came up for the Coffs Harbour one and I don't know if I was brilliant or insane and I'm leaning towards the second. So I've recorded and album, went and renovated and opened Townsville, got that up and running then went and renovated this and now I'm about to head out on tour, so come November / December I'm checking out for a couple of weeks *laughs*
Then coming in 2015… Celebrity Masterchef…
*laughs* Maybe who knows?
Catch Adam Brand out on tour at the following dates:
ADAM BRAND – 'MY SIDE OF THE STREET' 2014 TOUR DATES
Tickets on-sale now.
Wednesday September 3 – Wellington Entertainment Centre – Sale VIC – All Ages
Tickets: Box Office 0351 433 200 www.ebbwec.com.au
Thursday September 4 – West Gippsland Arts – Warragul VIC – All Ages
Tickets: Box Office 0356 242 456 www.wgac.com.au
Friday September 5 – York on Lilydale – Mt Evelyn VIC
Tickets: Venue 03 9736 4000 or at Ticketmaster www.ticketmaster.com.au
Saturday September 6 – Gateway Hotel – Geelong VIC
Tickets: Venue 0352 751 091 or Ticketmaster www.ticketmaster.com.au
Wednesday September 10 – Westside Performing Arts Centre – Mooroopna VIC – All Ages
Tickets: Box Office 0358 329 511 www.riverlinksvenues.com.au
Thursday September 11 – Hallam Hotel, Hallam VIC – U/18
Tickets: Venue 03 8786 0200 or Ticketmaster www.ticketmaster.com.au
Friday September 12 – Country Cub, Launceston TAS – U/18
Tickets: Tixtas 1300 795 257 or www.tixtas.com.au
Saturday September 13 – Wrestpoint Casino, Hobart TAS
Tickets: Tixtas 1300 795 257 or www.tixtas.com.au
Thursday September 18 – Goulburn Soldiers – Goulburn NSW – U/18
Tickets: Venue 02 4821 3300 or at www.goulburnsoldiers.com.au
Friday September 19 – Dapto Leagues – Dapto NSW – U/18
Tickets: Venue 02 42 611 333 or at www.daptoleagues.com.au
Saturday September 20 – Rooty Hill RSL – Rooty Hill NSW – U/18
Tickets: Venue 02 9625 5500 or www.rootyhillrsl.com.au
Sunday September 21 – The Depot On Beaumont – Newcastle NSW – U/18
Tickets: Venue 02 49 622 114 or www.thedepotonbeaumont.com.au
Wednesday October 1 – Harvey Road Tavern – Gladstone QLD
Tickets: Venue 0352 751 091 or Ticketmaster www.ticketmaster.com.au
Thursday October 2 – Brolga Theatre – Maryborough QLD – All Ages
Tickets: Box Office 07 4122 6060 or www.brolgatheatre.org
Friday October 3 – Kedron Wavell Services Club – Chermside QLD – U/18
Tickets: Venue 07 3359 9122 or www.kedron-wavell.com.au
Saturday October 4 – C.EX Coffs – Coffs Harbour NSW – U/18
Tickets: Venue 02 6652 3888 or www.cex.com.au
Friday October 10 – Hahndorf Old Mill – Hahndorf SA – U/18
Tickets: Venue 08 8388 7888 or www.hahndorfoldmill.com
Saturday October 11 – Wickham Annual Community Day – Wickham WA
Tickets: To Be Advised
Wednesday October 15 – Friends Restaurant – Perth WA – U/18
Tickets: Venue 08 9221 0885 or www.friendsrestaurant.com.au
Thursday October 16 – The Deck – Busselton WA – U/18
Tickets: Venue 08 9751 2960  or www.thedeckmarina.com.au
Friday October 17 – New Centurion Hotel – Midland WA
Tickets: Ticketmaster 136 100 / www.ticketmaster.com.au
Saturday October 18 – Charles Hotel – Perth WA
Tickets: Venue 08 9444 1051 or www.ticketmaster.com.au
Sunday October 19 – Ravenswood Hotel – Ravenswood WA
Tickets: Venue 08 9537 6054 or www.ticketmaster.com.au
Stay tuned…. More dates coming soon
Essential Information
From: Sydney, Australia
Website: http://www.adambrand.com.au
Latest release: My Side of The Street (August 8 – ABC Music)