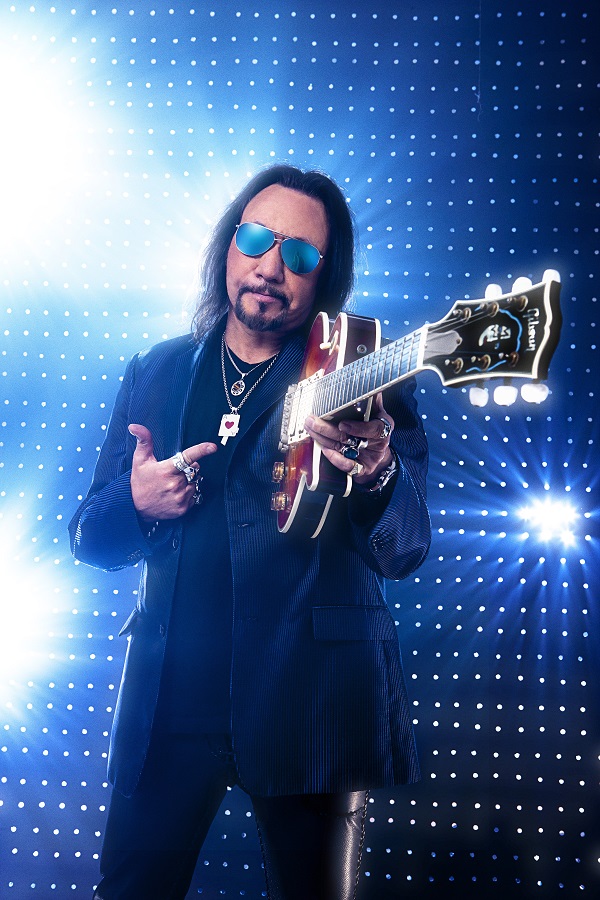 "Yeah, it was that was by design, a lot of my fans always sight my '78 solo record as their favourite Ace record, so I listened to it several times and purposely tried to write songs that were similar."
How do I sum up Ace Frehley? Yeah exactly… I'm dumbfounded too, but when you get to speak to a legend, an icon of rock and roll like this, well, it kind of makes your day. A man that inspired many to pick up a guitar, that was larger than life and more to the point is still out there rockin' to this day! He's a Rock and Roll Hall of Fame inductee, he has a new record label in eOne music and a new album to go with that called 'Space Invader' and he's back in a big way.
At home in San Diego we had the absolute pleasure to talk to Ace about his new album, the Hall of Fame induction as well as what he still wants to do in his career, and much more…
This is your first solo album in five years, why was now the right time to release new music?
I don't know, it took that long to make this happen… I started recording this one this past summer in July but some of the songs I had written a few years back and was just an ongoing process. I signed a deal with eOne music and it's been a very interesting process, I produced the record, I play almost all of the guitar work and the bass, Matt Starr played drums my touring drummer and we just had a few guest vocalists pretty much and that's about it.
Now before it's released, if you had to sum it up using only one word, what would that be?
*laughs* I can't describe it in one word but I can say it's ear candy for the rock and roll masses.
Well we'll allow that purely because you're Ace Frehley…
*laughs*
In the five years since 'Anomoly' what was the inspiration behind the tracks?
Yeah I don't have any formula for writing music, songs just come to me, sometimes they come in the form of a riff or a melody or even a lyrical idea. I'm not a schooled musician so I don't really write with any type of formula, you know two of the songs I co-wrote with my fiancé Rachel Gordon, 'Immortal Pleasures' and 'Change' and 'Gimme a Feelin'' I wrote with my assistant John Ostronomy, 'Past the Milky Way' I wrote with an old friend I've known since I was eighteen Chris Cassone but majority of the songs I wrote myself. I'm real happy with how it all turned out, 'Space Invader' was the biggest surprise because that was an instrumental up until the last two weeks of mixing, and I just went into my hotel room and wrote that one afternoon. Same thing with 'Past the Milky Way' too. The thing that surprises me the most is how lyrics come to me, like when I wrote that song 'Toys' I wrote that song in a half an hour, I wrote 'Space Invader' in a couple of hours. I talk to some people and they go 'man, I struggle with lyrics' and they just fly out of my head.
Talking about instrumentals and in listening to the album, 'Starship' is a great piece on there…
Yeah, that musical idea for that song I actually wrote that rhythm guitar part around 2004 or 2005 and it was never finished and it just evolved and it's just amazing how it all turned out with all its different sections and the picking part at the end reminiscent of 'Fractured Mirror', I think I'm real happy with the way that one turned out.
The album feels like a bit of a great throwback to your older solo stuff, was that intentional when putting the album together?
Yeah, it was that was by design, a lot of my fans always sight my '78 solo record as their favourite Ace record, so I listened to it several times and purposely tried to write songs that were similar.
Well it worked *laughs*
It worked? *laughs* well ok, I did my job then…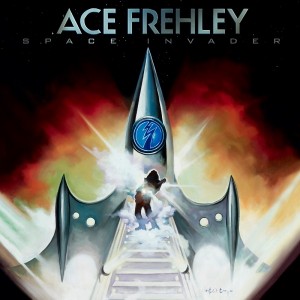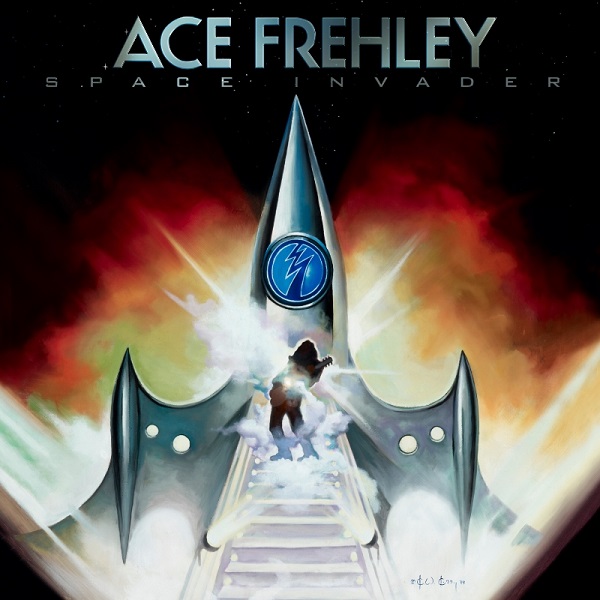 So why was 'Space Invader' the perfect name for this album and what does it represent to you personally?
After the holidays we were deciding what to call the record and a lot of names were being thrown around and somebody came up with 'Space Invader' and I thought that was great. Then we talked about the album cover and talked about me coming out of a flying saucer or a spaceship and a couple of the artists at eOne music came up with some rough renderings, and I fooled around with it in Photoshop and then I was talking to Ken Gullic from eOne music and we decided to give Ken Kelly a call because I've talked to Ken over the years about doing an album cover for me and he just jumped at the chance and boom, it was done a week later. *laughs* Everything just kind of fell into place, like I said, the last two weeks of mixing I didn't have 'Space Invader' or 'Past the Milky Way', there was no guitar solos, no vocals, no melody and those two songs I think really wrap the whole package up into a nice bow because they're both space themes and they make the album come off as more of a concept record I think.
I was also intrigued by your cover of 'The Joker' why was that a song you wanted to record for this album?
I don't know because it wasn't my idea… it was again Ken Gullic's idea *laughs* and to be honest with you I was a little resistant actually because I didn't think it was heavy enough, but I had to think back to 1978 when Eddie Kramer asked me to do 'New York Groove' and I was resistant to that too, turned out to be my biggest hit, so I figured I'd get out of my own way this time around and take some direction. *laughs* It couldn't hurt you know, we cut that song in an afternoon, I actually tracked it my home studio with a drum track and when it turned out as good as it did I brought it into the studio and we cut it with real drums. It's a fun way to work, working with Pro Tools is such a pleasure because I was always such a computer guy and just the flexibility with editing and recording and being able to carry around stuff on a USB drive, it is the 21st century *laughs*
Also a lot lighter than a giant roll of tape…
Oh man *laughs* in my storage unit I have two hundred rolls of two inch tape, a lot of stuff has never been released, I've still got to go in there and bait them and transfer them digitally to hard drive as the tape's probably ready to fall apart.
Oh man, you need to do that; you couldn't lose that history…
Oh I'm not losing it, it's just a matter of time and energy, but that will happen.
Is it fair to say that this new album and deal has relit a fire under you in terms of creativity?
Yes it has, it's one thing to write songs and come up with a song idea and put it down, but when somebody offers you a big chunk of money and a record deal, it makes it that much more exciting because now I have a whole machine behind my creativity. We're going to be shooting a video in a couple of weeks in Los Angeles, I'm going on The Tonight Show I think August 12th here in the US, yeah, great things are happening and it's all because of my marriage with eOne music. Also the Rock and Roll Hall of Fame induction didn't hurt anything… *laughs*
I was actually going to ask about that and Congratulations by the way, was that a surreal event to be a part of?
It was a little surreal but it was a pleasurable experience because there were just so many stars and celebrities on stage and off stage and everybody in the band was very gracious to each other and everybody was on their best behaviour, you know my only regret is that the fact that the four of us didn't perform. The rock and roll hall of fame they really pushed for it and me and Peter had agreed to do it and then at the last minute Paul and Gene decided that they didn't want to perform with me and Peter, so you know, after forty years they couldn't give the fans fifteen minutes… go figure.
You've been such an influence on so many guitarists over the years, but is there anyone who stands out for you as the one you'd least expect to be a fan?
Oh I don't know, I don't even keep track of that stuff *laughs* the people that influence me I can name on five fingers, Jimi Hendrix, Jeff Beck, Eric Clapton, Jimmy Page and Pete Townsend, those are the guys that taught me how to play guitar. I listen to their solos and their rhythm work and ended up developing my own style because of it.
I guess that's what a lot of people do with yours…
I guess so, I'm sure a lot of people sight me as a major influence, as well as those guys I mentioned and a lot of newer players out there, but if you have talent, you listen to some of the greats, eventually you're gonna end up being derivative of a lot of different people but coming up with your own style.
After playing music for well over forty years now, is there anything left to do or that you want to do that you haven't already done?
Yeah there's a lot. I want to do a score for a film, I want to start producing, I have so much knowledge and have worked with some of the greatest producers in the world I'd like to share that with some younger bands, I'd like to bring some bands into the studio and bring them under my wing and teach them the stuff that I learned from the greats. People have been talking to me about a television show, I'd like to do an animation and put music to it because I do animation myself, computer animation, I'd like to maybe do a space animation and score. There's a lot of things I haven't done that I'd still like to achieve in my lifetime.
In terms of touring, when do you think we can expect to see you back in Australia?
Well the record company there is already talking about a tour, they're very excited about the record and the first thing out of their mouths is exactly what you just said. If not by the end of next year hopefully early next year we'll get over there.
I was lucky enough to see you in 1996 on the KISS reunion tour, which blew me away, but do you have any great memories of a previous trip to Australia?
In 1980 our first tour to Australia was very special, we got the key from the Lord Mayor in Sydney, there was thousands of people in the streets, I think I remember flying into a stadium in a helicopter in this sold out show, in a giant round stadium , I think it might have been Melbourne? It's just amazing, that 1980, our first tour was a landmark in my memory, a benchmark.
Unfortunately I was four years old then, so wasn't really able to go…
*laughs hysterically* Ok well I'm sure there's videos…
Lastly, let's try and predict the remainder of the year, so if you can finish this sentence for me, by the end of 2014, Ace Frehley will…
I think the record's gonna be a smash, I believe I'm going to do some successful touring the remainder of this year, and after that I can't predict, but I'm hoping to have one if not two hit singles off this record.
Essential Information
From: New York, USA
Band members: Ace Frehley
Website: http://www.acefrehley.com
Forthcoming release: Space Invader (August 19 – eOne music)