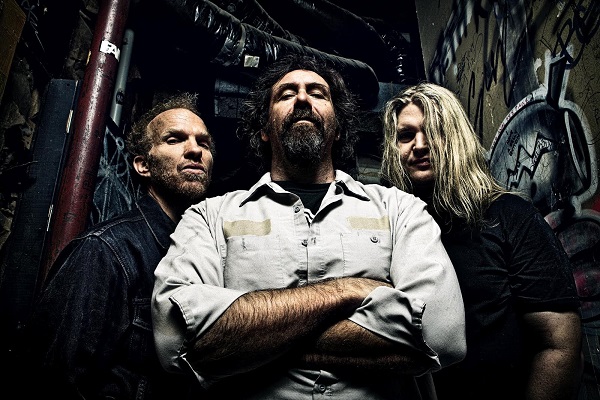 "…and it may throw some people for a loop because you've got the guys that are pure metal, they want to see metal, then you've got the guys that want to see punk rock, then you've got the guys that are into doom or whatever *laughs* and I think we've always tried to grab a little bit of all of that and throw it in the mix because we like all that kind of stuff."
From tour release: US Punk/Metal pioneers, Corrosion Of Conformity exploded onto the US heavy scene way back in the early 80?s. The trio made their mark with an unrelenting live show and signature crushing riffs. In 1985 they released what would become one of the most important heavy crossover records of all time, Animosity. Both critics and fans hail this unparalleled megalith of an album as the ultimate rock/punk/ metal mash up. After nearly 30 years of musical trail blazing, you would think a rest would be on the agenda, this is not the case, the band hasn't let up the pressure in the slightest. Instead of resting on their laurels, Corrosion Of Conformity hunkered down and cooked up a brand new batch of fire balls for your stereo. Their newest full-length effort (titled IX) has just been released. This latest dose of masterful and heavy song-craft boasts an extremely raw sound, akin to their decimating live power.
Sitting on his front porch getting some sun and just hangin', we chatted to Woody of C.O.C. about the band's upcoming Australia tour, their newest album 'IX' and some great memories of the last thirty years…
Thankfully you're still heading to Australia this month, how stressful has the last month or so been for you in sorting the tour out?
Man, you know it was semi stressful for us it was probably a lot more stressful for the fella trying to actually rebook it *laughs* man we had an entire tour set up and I guess people know the story, the promoter went belly up and cancelled any shows they had and we were like 'oh shit…' We hadn't been to Australia or New Zealand in fourteen years and here goes our tour going down the shit bucket again *laughs*. Luckily they were able to work it out and found a new group of folks that were willing to bring us down there and it's back on, we're on the way man, I think in about a week we're gonna be jumping on a plane, it takes a couple of days to get over there.
So what can fans expect to see when you hit our shores?
Well I think as always when a band comes out with a new record you're gonna try to throw at least one or two new songs in their face, and hopefully they're not gonna throw cold beer at us and if they do, hopefully it'll go down my throat *laughs* but I think folks are going to see a little touch of all periods of C.O.C.  to some degree. It gets a little tougher as after you get so many songs under your belt you can't play a wide array of stuff off of every record, but we try to toss most of it in the set, well as much as we can squeeze into an hour and a half, hell after an hour and a half I'm about ready to keel over dead, so if you get an hour and a half out of me that's about all I'm going to do, man *laughs* at this point in time. If there's any old school folks that are going to show up they'll be happy, if there's brand new fans that only know the last two or three releases, they're going to be happy too…
You mentioned it was fourteen years since you'd been here, do you have a fond memory of that previous trip to Australia you can share with us?
Oh man do I ever… that was awesome… that was with our good buds in Pantera and I think it was pretty much the last thing they ever did together as a band, but man did we ever have a good time, it was so much fun and that's one reason that it's puzzling to me that we have not taken it upon ourselves to really get back sooner, we always ask well when are we going to ask our people 'when are we going to get down there, let's go…' and it just took this long, I don't know if they were slack or somebody was slack, but I can't believe it's taken this long to come back. We're looking forward to it man, people treated us good, the food was good, the beer was good, the shows were great and I'm looking forward to this trip.
Your newest album 'IX' has just been released, if you had to choose one word to describe it, what would that be?
Encompassing… I think it really drags a lot of things we've already done into one piece of work, I think the self-titled that came out in 2012 kind of did that, but I think this one does even more, it kinda even captures our live sound too which is one of the things we were shooting for, we don't shoot for a lot whenever we're doing a record, as far as preconceived notions of what it should be or whatever but I think we all thought that we would fill it up and set up our gear like we do live and use our gear that we use on the road which is what we did, and just try to really capture that rawness that we are able to put across live and sometimes fail to try to get across to tape, but this time I think we did a pretty good job.
So what was the main driving force behind the songs that ended up on the album?
I think *laughs* well you know man, we're one of those riff oriented bands, we have riffs and start to put them together and try to make a cohesive song out of it, and so a lot of what we've been doing as a three piece is really, all three of us will show up with riffs, occasionally someone will have an entire song mapped out, and then me the guitar player, I'll show up and have like two riffs that I really like and I need two more riffs to finish it out, but I show up and say 'OK guys I've got these two riffs, finish it up for me…' *laughs* and that's kind of how we approach a lot of our stuff, man, we take our riffs and we put them together and jam them and try to make a cohesive song that sounds like us and what we do, and half the time even after it's recorded it even evolves later on during the live set and is something a little different in the live set.
I know it's been a few years since you became the trio we see now again, but how has it been with the band as the trio is everything settled and feeling great?
Yeah it was kind of the way we started out initially, way back in the day, we added a singer a little bit later on, even during that time we did a lot of three piece stuff too, we did the 'Animosity' record and stuff, and initially it was really awesome when we were getting back together because it was Reed Mullin coming back into the band after an extended time away. He had some injuries back after the 'America's Volume Dealer' record which came out in 2000 – 2001 I guess, so he was gone for a while, he was gone for that whole touring cycle and for another record we did called 'In The Arms Of God', we had Stanton Moore from Galactic came in and did the drum work on that for us. So it was really great to have Reed come back and it was like old times, we started jamming and having a blast and these last two or three releases and all this touring we've done over the last few years has been really fun man.
Since 1983, over 30 years as a band now, what do you still enjoy about being in Corrosion of Conformity?
I think one thing that I've always relished about this band is that we've been able to play with such a diverse group of bands, we've always been able to tour with just many different bands, go out on tour with the Dead Kennedy's and turn around and we're doing a tour with Soundgarden, then it's a Ramones tour, then it's an Iron Maiden tour. It makes it fun because we've never been shelved into one particular genre which is kinda fun, and it may throw some people for a loop because you've got the guys that are pure metal, they want to see metal, then you've got the guys that want to see punk rock, then you've got the guys that are into doom or whatever *laughs* and I think we've always tried to grab a little bit of all of that and throw it in the mix because we like all that kind of stuff.
Over your time, you must have some great stories, especially with bands like Pantera… any that come to mind?
Oh I mean even from just down there, hung over as hell grabbing a deep sea fishing boat there jumping off the pier there at the Opera House, everybody's hung over, Dimebag, man none of us caught a damn thing all day and I can't really even say we had that much fun *laughs* because we were all so hangover, but we did go out on Sydney harbour and deep sea fish, and everybody got a little sick *laughs* but we made the show the next day, so it was all good *laughs*. Those guys they treated us really well, of course we know Phil really well and have been doing shows with the Down guys the last couple of years, yeah everybody goes way back, so it's all good.
You've been there from day one, seen it all, what do you feel has been the most important or pivotal moment in the career of COC?
You know there's so many different things you could touch on, obviously the biggest success, commercial wise anyway when people found out about the band was probably came after the 'Deliverance' record as it had songs that were pretty mainstream accepted, people heard it, they knew the band, we did some major touring there. But if you really want to get down into the nitty gritty, back in the day when we made the 'Animosity' record I think that really solidified our place, especially at that given time, it was sort of like it put us there and it wasn't the biggest audience, it wasn't like it was some sort of mainstream thing or whatever but it was a place and a time and I think people remember that you know?
Have you got a favourite moment from being out on tour for nearly thirty years?
Man a few things come to mind, there as a lot of things that happened, one thing that sent that fanboy thrill into my heart was we were out doing that Metallica thing and Brian May showed up at one of the gigs with those guys, and I actually got to meet and chat very briefly with Brian May and that was pretty cool man as he is a big influence on me from a long, long time ago, so that was pretty awesome.
Lastly, with 2014 half way through, let's try and predict the remainder of the year. So finish this sentence for me, by the end of 2014, COC will…
*laughs* well, we will have toured Australia and New Zealand, I know that much… *laughs* and you know what, it would be awesome if we did it more than once, but that might be stretching it, I would love that…  make up for lost time.
Thanks for your time today, Woody…
Thank you so much man, and so looking forward to getting down there.

Catch Corrosion Of Conformity live in Australia and New Zealand at the following dates:
Friday 18 July – Churchills, Christchurch NZ 
Saturday 19 July – Valhalla, Wellington NZ
Sunday 20 July – Kings Arms, Auckland NZ
Thursday 24 July – Crowbar, Brisbane
Friday 25 July – The Factory Floor, Sydney
Saturday 26 July – Reverence Hotel, Melbourne
Sunday 27 July – Enigma Bar, Adelaide
Tickets on sale now!
Essential Information
From: Raleigh, North Carolina, USA
Band members: Woody Weatherman – guitar Mike Dean – bass, vocals Reed Mullin – drums, vocals
Website: www.coc.com
Latest release: IX – (Candlelight) – Check out our review of 'IX' HERE