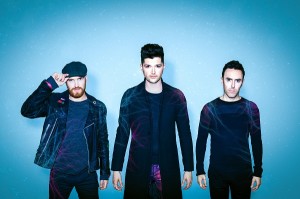 THE SCRIPT ANNOUNCE FORTHCOMING ALBUM PLANS – NO SOUND WITHOUT SILENCE – TO BE RELEASED SEPTEMBER 19TH 
NEW SINGLE SUPERHEREOS TO RADIO THURSDAY JULY 24TH
The Script today announced the plans for their eagerly awaited fourth album. Titled NO SOUND WITHOUT SILENCE, the record will be released in Australia on September 19th, and is preceded by the single 'Superheroes'. The plans were unveiled in an exclusive Google Hangout with the band last week, hosted in London and joined by thousands of fans from around the world.
The Script's fourth album, NO SOUND WITHOUT SILENCE, is the sound of a band firing on all cylinders and channeling the momentum of their last, rocket-powered campaign. The trio of songwriters had so many ideas while touring last year, they were busting out tracks in the specially built mobile recording studio they'd taken with them on the tour bus. They finished touring #3 at the end of last year, took a scant couple of weeks off, then quickly re-entered their studios in London and Dublin to begin work on the highly anticipated NO SOUND WITHOUT SILENCE.
The first single, the ultra-catchy 'Superheroes', is blessed with an appropriate sense of sky-scraping uplift, and underpinned with crunchy guitar riffs. It was one of the first tracks to be written and was inspired by the highs as they came off stage at one of their sold out stadium shows in the USA. 'Superheroes'premieres at radio this Thursday July 24th and will be available to purchase at all digital service providers.
The Script have scored a huge amount of success globally – they have sold over 20 million records, and all 3 have been multi-platinum throughout the world. Hall Of Fame, the lead single from last album #3, was a worldwide #1 single with over 5 million sales, 133 million Youtube views, over 100 millionSpotify plays and accredited a massive 6 times platinum here in Australia. Their #3 world tour spanned 11 months, and saw them play sold out arena shows in Europe, North America, Asia and Australia including 2 shows at London's O2 Arena.