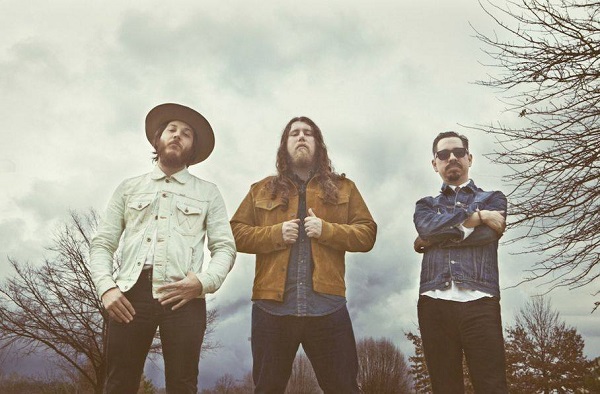 "…that's the whole reason we're doing this to play 'em, all the bullshit of loading and unloading *laughs* and waiting around in cramped spaces for long periods of time, that's what you put up with to get to go play the music, so yeah, that's the cherry on top."
Spanish Gold features Patrick Hallahan of My Morning Jacket, Dante Schwebel of Hacienda / City and Colour, and Adrian Quesada of Brownout. You may have heard of their work with their respective bands but now, the collectively acclaimed musicians have crafted a full-length record and a brimming new band –Spanish Gold. You can read all about how they came to be below!
Home in Louisville Kentucky after being on tour for the best part of six weeks we caught up with Patrick Hallahan to talk about his new project Spanish Gold, its beginnings and future as well as touring and more…
So to start off, tell us about how Spanish Gold came to be…
Sure, there's a two part story, Dante and Adrian are from the same border town on Laredo, Texas along the Mexican / American border and it's pretty isolated as it is and there aren't many musicians that come out of there so they kind of kept tabs on each other throughout the years as they were a few years apart in school, and so when it came time to work out some material Dante was breaking up with his band Hacienda at the time and had a lot of this material that hadn't seen the light of day was about living life in South Texas and thought Adrian would be the perfect person to work with, so they started demoing that. Story two is that I met Dante, Dan Auerbach from the Black Keys called me at the last second, he was getting ready to go on a solo tour and his drummer had quit and I said yes. I had just come from Australia with My Morning jacket and hopped on a plane to Akron, Ohio and met Dante and the rest of the Hacienda guys and struck up a solid, solid friendship with Dante, so when he and Adrian got to a place they were feeling good about it, and thought maybe it'd be fun to go into the studio and start recording it, Dante called me and so I obviously said yes. My Morning Jacket was slowing down for a little bit and I met them in Nashville, and first time I ever met Adrian was actually picking him up at the airport in Nashville to go to the studio, so he and I had never met but had a very quick friendship spring up, but the rest is history.
The name of the band is pretty cool too, where did that come from?
*laughs* It's from like seven hundred failed attempts at making a band name *laughs* and we were all sort of sitting around being frustrated without a band name and Dante says 'man, we should call this band Spanish Bombs' because we were talking about The Clash as we're all Clash fans, so we called ourselves Spanish Bombs for about a month and our legal team informed us that there was a hardcore band from New Jersey and a management firm in Spain called Spanish Bombs, and I can't remember who said it but somebody suggested Spanish Gold and it stuck, that was the one we just agreed on and here we are.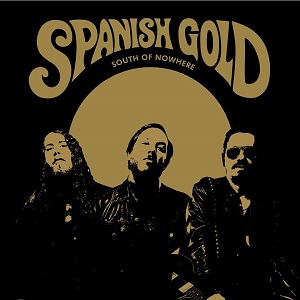 There's a real laid back cruisy vibe to this album, I almost felt like at times I was listening to an old 70's movie soundtrack, did you have a set idea of how you wanted the band to sound when putting it together?
Cool… well I mean, we didn't discuss too much about that, we know we wanted it to hit hard like a hip hop album, like the bottom end, we definitely wanted it to have some stuff so people would dance, we wanted people to dance to this album, but other than that, the songs just have their way of finding their own path. So we didn't really discuss that we wanted this to sound like this or that to sound like that, it just kind of evolved on it's on, it was like some minor direction in the beginning, not like nonsensical like I want to hear Madonna with Biggie Smalls drumbeats *laughs*, so if you can process that and come up with something that doesn't sound anything like that as far as a direction. We never set out to make like a movie soundtrack sound but when you said that, that made me really happy so thank you.
You also had an array of guests join in on the album, was this album in a word a fun adventure to be on and essentially time jamming with mates?
Yeah I mean that's just what it started out being and honestly we had like an open door policy, like if any of our friends were around when we were making it, it was like 'come on in, lay down some vocals, play double drums on this with me, sit in and do some saxophone overdubs' it was rooted in fun, the whole album was rooted in fun and it's supposed to sound fun because it is fun, that's kind of how it all started.
Does that come across in the live aspect of the band too where you just enjoy playing the songs?
Yeah oh god yes, that's the whole reason we're doing this to play 'em, all the bullshit of loading and unloading *laughs* and waiting around in cramped spaces for long periods of time, that's what you put up with to get to go play the music, so yeah, that's the cherry on top.
I have to ask, any chance we'll see you down here in Australia?
Well that's the idea man, that's why we're elated that you guys want to talk to us. All of our projects have been touring Australia for years, in fact Dante's getting ready to head down with City and Colour to do Splendour In The Grass and the Sydney Opera House, so we might have to start a Kickstarter page for it but it's definitely on the radar.
Spanish Gold is a little different to what we know you of with My Morning Jacket, so why was this project something you wanted to be a part of?
Oh just because it was something new, I mean I love My Morning Jacket, I would never leave that in a second, I'm so happy there, but if you continue to walk the same path you don't get to see everything, it's good to leave that path every once in a while and go and see what's out there because honestly it just expands your perspective so much more. I mean this is said from all the My Morning Jacket guys, we all made it perfectly clear when we started playing together that the side projects are as important as the main project because all of the knowledge we gain from the side projects only betters the main project you know what I mean? So we all gain great power from doing that sort of stuff, so when this came about My Morning Jacket was slowing down at the end of an album cycle, Jim was getting ready to go on a solo tour and it was perfect timing. I'm always wanting to be the student, so whenever I get a chance to go learn a new lesson or meet some new people I'm always down.
I was reading about the recording of the album, can you explain how that all went down?
We did it in stages, just because of our different projects we weren't able to just lock down a month and go record, so once we found out that was the case it was important for me at least for the story to read that we all recorded in the cities we were living in at the time, so we recorded in Nashville, we recorded in Austin, Texas and we recorded in Louisville, Kentucky, and just had friends in all the cities and killer engineers that wanted to help us bring this to life and had a blast, man.
So let's talk about Day Drinkin', what's your day drink of choice?
*laughs* Man, I gotta say I'm not much of a day drinker as it just ends my day too quickly, that said if I'm sitting around a pool, I like a solid martini or a good cold beer any day of the week…
Lastly, the year is half way through so let's try and predict the remainder of it, if you can finish this sentence for me, by the end of 2014 Spanish Gold will…
Will… have accomplished more than we would've ever dreamed and I mean that because we didn't know what was going to happen, like I said we just finished a five and half week tour and we have quite a few shows left on the calendar to go, so everything at the end of this year is surplus in my opinion, I'm just really excited in the way it turned out.
Essential Information
From: USA
Band members: Patrick Hallahan, Dante Schwebel, Adrian Quesada
Latest Release: South of Nowhere (out now – Cooking Vinyl Australia)
Website:  Official Facebook page