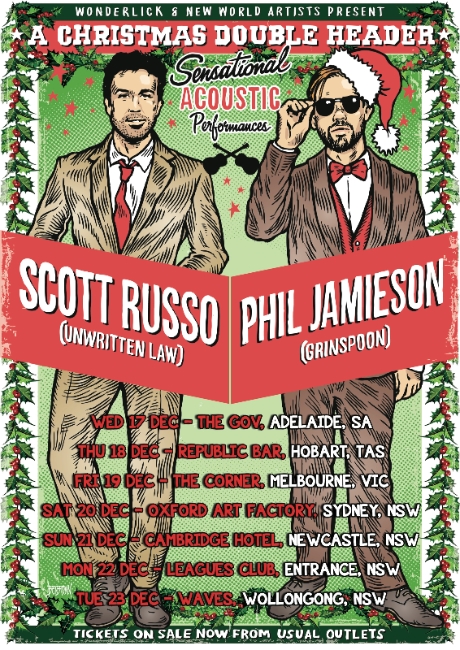 THEY'RE BACK! RUSSO & JAMIESON TEAM UP FOR CHRISTMAS SHOWS
They joined forces earlier this year for two SOLD OUT shows in Sydney and Melbourne, and now the rest of Australia will get the chance to experience Phil Jamieson and Scott Russo's live show.
The two front men will be giving fans an early Christmas present as they hit the road for their national tour this December, starting in Adelaide and making their way through Tasmania, Victoria and New South Wales.
Grinspoon front man Phil Jamieson has spent much of the past year taking to stages around the country establishing his own successful solo career after the band announced its hiatus last year.
As the lead vocalist of one of the world's most discernible pop-punk bands, which gained traction in the early 90's, Unwritten Law's Scott Russo hit it off with Jamieson during the Vans Warped tour in 1999.
After jamming together in hotel rooms and tour buses over the years, the pair of rock identities developed a sound that has manifested itself into a unique, stripped-back set, which has been screaming for the presence of a live audience.
This is a rare opportunity to catch these rock royals onstage, alone and together, with a live set that is charged with raw chemistry and flowing with quality on-stage banter between songs.
For those Unwritten Law fans in Queensland: never fear! Scott Russo will be playing shows solo in Brisbane and the Sunshine Coast. Check Oztix for more details.
Get in early to grab your tickets!
TOUR DATES

Tickets on sale NOW!

Wednesday, 17 December 2014 – The Gov, Adelaide, SA
Tickets from http://philjamieson.oztix.com.au and all Oztix Outlets, PH 1300 762 545 and
http://philjamieson.nwaevents.net

Thursday, 18 December 2014 – Republic Bar, Hobart, TAS
Tickets from http://philjamieson.oztix.com.au and all Oztix Outlets, PH 1300 762 545 and
http://philjamieson.nwaevents.net

Friday, 19 December 2014 – The Corner, Melbourne, VIC
Tickets from http://cornerhotel.com/ and Corner Box Office, PH 1300 724 867 and
http://philjamieson.oztix.com.au

Saturday, 20 December 2014 – Oxford Art Factory, Sydney, NSW
Tickets from http://moshtix.com.au and all Moshtix Outlets, PH 1300 438 849 and
http://philjamieson.nwaevents.net

Sunday, 21 December 2014 – Cambridge Hotel, Newcastle, NSW
Tickets from http://philjamieson.oztix.com.au and all Oztix Outlets, PH 1300 762 545 and
http://philjamieson.nwaevents.net

Monday, 22 December 2014 – Leagues Club, Entrance, NSW
Tickets from http://philjamieson.oztix.com.au and all Oztix Outlets, PH 1300 762 545 and
http://philjamieson.nwaevents.net

Tuesday, 23 December 2014 – Waves, Wollongong, NSW
Tickets from http://philjamieson.oztix.com.au and all Oztix Outlets, PH 1300 762 545 and
http://philjamieson.nwaevents.net