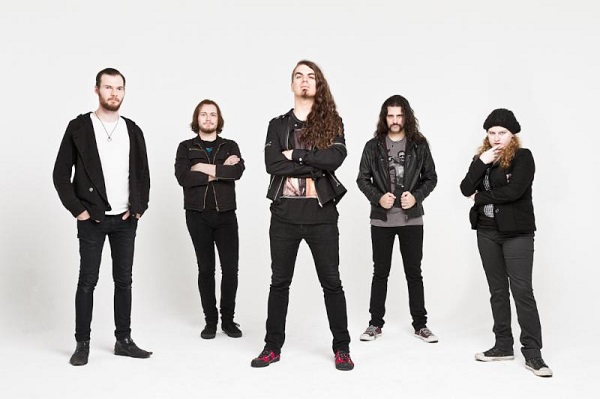 "It's because the fans are the ones who make or break the band. They are the ones who buy the CD's, merch, whatever they want to buy. We are grateful that we have some seriously dedicated fans, and they should be recognised as being the reason we're still here."
From Bio: With four full-length albums under its belt and shows throughout North America, Europe and Asia with the likes of Devin Townsend, Children of Bodom, Soilwork, Nightwish, Epica and Orphaned Land, the five-piece from Oceania is now firmly entrenched in its international repute as a band with heavy grooves, driving riffs and unforgettable melodies. The band's fourth opus, The Meaning of I (2011), saw rave reviews and international acclaim of the highest caliber (including #8 in Metal Hammer Germany's 'Soundcheck'). The U.K.'s, Classic Rock Presents Prog, called the album a "polished collection of heavy, heavily polished anthems." Voyager, have now released its fifth studio album, V. The Kickstarter-funded, 13- track album was recorded at Templeman Audio with producer, Matt Templeman.
We had Scott of Voyager answer some questions for us about the band's new album 'V' as well as kickstarter campaigns, touring and more…
You've just released 'V' and for those that may not have heard it yet, as it is your fifth album, can you give us five words that you feel sum up the album perfectly?
Catchy, groovy, riffy, electronic, modern.
In the three years since 'The Meaning Of I' what was the inspiration behind what has ended up on 'V'?
I think coming out of 'The Meaning of I', which was a pretty dark-themed record, we wanted to move forward from this mindset and create something a little more uplifting and positive. While some of the content is introspective, musically I feel it has a lot more drive.
We've taken more influence from modern progressive metal bands too. We've had people say there are moments where it reminds them of Tesseract, which is a band myself and Simone have been into for years, so I guess that indulgence is seeping into our music a little! I'm personally quite excited about where progressive metal is heading, and as a result, that excitement is making its way into the riffs and ideas we're writing.
The album was done via a 'kickstarter' campaign, how did creating the album via this method differ to previous releases?
It differed in the sense that we actually saw some money. While that may sound like a joke, it's really not. Through doing Kickstarter, we've been able to get away with mostly using band income to support the album, rather than digging deep into our pockets to make ends meet, which we've done every other time and it has reaped us very little in returns. It empowered us to say 'Stuff the old system! We want to sell straight to the fans!' which we have done through the likes of CDBaby and BandCamp, and it's doing really well for us.
The added benefit of Kickstarter was the interaction we were able to have with our fans, and we could give them different tokens of appreciation other than just music. We did polaroids which were a lot of fun, lessons, they could even write lyrics and we'd turn them into Voyager songs. I think it is a really creative way to bridge that distance between the band and their fans, something I believe is a positive change in the music world, as really, there is no need for a lot of the middle-men in the industry any more.
I particularly liked the 'I Am Voyager' angle, why was having the fans a part of creating the record so important to the band?
It's because the fans are the ones who make or break the band. They are the ones who buy the CD's, merch, whatever they want to buy. We are grateful that we have some seriously dedicated fans, and they should be recognised as being the reason we're still here. We're not able to release music because of anyone else, it's because we have people out there supporting us. I think there is still this perception that labels/management are the ones doing the heavy lifting for the sake of the band. While they have the contact base and are very important, if the fan wasn't there to care about the band, there'd be nothing. So we're publicly showing our appreciation to our fans, who are the reason we're still able to do what we do. Thus 'I Am Voyager' became our slogan for the campaign, because it's true.
Touring wise, you're heading out in July in support of the release; give us the rundown of what we can expect to see at these shows…
There will be a slew of new material from 'V', a new look, feel, with that fun vibe you always get from coming to a Voyager show! If you haven't seen us live, we have a blast on stage! We may even throw in a medley of silly tunes you might recognise…
Are there plans to take the album internationally and if so where are you headed?
Yes, definitely! We have ProgPower Europe locked in for October this year, and we're planning some tour dates around this time too. In terms of the rest of year, we have some stuff in the works at the moment which I can't divulge just yet, but keep your ears close to the ground…
In terms of territories you'd love to tackle but haven't yet, where would you like to head that you haven't had a chance to?
Japan. I'd absolutely love to tour Japan, as I've never been, but I love their culture (and their anime haha). Europe is also really exciting, as I'm yet to play Europe with Voyager. They went back in 2006 when I wasn't in the band, so I'm really looking forward to October!
In the ten years since your debut, what do you see as the biggest change or evolution that has taken place within the band?
I think the evolution of the band has stemmed from a lot of different factors. Daniel was young when he started Voyager, and obviously as the years go on, your taste in music and art changes, and your skill set improves. Considering he's the only founding member left, he's seen the band evolve and change not only as a result of himself changing, but because of line-up changes over the years.
I think the way people interact with one another is the major factor in the evolution of Voyager. When I joined, which was near the beginning of the writing phase for 'The Meaning of I', I know that my influence definitely made its way onto the record, and I feel the same has happened with Ashley joining on drums for this album. It's about the sum of its parts, and what is going on in their separate lives at the time that really dictates how the music comes out, in my opinion.
Is there a message you are trying to get across with the music of Voyager?
There's no specific message, but the lyrical content discusses a lot of different themes and issues. We even went a little political on 'You the Shallow', considering we're not at all happy with the political climate of Australia at the moment. But really, our biggest message as a band is more directed at where the music industry is at, and that these false perceptions of how the industry works need to disappear, and we need to be more upfront and honest to one another. Band to fan, less middle-men!
Lastly, 2014 is well underway, so let's try and predict the remainder of the year, finish this sentence for me, by the end of 2014, Voyager will…
Tour Australia, Europe, hopefully the UK too, and will enjoy every last second of the year ahead! We hope to see you soon!
Catch Voyager on tour in Australia at the following dates:
Friday, July 4th – Canberra @ ANU Bar
Saturday, July 5th – Sydney @ The Factory Floor
Thursday, July 10th – Sunshine Coast @ The Vaudeville Room
Friday, July 11th – Brisbane @ The Brightside
Saturday, July 12th – Melbourne @ The Workers Club
Saturday, July 19th – Adelaide @ Enigma Bar
Saturday, July 26th – Perth @ Amplifier Bar
Essential Information
From: Perth, Australia
Band members:  Scott Kay – guitar, Alex Canion – Bass/vocals, Daniel Estrin – vocals/keytar, Ashley Doodkorte – drums, Simone Dow – guitar
Website: http://www.voyager-australia.com  and www.facebook.com/voyageraustralia
Current release: V