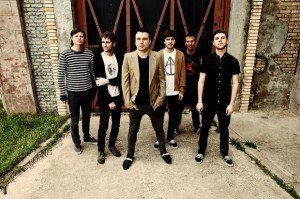 A band that defies categorisation and one of the most innovative indie bands, SAY ANYTHING are heading back to Australia this October for a series of headline shows.
Forming in 2000, SAY ANYTHING has built a formidable and fiercely loyal fan base with their quirky, honest and eclectic take on rock.
Since the release of their seminal album ' …Is A Real Boy', SAY ANYTHING have been pushing musical boundaries with each of their records. SAY ANYTHING'S latest offering is no different, 'Hebrews' showcases Max Bemis at his ambitious best with the band opting to replace traditional guitar riffs with orchestral string arrangements.
Critics and fans alike praised the album " undoubtedly the most chaotic and passionate release in SAY ANYTHING'S history' – Absolutepunk, with Killyourstereo declaring " Hebrews is experimentation done right, SAY ANYTHING'S most unique sounding record – 90/100".
Armed with an eccentric and energetic live show and an extensive discography SAY ANYTHING'S Australian tour is not to be missed.
SAY ANYTHING'S new album 'Hebrews' featuring ''Six Six Six'' is out now via UNFD
TICKETS ON SALE FRIDAY 18th JULY 9AM AEST
WEDNESDAY OCTOBER 15TH –AMPLIFIER BAR, PERTH 18+
Tickets available at www.oztix.com.au
THURSDAY OCTOBER 16TH –FOWLERS LIVE, ADELAIDE LIC/AA
Tickets available at www.oztix.com.au | www.moshtix.com.au | www.venuetix.com.au
FRIDAY OCTOBER 17TH –THE CORNER HOTEL , MELBOURNE – 18+
Tickets available www.cornerhotel.com  |  www.oztix.com.au
SATURDAY OCTOBER 18TH –MANNING BAR, SYDNEY – 18+
Tickets available at www.oztix.com.au
SUNDAY OCTOBER 19th –THE HI FI, BRISBANE 18+
Tickets available at www.oztix.com.au
PRESENTED BY TAPERJEAN TOURING, SELECT TOURING, BOMBSHELLZINE, 24 HUNDRED, BLUNT MAGAZINE