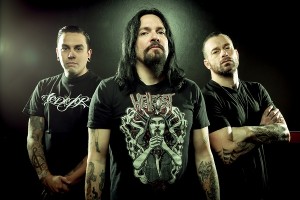 US metal favourites PRONG will tour Australia for the first time ever this coming November for Nightmare Music. Founded by singer/guitarist Tommy Victor in 1986, the band has never made it to Australian shores at any point in their 28-year career. But all that is about to change…
Tommy Victor: "PRONG has never been to Australia. In all the years of it's existence. I personally haven't been there with any other band or on a trip. I've only heard great things about the place. So it's wonderful to have the opportunity to get down there. Finally."
The history of PRONG has cast a long shadow – bands like Korn,Slipknot and Nine Inch Nails openly acknowledge their influence.
The new album 'Ruining Lives' is the follow-up to the acclaimed 2012 release 'Carved Into Stone' and continues to show the band on an upward trajectory, proving that despite having a long, illustrious career PRONGcan still make records that matter and re-invent themselves without negating their roots. blabbermouth.net called 'Ruining Lives' "Tommy Victor's personal liberation".
By the time PRONG had signed to Epic Records in 1989, the New York City post-metal triumvirate had already accomplished a lot. The band, formed by guitarist and vocalist Tommy Victor, soundman at the legendary club CBGB's along with the club's doorman Mike Kirkland and ex-Swans drummer Ted Parsons had already released two independent records.
Over the course of their next three major label releases: Prove You Wrong, (1991) Cleansing (1994) and Rude Awakening (1996), PRONGcharted an innovative course. Their best known and best selling work; 'Cleansing' cemented PRONG's position as a mainstream metal mainstay. The album's single "Snap Your Fingers Snap Your Neck" has been up there in the top 100 riffs ever in Kerrang and was regularly featured on MTV's legendary 'Headbangers Ball' show. Tours with White Zombie, Sepultura, Fear Factory and Pantera followed.
PRONG are Tommy Victor, Jason Christopher and Art Cruz; and will tour Australia this November.
Nightmare Music, 123 Agency & RiSH, in partnership with Utopia Presents…
Wednesday, 19th November 2014
The Metro, Sydney – NSW
Tix: www.ticketek.com.au
with special guests SEGRESSION (Sydney only)
Thursday, 20th November 2014
The Hi-Fi, Brisbane – QLD
Tix: www.oztix.com.au
Friday, 21st November 2014
The Hi-Fi, Melbourne – VIC
Tix: www.oztix.com.au
Saturday, 22nd November 2014
'Metal Fiesta' The Basement, Canberra – ACT
Tix: www.oztix.com.au
Tickets on sale NOW