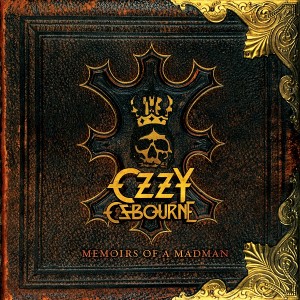 This October, the career of rock icon OZZY OSBOURNE will be celebrated with the Epic Records/Legacy Recordings MEMOIRS OF A MADMAN collections released in Australia through Sony Music Entertainment.
Due out October 10, MEMOIRS OF A MADMAN (CD) serves as a career spanning
audio release, featuring 17 of OZZY's greatest hit singles compiled in one place for the first time in his career and will be available in a single CD, two-LP set and two-LP picture disc set configurations.
The MEMOIRS OF A MADMAN (DVD) is a definitive visual two-disc DVD set which includes classic music videos, along withunreleased and out-of-print live performances, plus interviews from his solo career.  Both sets offer fans of the multi-platinum recording artist, Rock & Roll Hall of Fame inductee and three-time Grammy® winning singer and songwriter hours of entertainment from OZZY's distinguished solo career.
On July 22, fans got a sneak peek of MEMOIRS OF A MADMAN via Twitter. By using #OzzyRules in accordance with the number of tweets, engaged fans were able to unscramble the cover artwork and unlock a video teaser WATCH IT HERE
OSBOURNE's ongoing solo career spans four decades–as both a successful solo artist and as the lead singer of Black Sabbath–and his music is as relevant today as ever; it still resonates daily on TV, in movies, on radio and at stadium sports events.OZZY's latest solo release–his tenth studio album, 2010's Scream–debuted at No. 4 on the Billboard charts, featuring the No. 1 Mainstream Rock smash "Let Me Hear You Scream."
From the first notes of OZZY's 1980's solo debut Blizzard Of Ozz and follow-up Diary Of A Madman to classic albums No More Tears and Scream, no hard rock solo artist has had quite the same reach as OZZY; his distinctive vocal delivery and larger than life onstage persona quickly endeared him to millions of rockers.  OZZY immediately had the attention of fans of heavy music with rock staples "Crazy Train," "Mr. Crowley" and "Flying High Again."  With the 1991 release No More Tears, OZZY continued his radio success with acclaimed and hugely successful singles "No More Tears" and the smash hit "Mama, I'm Coming Home."
The track list is as follows:
1. Crazy Train
2. Mr. Crowley
3. Flying High Again
4. Over The Mountain
5. Bark At The Moon
6. The Ultimate Sin
7. Miracle Man
8. No More Tears (edit)
9. Mama, I'm Coming Home
10. Road To Nowhere
11. Perry Mason
12. I Just Want You
13. Gets Me Through
14. Dreamer
15. I Don't Wanna Stop
16. Life Won't Wait
17. Let Me Hear You Scream
Details on the Memoirs of a Madman 2 DVD are as follows:
DVD One features more than two dozen of OZZY's classic and unforgettable  music videos from across his discography, including a bonus alternate version of "Mama, I'm Coming Home" and making-of footage from the videos "Let Me Hear You Scream" and "Life Won't Wait."
DVD Two features live performances and interview clips spanning OZZY's solo journey, much of which makes its debut on DVD. Some selections have appeared on long out-of-print VHS releases; others will be seen here for the first time, making this an essential package for fans old and new. OZZY's union of music and visuals could not be more perfect, and the Memoirs Of A Madman DVD showcases that to brilliant effect.
The Memoirs Of A Madman DVD track listing is as follows:
DVD 1
THE MUSIC VIDEOS
Bark At The Moon
So Tired
The Ultimate Sin
Lightning Strikes
Crazy Train
Miracle Man
Crazy Babies
Breaking All The Rules
No More Tears
Mama, I'm Coming Home
Mr. Tinkertrain
Time After Time
Road To Nowhere
I Don't Want To Change The World (Live)
Changes
Perry Mason
I Just Want You
See You On The Other Side
Back On Earth
Gets Me Through
Dreamer
In My Life
I Don't Wanna Stop
Let Me Hear You Scream
Life Won't Wait
Let It Die 
BONUS
Mama, I'm Coming Home (alternate version)
The Making of Let Me Hear You Scream
The Making of Life Won't Wait
DVD 2
Rochester, NY 1981
I Don't Know
Suicide Solution
Mr. Crowley
Crazy Train
Ozzy's Bunker
Albuquerque, NM 1982
Over The Mountain
MTV 1982
New York, NY 1982
Fairies Wear Boots (clip)
Ozzy's Bunker
Entertainment USA 1984
Kansas City, MO 1986
(Jake E Lee, Phil Soussan, Randy Castillo)
Bark At The Moon
Never Know Why
Ozzy's Bunker
Killer Of Giants
Thank God For The Bomb
Secret Loser
Ozzy's Bunker
Philadelphia, PA 1989
(Zakk Wylde, Geezer Butler, Randy Castillo)
Bloodbath In Paradise
Tattooed Dancer
Miracle Man
MTV 1989
Marquee, UK 1991
(Zakk Wylde, Mike Inez, Randy Castillo)
Bark At The Moon (clip)
Studio 1992
San Diego, CA 1992
(Zakk Wylde, Mike Inez, Randy Castillo)
I Don't Want To Change The World
Road To Nowhere
Japan 1992
Ozzy's Bunker
No More Tears
Studio 1992
Desire
MTV 1992
Mama, I'm Coming Home
Studio 1992
Ozzmosis Recording Session 1995
Ozzfest 1996
(Joe Holmes, Robert Trujillo, Mike Bordin)
Perry Mason
Fame & Fortune
Tokyo, Japan 2001
(Zakk Wylde, Robert Trujillo, Mike Bordin)
Gets Me Through
Fame & Fortune
Ozzfest 2007
(Zakk Wylde, Blasko, Mike Bordin)
Not Going Away
Black Rain Photo Shoot
Las Vegas, NV 2007
(Zakk Wylde, Blasko, Mike Bordin, Adam Wakeman)
I Don't Wanna Stop
Scream Recording Session 2010
London, England 2010
(Gus G, Blasko, Tommy Clufetos, Adam Wakeman)
Let Me Hear You Scream
BONUS
Philadelphia, PA 1989
(Zakk Wylde, Geezer Butler, Randy Castillo)
Flying High Again
Tokyo, Japan 2001
(Zakk Wylde, Robert Trujillo, Mike Bordin)
Believer