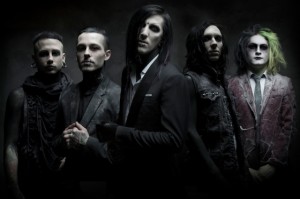 Motionless In White have released the title track to their forthcoming album Reincarnate, out September 12 via Fearless Records/Unified.
Named by Alternative Press as one of their Most Anticipated Albums of 2014, the album was produced by Dan Korneff (My Chemical Romance, Lamb Of God), and features guest vocals from Dani Filth (Cradle of Filth), Maria Brink (In This Moment), and Tim Sköld (Marilyn Manson, KMFDM).
Motionless In White have carved out a corner in the metal scene with their aggressive electro-tinged anthems, crowd-empowering choruses, and dark and profound message. Noted for their ability to shock and awe with their music videos, the band has amassed over 20 million views on YouTube, and been nominated for their video work in the Revolver Golden Gods Awards 2014, Metal Hammer Golden Gods Awards 2013, and Kerrang! Awards 2012.
The band has recruited a collection of devout fans across the world, having toured with metal juggernauts Marilyn Manson, Slipknot, A Day To Remember, Escape The Fate, and Black Veil Brides among many others.

Motionless In White – Reincarnate is available for pre-order now on iTunes and 24Hundred.net
Motionless In White – Reincarnate
1. Death March
2. Reincarnate
3. Puppets 3 (The Grand Finale) (feat. Dani Filth)
4. Unstoppable
5. Everybody Sells Cocaine
6. Contemptress (feat. Maria Brink)
7. Break The Cycle
8. Generation Lost
9. Dark Passenger
10. Wasp
11. Dead As Fuck
12. Final Dictvm (feat. Tim Sköld)
13. Carry The Torch
14. Sinematic (Acoustic Version)