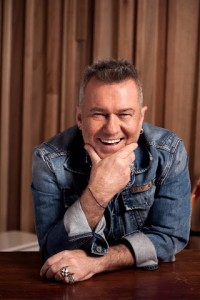 It's the album of his career – literally.
To celebrate 30 years as a solo artist, Jimmy Barnes is revisiting some of his biggest hits, collaborating with some of his favourite artists; Keith Urban, The Living End, John Farnham, Bernard Fanning, Shihad, Tina Arena, Baby Animals and Jon Stevens plus more.
"I wanted to do something special for the 30th anniversary," Jimmy explains. "There was talk of a tribute album, but that idea would have taken me out of the picture. So then I thought of a better idea – I'll get all my favourite acts and sing with them!"
Jimmy re-visits 'Good Times' with Keith Urban, 'I'd Die To Be With You Tonight' with Diesel, and 'Stand Up' with his daughter Mahalia.
The album also includes brand new recordings of 'Working Class Man', which sees Jimmy reunited with the song's writer, Journey's Jonathan Cain, as well as 'Ride The Night Away', featuring the song's co-writer Little Steven Van Zandt from the E Street Band.
"We've actually kicked some new life into the songs," Jimmy says. "I think when people hear the record, they will get the sense that these are very modern takes on these songs. They sound fresh and they sound new and they sound alive."
The first single is a blistering version of 'Lay Down Your Guns', featuring The Living End. "We got into the studio and within four bars of playing the song I knew it was the right marriage of song and artist," Jimmy says. "It was a rollercoaster from there – I just got on and enjoyed the ride. It was fantastic."
Chris Cheney from The Living End recalls "We've recorded with Jimmy twice now and he's really great to work with. No messing around, just get in and get it done! 'Lay Down Your Guns' was the first song I thought of when Jimmy asked up to be part of this project. I can remember going to see him at Rod Laver Arena in 1990 and this song kicked ass.  It's way above my range as a singer but he still sings it in the original key. He just gets in there and nails it!"
The new recordings are brilliantly complemented by original versions selected from across 30 years of Jimmy Barnes hits.    Appropriately the 30/30 album will be available almost 30 years to the day from the release of Jimmy's chart-topping debut solo album Bodyswerve in September 1984.
"Thirty years ago, I'd just left Cold Chisel," Jimmy recalls. "It was a frightening prospect going out on my own. Luckily for me, I had a great ally, partner and sounding board in Michael Gudinski."
Fast-forward 30 years and Jimmy is still recording for Liberation, part of Michael Gudinski's Mushroom Group.
Jimmy Barnes has released 14 studio albums in the past 30 years.  Nine of those albums have reached number one – more than any other Australian artist.
Produced by Kevin Shirley (Cold Chisel, Silverchair, Aerosmith), the 30/30 album not only celebrates the phenomenal career to date of one of Australia's foremost musicians but also illustrates Jimmy's continuing relevance within the contemporary Australian music scene, both as a recording and a touring artist.
In celebration of his 30th Anniversary Jimmy Barnes will be embarking on a tour later this year, playing a select number of A Day On The Green wineries nationally, with full details to be announced soon.
www.jimmybarnes.com | https://www.facebook.com/jimmybarnesofficial | https://twitter.com/JimmyBarnes
30/30 ANNIVERSARY ALBUM OUT 29 AUGUST 2014 THROUGH LIBERATION