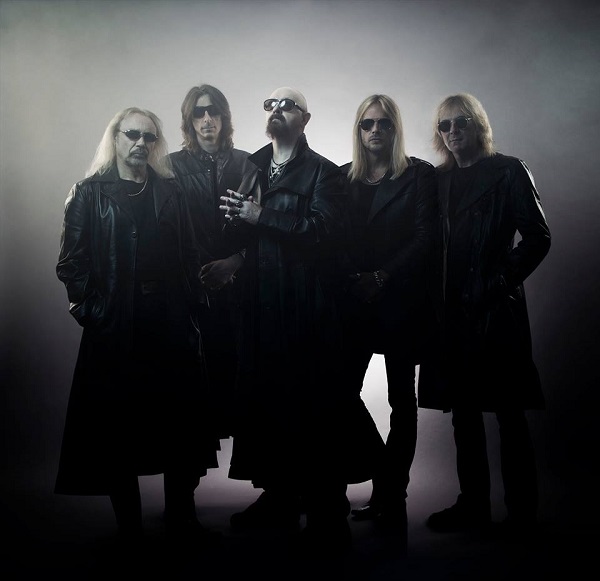 "…we've always tried to improve and push and get better over our forty years, we've obviously matured and improved as individuals and as a band as well, and I think trying to do things differently, but we've never been afraid to try anything you know…"
From release: There are only a select number of bands that have accomplished what Judas Priest has throughout their career (as well as having served as a stylistic influence on such a wide variety of bands). 'Redeemer of Souls' is Judas Priest's latest collection of epic metal – "raising the bar is consistent for us and 'Redeemer' hits the ground running" – it matches up perfectly to earlier Priest classics as evidenced by the album's leadoff single 'March of the Damned'. Seriously though, it's Judas Priest, we don't need to tell you what you're getting!
At home in we chat to a legend of Heavy Metal and a man that's been doing it for over forty years, Ian Hill of Judas Priest, he fills us in on the band's new album 'Redeemer of Souls' as well as some great looks back and a prospect of a return to Australia…
Thanks for your time today, Ian, so to start us off, why was 'Redeemer of Souls' the perfect name for this album?
I don't know if there's any meaning to it, it just sounded good… and a good follow on from 'Angel of Retribution'
It's been six years since 'Nostradamus', so in that time what inspired the songs for this album?
Well a lot of it came from Richie you know, and his enthusiasm *laughs* and we had written a few songs before Richie got involved in it you know, and we just got to contemplating whether we do an album or not, will it be needed or if indeed we would still be rocking after forty years. Yeah, the guys started to write and Richie got together with Glenn and Richie would sit in the dressing room and strum a few riffs and a few chord sequences you know and walk around saying 'oh that sounds good…' and then Glenn started and at the end of the tour they had quite a few ideas between them and we took a bit of time off after the last tour, and then got together to write and record and it turned out great if I do say so myself *laughs*
The album also marks Richie's recording debut with the band, what was it like having a new player in there after so long with KK?
Well I'll tell you what, to do a tour with Richie was beneficial because not only did we all find out how good a musician he was, because he is, he's a phenomenal player, we also got to know his character as well, working with somebody that you get along with is very, very important, you can be the finest musicians in the world but if you've got an arsehole in there you won't get on very well *laughs* and he's a great bloke, a really genuinely nice man and of course by the end of the tour we weren't just colleagues we were great friends as well. So to seamlessly slide into writing mode and recording mode we have a way of doing things and he'd done recordings in the past and may have done things differently but he sort of fitted straight in with our recording methods, and he's just a joy to work with really.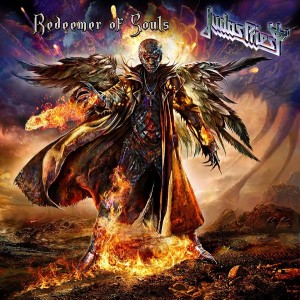 After sixteen albums, this being your seventeenth how do you manage to keep things fresh?
Good question *laughs* we've always tried to improve and push and get better over our forty years, we've obviously matured and improved as individuals and as a band as well, and I think trying to do things differently, but we've never been afraid to try anything you know, if there's a new recording technique or a recording pedal or a tech gadget we'll  give it a go and if it sounds good we'll use it, if not we'll throw it away and move on. I think it's the risk to improve and get better and push the envelope a little bit, it sort of keeps everything fresh. As I said it's evolved over the years, if you listen to 'Rocka Rolla' now even to 'Screaming for Vengeance' the difference is immense, the quality and the playing and of course compared to now there's a similar jump in keeping up with the times and like I say pushing a little and getting a little bit better and trying little things here and there.
As the man who's been there through it all, and seen it all, what do you see as being the most pivotal point within the band over your career?
I think it was singing with CBS way back in 1975 – 76, we had a record company before than in GORE records and they did their best for us but they were only a small company and I think they were relying on us to make them just as much as wanted them to make us you know? *laughs* and then after the second album it was pretty obvious that it wasn't going to happen with this lot and a great man worked for CBS / Sony but CBS back then came to see us and decided he'd give us an offer to sign us up, that was really the way we look at it now as we'd arrived if you know what I mean? We could afford to visit places all over Europe and Britain and obviously CBS gave us a large advance that could enable us to get to other places like to The States and Canada and could look forward to South America and your good selves.
What do you still enjoy about being part of Judas Priest?
You know what, I enjoy all of it *laughs* I really do, I'm a sucker for punishment… I look back on my career and think how fucking lucky have I been to be able to do something you love and be able to make a living out of it and that's the key. We all still love it and the thought of not doing it terrifies every one of us I think *laughs* I still love it after all these years, I love the people I meet and love the places I visit and obviously enjoy playing music.
In terms of legacy, how will you want Judas Priest to be remembered?
To be remembered at all would be an honour *laughs*… if people remember us the Godfathers of Heavy Metal maybe? That would be nice…
Touring wise do you think we'll get to see you back in Australia?
Yeah, it's mentioned all the time to get to Australia, the thing is you guys are so far away *laughs* you really have to fit in something else, and the last tour it just didn't fit with where we were in the world, but now that we've got more time, the album's finished, it's been delivered and we've got more time to organise things now, so with a bit of luck we'll be out there next year, it will probably be maybe Spring or maybe Fall *laughs*, one of the two… we're starting in America in early October / November take a break through December and Christmas obviously and then we'll start again probably February yet, but where we're going to start yet is early days. Australia is genuinely on the cards and we've only been there a couple of time and each time has been a great experience, you guys are just so friendly and we had such a great time and we look forward to getting back there.
Do you have any specific great memories of touring here?
We had a great time in Sydney, we got a water taxi there and hired it out for an entire afternoon and took us out to a great fish restaurant, we had a great dinner and the sun was coming down when we got back and we were just tourists there with the Harbour Bridge and the Opera House and it was really magical, just a good time.
Hard one, do you have a favourite show you've ever played?
Not really, there's just been so many, if you'd asked me that twenty years ago I may have had some idea *laughs* but now after so many tours it's difficult to pick any one show out. The biggest show we ever did I suppose was the US Festival in California that was in 1983, there was about 350,000 people there *laughs* so that was great, and to be able to play Live Aid as well in Philadelphia, we did that, that was a great one to do with all the acts and everybody gets on and on stage that was a good experience as well.
Looking back to the beginning, would you have ever thought that you'd still be doing this over forty years later?
No if anyone had told me that I'd have told them they were mad *laughs*, personally speaking I never really set out for it to be a career, I set out just to enjoy myself in something to do other than my job which wasn't a great idea, but then we started to improve and get better and got our first record contract which was pretty crap *laughs* but we got record on the shelf, and it's the proudest moment really is walking into your local record store as that was it back then you had a record and you had a record player and there we are on the shelf with all your influences and all your favourite bands, Cream, Hendrix and The Beatles and Colosseum, all of these great bands that you've been listening to and you're there with them it's a great moment definitely.
Lastly, let's try and predict the future and the remainder of the year, so I want you to finish this sentence for me, by the end of 2014, Judas Priest will…
Be taking a breather from the first leg of the tour and will be looking forward to the second leg.
Essential Information
From: Birmingham, England
Band members:  Rob Halford – vocals, Glenn Tipton – Guitar, Richie Faulkner – Guitar, Ian Hill – Bass, Scott Travis – Drums
Website: http://www.judaspriest.com
Latest release: Redeemer of Souls (Sony Music Australia – July 11th)