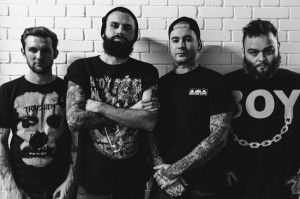 Fresh from launching themselves back into the live arena for the first time since the Reading and Leeds Festivals last year, Gallows spent the weekend tearing down tents at Hyde Park with Black Sabbath before dominating Sonisphere Festival and are now proud to unleash a new video for recently released single 'Chains'.
Shot in Toronto by Canadian director and musician Josh Reichmann, his dark and foreboding film style perfectly suits the song's menacing and heavy vibes.
"We approached the making of the 'Chains' video unlike anything the band had done in the past," explains frontman Wade MacNeil. "Looking at it more like a short film than a music video. The end result was something that is dark, beautiful, and other worldly; very much like the song itself."
'Chains' is released through the bands own label Venn (in partnership with Cooking Vinyl Australia) as a download with exclusive digital bundles and on limited edition coloured 7" vinyl.
"The song 'Chains' came together really quickly," states guitarist Laurent Barnard. "It started off with one riff and by the end of the day it was recorded. We did it all live too like we were making a garage punk record. My friend Helena who sings in a great band called Dios Mio happened to be in the studio that day so she came in and added some vocals and textures, which brought a very haunting element of the track. It's very different but still very dark which is what Gallows is all about."
GALLOWS – NEW SINGLE 'CHAINS' + B-SIDE 'WRISTSLITTER' – OUT NOW VIA COOKING VINYL