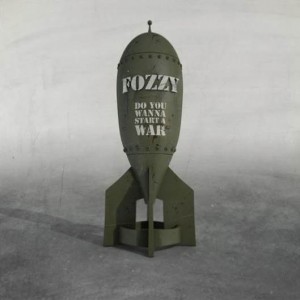 There's just a vibe about this new Fozzy album, like that they feel they still have something to try and prove, and that may not be the case at all, as they've really come into their own over the last few years as they've made just kick ass rock and roll music, and this album is absolutely no exception to that. To lead off with air raid sirens and the title track 'Do You Wanna Start A War' is the only way it could begin, and even though it may not be the direct message that you'd think, listen to it, rock the fuck out with it and open your eyes to Fozzy and what this album is going to be. If the opener is any indication of what the rest of the album will sound like then I'm in for the long haul, and if you're drafting people for this war… I'm in.
The heaviness continues into 'Bad Tattoo' and I do mean heavy, this chorus almost blew up my speakers (thanks guys, I'll send you the bill) but production wise this song is so full and intense musically that it stands out, nice work Duke. The one though, actually second most song I'm intrigued by (you'll see what I mean later) is 'Lights Go Out' and it sounds like nothing not only Fozzy have done before but like nothing I've heard in terms of a track before especially from a heavier band, but fuck me, what a song, I hope there's a pill to cure what I caught from this song as it's so damn catchy, and I have to say that if I don't hear about this song being played in strip clubs all over the world by the end of the year then there's something wrong. So, above where I said the band feel they have something to prove, I feel with this one song alone that they've done it, and done it well, I loved this song from the first instant I heard it. No sooner is it over that they slow it down a little with 'Died With You' and what a track as it explodes into a big chorus and lyrically I dig the vibe here, these guys can write a song man, the 'joke' type days of Fozzy Osbourne are long gone I can tell you right now.
Oh man, 'Tonite' holy shit, this takes a turn and sounds like pop metal, I can just see this one being performed live and the place going nuts, it has that perfect arena feel and hopefully will get the chance to be blasted to many new and old Fozzy fans very soon. So there goes the pop metal and we return to just plain metal with the aggressively rockin' 'Brides of Fire' that lets Rich Ward rip it up mid song which is always a pleasure to hear, and to then follow that one up with 'One Crazed Anarchist' is a perfect placement, again, the driving guitars and driving rhythm is all over this one and done well. The Duke has nailed the production on these tracks and the album as a whole and should be commended as he's made one bitchin' sounding record!
So, I've had a while to listen to this album and when I got to 'Unstoppable' I said to myself 'self, here's the song, the one on the album people will be talking about' and let's see if that's true, because this is a hit waiting to happen. The dual vocals here of Jericho and Christie Cook make this song what it is, not to mention the damn hook in the chorus, and what I see for this song is soundtrack, this is a perfect credit rolling song after just witnessing a big action movie, that's what I see for this songs future. So yeah, there you have it, song of the album! 'Scarecrow' and 'No Good Way' are two of the four tracks that remain and do well to keep the album constant, in particular the later of those two that has a sweet groove to it… BUT…
Remember above when I was saying that 'Lights Go Out' being the second most song I was intrigued by, well, here's the first… 'SOS' and while the title may sound innocent enough, within a few seconds you'll know what I mean, yes, this is a cover of the ABBA song and I'll give you the mail, it works! Can't say that I've ever heard an ABBA track covered in this way and for Fozzy to do it justice and make it a kick ass metal song is insanely good! Round of applause for having the balls to do it! We close the album with 'Witchery' and what better way to go out, back to a kick ass riff and fast paced rocker that is worthy of its place and the big vocals here give the song some balls, not that the song or album needed them at all, in fact I think Fozzy have all the balls and are taking them home so you can't play with them as the band play us out on this one to a fade…
What I dig about this album is that it hasn't been a chore to listen to it at all, some albums drag, some just don't gel with me, but this one in my opinion is so well put together that it grabbed me and has taken me on this ride, and THAT is what I love about a good album of good songs. I wanted to stop reviewing this album four songs in as I could already tell how good it was going to be, so let me just put this at the top of my list of albums released so far this year, leave it there and see if anything comes along to knock this sucker off, but Fozzy, well done, well done indeed. War… has… begun…
Check out our interview with Chris Jericho HERE
Essential Information
From: Atlanta, GA, USA
Produced By: Rich Ward
Release date: 25th July 2014 (Century Media)
Website:  https://www.fozzyrock.com
Track Listing:
Do You Wanna Start A War
Bad Tattoo
Lights Go Out
Died With You
Tonite
Brides of Fire
One Crazed Anarchist
Unstoppable
Scarecrow
No Good Way
SOS
Witchery