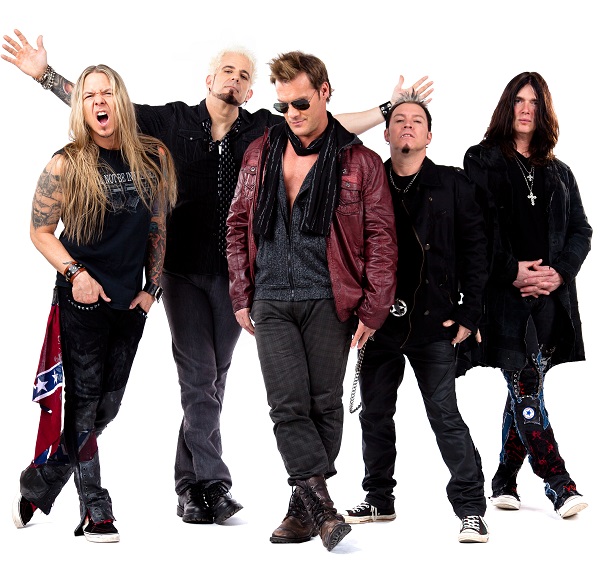 "…when you get a little momentum in this business you want to keep it rolling and we've got enough momentum each time to get our foot in the door and now that our foot's in the door we want to kick the damn thing open and burst into the next stage…"
From release: Led by the inimitable duo of guitarist Rich Ward (co-founder of the influential underground band Stuck Mojo) and vocalist Chris Jericho (famed WWE superstar and media personality), the band FOZZY has really always been about one thing: having fun. Produced by Ward 'Do You Wanna Start A War' is the bands follow-up to their acclaimed 2012 release 'Sin and Bones' and sixth studio effort since 2000. By the time 'Do You Wanna Start A War' is released, a horde of seasoned and newfound fans will have seen FOZZY live and heard new tracks off the album. They will have witnessed one of the greatest performances they've ever seen, they will have witnessed one of the best frontman in any genre of music sing some of the catchiest songs they've heard in ages and most importantly, they will have had the best time in their lives doing it.
It's always a pleasure to speak with Chris Jericho, and with this new Fozzy album coming your way, he fills us in on the album, its direction, the growth of the band and predictions for the future… so? Do you wanna start a war?
First thing's first, this album is a fucking monster, so congratulations!
Oh thanks man, I'm glad you enjoyed it it's very cool to hear that.
No worries and this is always fun to do to start off, can you give us one word that you feel sums the album up?
Game-changer… I think it's the type of record that will turn a lot of heads Fozzy's way, make a lot of people fans of the band that have never heard us or never given us a shot, but it is man, this record us is such a diverse record there's so many different styles of music on there but still every song stays true to who we as a band. I think the last band you can say that did a record like this is, not that I'm comparing us to Queen, but it's a record that is very diverse, like I said there's a lot of different styles of music on it but it's still very much a Fozzy record which not a lot of bands do, many bands sound the same, have a certain mindset of what they want and that's it, and we thought why have rules? We'll just do good songs and however they turn out they turn out and I think we did good and that's why everybody that hears it feels the same way that you do so far which is good to hear like I said.
It takes on such a heavy sound, did you have a plan going into this album of how you wanted it to sound?
Well it's all very much a Rich Ward record, the guys a very distinct sounding writer, all of his riffs are very heavy, groovy, with a lot of interesting melodies and harmonies in the chorus, it's kind of what we do best. The only thing we decided on this record is to not have rules like I said, if you turn on rock radio in the United States there's a lot of bands that sound very similar and they're huge bands there's no doubt about it, I'm not denying their success, but it is a very similar kind of sound that's going on now, even when you take 'Lights Go Out' it doesn't really sound like anything else, it's almost like Fall Out Boy combined with Black Sabbath, it's very heavy, you could hear it at a strip club, it's almost a dance club song, and not everything sounds like 'Lights Go Out' but that's an example of creating our own genre of music at this point. So it's always going to have that very heavy element, that kind of dark element to it, that's the type of music that we make, so yes it does have a lot of pop sensibilities and really big hooks, and some different sounds to it but the bottom line to it is that every song on this record is a very heavy one for sure, and just different ways of being heavy.
You mention that it takes a little bit of a different direction for the band, and in particular the catchier than the common cold first single, 'Lights Go Out' that sounds like nothing you've done before, are you nervous or hesitant to in essence release change?
No you can't be, you have to make a record that makes you happy first and foremost as an artist, as a musician, as a fan and then I've always found that anytime you do something that's a little bit outside of the box that if you believe in it and it's real and it's good, your fans will believe in it too. Maybe a little bit nervous as what if people just want to hear 'Blood Happens' again, or 'Pray for Blood' like the super-fast heavy songs and that's all they want to hear, and there are people that just want to hear that type of music, you'll always see people commenting saying 'we wish this was like 'Chasing The Grail' or 'we wish this was like 'Sin and Bones' but you know it's an evolution and extension of the band and there's only so many AC/DC's and Slayer's out there that can do the same album in essence every time and do it well and those bands are amazing, they're two of my favourite bands, but we're not like that. Every record we've done evolves and mutates from the last but still retains the essence of who Fozzy is like I said, so there's always gonna be some people that might not like it when we do a song like 'Lights Go Out' but if we lose a thousand fans and gain ten thousand that's all that matters and that does happen, the thousand fans that get mad at you at first will always come back to you in the end, like jilted girlfriends they realise that the dude is actually pretty good and could well get used to it.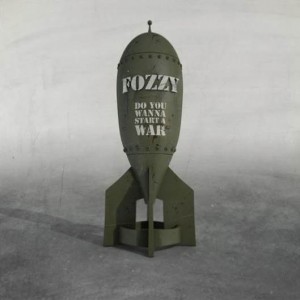 I do have to ask about the title of the album 'Do You Wanna Start A War', is there a specific meaning or message behind it and the title track?
It's not do you wanna start a war with missiles and guns or get into a fight, what I wrote that track based out of if there's something bringing you down or some kind of adversity that you're facing, start a war with it, beat it, get past it, you're good enough to do that, it's kind of more a self-belief song than a fight against what holds you down type of song. I got the title from a Green Day live record where right before 'Holiday' Billie Joe yells out "Do you want to start a war?" and I just thought what an interesting title, you could go so many ways with it, and then my goal was it to be the ultimate live song, "throw your hands in the air, now's the time to not care, throw your hands in the sky and say goodbye to bad times…" just get past the problems you're having and know that you're good enough to do that. So like I said, I love songs like that that have multiple meanings within a certain title and concept, those are always my favourites as there's so much to it, so many different layers to it that you really have to dig deep to figure out what it means to you, but to me it means a song of self-empowerment.
Ok, so… one word, ABBA… one question, how did you decide on 'S.O.S' to cover for the album?
Oh we have really interesting eclectic tastes so after the shows I always put my iPod on shuffle and just let it go and there's everything on there like I said from Slayer and Venom to Jonas Brothers and Vanilla Ice and everything in between. We were listening to a bunch to songs one time I remember we were backstage in Leipzig, Germany or something like that and the song 'Devil Woman' came on by Cliff Richard and we were like 'oh this would be such a cool song to cover' and then soon after that 'S.O.S' came on and we said, well that's even better because it's such a dark song, if you listen to the chord changes, they're very dark very heavy, the lyrics are very heavy, it's about somebody about to commit suicide or something because of the loss of their girlfriend or boyfriend, but it's such a good song as far as hooks go, it's got that really cool Dream Theater almost Malmsteem type lick in there right before the chorus, like imagine if you had that playing with the keyboard, the bass and the guitar all playing together and so we said let's try it out and see how it goes and if it's good let's put it on the record because like I said it's a song everybody knows once you hear it, and it's never been covered, it's not exactly the most typical band for hard rock band to cover, ABBA, but that's the other reason we wanted to do it, if we're going to do a cover let's do one that's very weird and that no one would expect and that totally rocks when you hear it, and this one just came through with flying colours. Every time we've done listening parties, whenever that song comes on some people just look at it curiously then at the end they're all just going nuts, singing and rocking to it, like I said, everyone knows this song no matter how old you are, and no one would ever expect it to be covered and when you do hear it it's so heavy and dark it fits perfectly with the tone of the rest of the record.
'Unstoppable' stood out for me too, who is that singing with you on it?
Oh cool thanks man, we wanted to do kind of a reverse 'Stones' in that the Stones have 'Gimme Shelter' where the girl comes in in the chorus, we wanted to kind of have her involved the whole time and we thought do we go the tried and true route and get Lzzy Hale or Christina Scabbia or whoever, but there's a girl names Christie Cook that we've been working with in Atlanta for years, just a local Atlanta girl with a killer voice and we said let's just create our own star, not worry about having the female vocalist de jour, let's create our own vocalist de jour, much like The Stones did on 'Gimme Shelter' where they took basically an unknown backing vocalist and made her a huge star just by the fact she was on a Stones record. So once again, just kind of doing things backwards from the way you're supposed to do things and doing it our own way and it turned out great, definitely one of my favourite songs on the record, super catchy and one that really has a lot of people turning their heads because once again not a lot of bands will have a lot of unknown vocals, it's not even a duet, it's a co-lead at this point, and she's got such a great voice.
Well it's a potential single in the works I think…
Thanks man, one of the good problems to have is that we have probably five or six songs on this record that could be singles and that's always good when you have that.
Fozzy seems to have finally come into their own over the last few years almost non-stop, how would you sum up the last few years of being a part of this band?
Well each record is evolution from the last, and especially since 2009 when we really sat down and said we really want to make Fozzy the priority here, the band has grown leaps and bounds, look where we were for 'Chasing The Grail' and how much bigger we got with 'Sin and Bones' and then how much bigger with where 'Do You Wanna Start A War' is going to take us, because when you get a little momentum in this business you want to keep it rolling and we've got enough momentum each time to get our foot in the door and now that our foot's in the door we want to kick the damn thing open and burst into the next stage, and you can really see that just by the amount of touring we've done, the amount of press, the amount of airplay, the amount of buzz about the band, the fans that we have, it's been as you said, non-stop, but it's a good feeling that all this hard work that you're putting into the bad is really paying off and taking us places that we never thought we'd go and opening more and more doors each time. So I think like you said, this record is gonna take it in two years from now when we talk again we're going to be at a completely different level than when we spoke two years before that, and the only reason for that is that our live show is a big part of it, but it's the songs that you play during the live show and I think as a band we just come together unbelievably and have just grown so much as song writers and just really don't give a shit what anyone thinks, never really have now more than ever, especially when you're talking about the diversity of music on this record and I think like I said, it's a game-changer and going to take us to the next level and just make heaps of new fans, it's all you can do and please all of our loyal fans that have been there from the start.
You've made the trip down here to see us more than a few times now, when can we expect to see you back?
I mean we can't wait, we were fortunate enough to be able to come to Australia twice last year in February and December on two amazing tours, I mean Soundwave is incredible and then doing the tour with Steel Panther and Buckcherry was incredible as well. Australia has been a target for us, we've been there four times I think since 2005 and it's always been a great market for us, we have great fans there and lots of room for expansion I think, one of the countries we're really going to grow in in the next few years. So hopefully we'll get an invitation to come back for Soundwave, we had a great time at Soundwave 2013, if we don't, we'll still be back anyways either by ourselves or with somebody else at some point in early 2015. We've got so much buzz in Australia with so many great fans I can't see it not happening at this point.
OK, so lastly, let's predict the future… finish this sentence for me, by the end of 2014, Fozzy will…
Be bigger than we've ever been, with one of the best records of 2014 under our belts and played bigger venues than we've ever played before, with more fans than we've ever had before, having more fun than we've ever had before, and I'll be wearing a black T-shirt at that time. A black T-shirt with a picture of Cliff Burton, that's my prediction, when you read this, that's what I'll be wearing. I do have a black Cliff Burton shirt that's one of my favourites and I wear it once a week, so there's a one in seven chance that this prediction will come true *laughs*.
Essential Information
From: Atlanta, GA, USA
Band members:  Chris Jericho – Vocals, Rich Ward – Guitar/Vocals, Frank Fontsere – Drums, Paul Di Leo – Bass, Billy Grey – Guitar
Website: www.fozzyrock.com
Forthcoming release: Do You Wanna Start A War (July 25th– Century Media) – Check out our REVIEW HERE