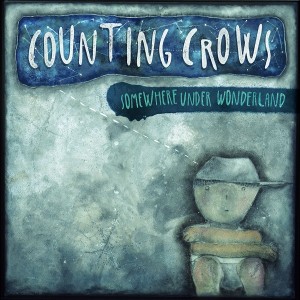 Counting Crows will release their highly-anticipated seventh studio album titled Somewhere Under Wonderland on the 5th of September on Capitol Records.  The short film of "Palisades Park," directed by Bill Fishman, is available now and can be seen HERE
Known for creating unique and innovative concerts and consistently ranked as one of the top live bands performing today, Counting Crows are in the midst of the North American leg of their major worldwide tour which will continue through major markets, including their hometown of Berkeley, CA, before concluding in Los Angeles at the historic Greek Theatre on August 17.
Counting Crows – Adam Duritz (vocals), Jim Bogios (drums), David Bryson (guitar), Charlie Gillingham (keyboards), David Immergluck (guitar), Millard Powers (bass) and Dan Vickrey (guitar) – have sold more than 20 million albums worldwide after exploding onto the music scene in 1993. For more information, visit countingcrows.com.
Somewhere Under Wonderland
Track Listing:
1.      Palisades Park
2.      Earthquake Driver
3.      Dislocation
4.      God Of Ocean Tides
5.      Scarecrow
6.      Elvis Went To Hollywood
7.      Cover Up The Sun
8.      John Appleseed's Lament
9.      Possibility Days