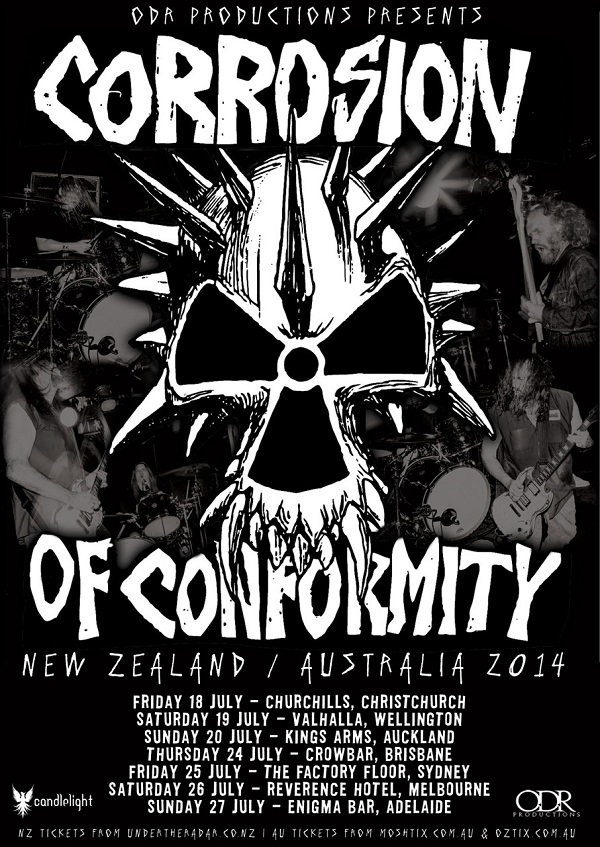 After the untimely cancellation of their debut Australian tour, Corrosion Of Conformity have moved quickly to work with a new promoter and rebook a new set of dates and keep the promise to their fans.
US Punk/Metal pioneers, Corrosion Of Conformity (bassist/vocalist Mike Dean, drummer/vocalist Reed Mullin and guitarist Woody Weatherman) exploded onto the US heavy scene way back in the
early 80's. The trio made their mark with an unrelenting live show and signature crushing riffs. In 1985 they released what would become one of the most important heavy crossover records of all time, Animosity. Both critics and fans hail this unparalleled megalith of an album as the ultimate rock/punk/ metal mash up. Decibel magazine is quoted as calling the release "a crucial stylistic linchpin in the bridge between metal and punk. It irrevocably reshaped crossover's sonic possibilities".
After nearly 30 years of musical trail blazing, you would think a rest would be on the agenda. Not the case, the band hasn't let up the pressure in the slightest. Instead of resting on their laurels, Corrosion Of Conformity hunkered down and cooked up a brand new batch of fire balls for your stereo. Their newest full-length effort (titled IX) has just been released. This latest dose of masterful and heavy song-craft boasts an extremely raw sound, akin to their decimating live power.
Australian and New Zealand fans alike will have the chance to experience this unstoppable machine, first hand, on stages around their respective countries this July.
TOUR DATES
Friday 18 July – Churchills, Christchurch NZ 
Saturday 19 July – Valhalla, Wellington NZ
Sunday 20 July – Kings Arms, Auckland NZ
Thursday 24 July – Crowbar, Brisbane
Friday 25 July – The Factory Floor, Sydney
Saturday 26 July – Reverence Hotel, Melbourne
Sunday 27 July – Enigma Bar, Adelaide
Tickets on sale now!