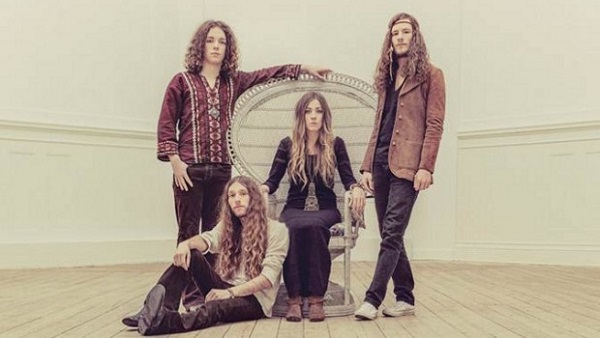 "I just want to keep playing music and keep having a good vibe in the band and that we're still in ten years from now or twenty years from now that we still love playing with each other and writing songs and there's fire…"
From Bio: It's been a long, hard and winding road for mankind, but in December 2011 the moment we´ve all – yet unknowingly and yet unaware of our coming salvation – been waiting for finally saw the light of day. The band, all just in their early Twenties, formed a group which should quickly become one of the most acclaimed and interesting bands in music. Behold the birth of a new musical experience, an experience we thought was long gone, lost in time and space. Behold the birth of BLUES PILLS. The young American-Swedish-French quartet create a very unique, intense and extraordinary rock atmosphere while at the same time having a major mainstream appeal that takes you right back to the time of BLUES PILLS' ancestors Aretha Franklin, The Original Fleetwood Mac, Led Zeppelin, Jimi Hendrix, Janis Joplin and Cream.
At home in Sweden, we chatted to Elin Larsson who is the powerful voice behind Blues Pills, a band you really should check out immediately… she fills us in on the band, their sound and much more. A band so worthy of being one of the Best Things You've Never Heard…
So to start off, can you tell us about Blues Pills and how the band came to be…
We are a blues soul rock psychedelic band and we formed in the late 2011, and we are a four piece band. How we met is kind of funny as we are from four different countries *laughs* but we all live in Sweden now in Örebro, and I met the Americans in America when I was there for a holiday, I was in The States for like six months total and we became friends. I met them in California because that was where they were living and we started hanging out and just being friends and eventually we started to jam and me at the bass player Zack started to write songs together and he showed it to his brother Cory and then we started recording demos in a garage like in a shop on our own. Eventually we put that on YouTube and I was strictly against it, I remember I was like 'no we shouldn't do that' but they said we'll put it on YouTube. We got offered tours and got offered a record deal from a Swedish small label and then stuff started to move and we though ok let's do this tour, let's release an EP on that record label, but we needed to find the fourth member of the band because we were only three people and Zack and Cory used to play in another band before and I think Zack was in that band for like five or six years total, and when he was on tour in France he saw Dorian play years before and they kept in touch on facebook and they kept talking because how old can he be like fourteen years old and they were just blown away by his talent, and when we had that first tour we asked him 'do you want to come on tour with us? Maybe you can send some recordings soloing over our demos if you want to' and he's like 'yeah sure' and he did, he sent some solos of recordings from France and then we all met up in Sweden and then we all went on this tour and after that tour we felt that we had something special and then the process moved to how everyone was going to move to Sweden and eventually everyone did… *laughs*
For those that haven't heard of you before, give us an idea of what people can expect when they hear your album…
It's a really groovy album I would say, it's a lot of rhythm, the songs are like different so it doesn't get boring, some songs are really heavy and some songs are really fast and it's recorded all analogue so it would have this warm sound to it, and it captures some of the live feeling when we play live because we recorded it live, drums and bass especially, and it's an album that's really thought through. This one because we were in the studio and we could just focus on the music which I think really helped and I'm really happy about the album.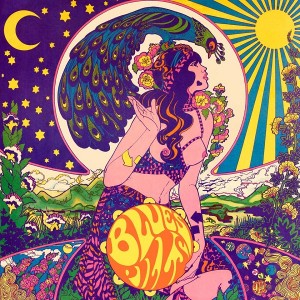 Can you tell us about the artwork on the cover, it's a great image…
The artwork is made by an artist whose name in Marijke Koger-Dunham and she in the sixties was in an art collective called 'The Fool' and she painted for The Beatles so when she gave us this artwork that was really honouring because she's an incredible artist.
As it is your debut album, what are the feelings like as the release date looms?
I'm a bit nervous *laughs* but I'm really excited as well, yeah we've been on tour for two years and we haven't released an album, I think it's pretty cool that we've been in Australia without an album which is rare I think, but finally we're going to release our album but of course I'm nervous. So far the reactions have been good both from media and when we've been playing live, but I'm really happy with the album and all of the guys are also.
Did you have an idea of how you wanted the album to sound when you were making it?
When we started the band we listened a lot to an album called 'Then Play On' by Fleetwood Mac and we wanted some of that feeling to it and we wanted that feeling in our band. We also got inspired by our producer who showed us an album by The Undisputed Truth and the album is called 'Cosmic Truth' so one song is really influenced by it because it's like soul psychedelic from the sixties, but I think we wanted to have the emotion of that on our record and the feeling which really helps when you record analogue because then you really have to trust your ears because you can't save a bunch of takes or cut the tape, you have to be sure and listen to the recordings and to the tapes and feel like that's the one.
When putting it together, and knowing this is a huge introduction, was picking the songs hard to get the exact balance you wanted?
We are such a young band and we don't have much experience so we've really been listening to the people we've been working with and everyone said put the best songs on the album, the first album, because we have released some EP's but no one really listened to the EP's and it's like before the album comes out, so we have some of the songs we released on the EP's but we have rearranged them a lot and really thought of stuff because those songs we had before were demos that we recorded ourselves, it wasn't the best condition, but I'm happy we did redo some of the songs just because it was fair to the songs otherwise maybe they would have been forgotten or they wouldn't have been part of the album and I think that was important for us to make it fair to them. So that's what they said, put all the best songs on the album.
In terms of musical influences, who would you site as the reason you do what you do today?
My first ever record I bought was a Joe Cocker album from the 80's, one song was called 'Unchain My Heart' and I really loved his voice, but also later on I started to listen to Aretha Franklin and soul artists because my Dad had a bunch of records with soul music, like the hits of them, so that was a way into that type of music. People that sing soul and blues and have that rasp and strong power in their voice that always fascinated me, it also fascinated me that all the voices sounded completely different yet so powerful. So I would say probably Aretha Franklin I would say was one of my huge inspirations but of course in my teens I started to listened to The Doors and Black Sabbath and stuff like that because I was hanging out with all these metal dudes in my class *laughs* so they showed me a bunch of great music that I probably wouldn't have recognised if I wasn't friends with them.
It shows as your voice is so ridiculously powerful, when did you realize you could sing that way?
I don't know, when I was twelve I started to realise I had a way more powerful voice than my friends that I was singing with or whatever, and I practised and I was singing and trying different stuff and I think that's important as a musician and a singer that you're trying everything. I went to music school the three last years of high school and at that time I was singing so many different styles of music, I could sing some classical songs and everything through to heavy metal and in between *laughs* so I think that's good to be open and try all different stuff and then you get a good mix of stuff.
You have been here before, but any chances of us seeing you in Australia again anytime soon?
Ahh yeah I hope so because we had so much fun and it was really cool touring there as I'd never been there before, so I hope we can come back now when we have our album, and do another tour.
So in terms of touring what have you been able to do so far that blows you away?
We actually played Sweden Rock this year, because this summer we've been playing a lot of big festival like kind of dream shows for a young band like us, and I said when we play Sweden Rock and I'm not really realizing it until we're on the stage and then it just hit me 'Shit we're playing Sweden Rock' *laughs* it was really cool. I saw Black Sabbath, it was so good, it was cool.
After only being a band for a couple of years, what's the one thing you most want to achieve?
I just want to keep playing music and keep having a good vibe in the band and that we're still in ten years from now or twenty years from now that we still love playing with each other and writing songs and there's fire. Right now how we are in the band we always want to be better and learn new stuff and we are kind of open and have a more open personality to our instruments, we don't have like an ego problem or something like that and I hope that never happens *laughs.
Lastly, let's have you predict the remainder of the year, so finish this sentence for me, by the end of 2014, Blues Pills will…
Go in the studio again and record their second album. I hope so *laughs*. We actually have eleven new song ideas and we had so much fun recording the album so we should just start recording the second album pretty soon because it took us two years to record this one…
Thanks for your time, Elin, hopefully we'll see you back in Australia soon…
Yeah and I hope you can come to Sweden Rock next year…
Oh yeah, thanks, I'll come and crash on your couch… *laughs*
*laughs* yeah, you do that!
Essential Information
From: Örebro, Sweden
Sounds like: Blues/Rock/Soul
Band members: Elin Larsson – Vocals, Dorian Sorriaux – Guitar, Zack Anderson – Bass, Cory Berry – Drums
Latest Release: Blues Pills (out now – Nuclear Blast)