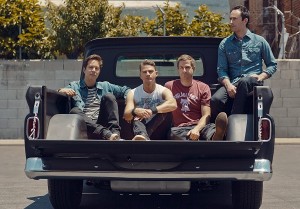 Platinum-selling pop rockers American Hi-Fi are set to release their fifth full-length album, Blood & Lemonade on Friday September 12, 2014 in Australia and New Zealand through Rude Records/Rocket. Australian pre-orders for Vinyl, CD and Digital album are available now at JB Hifi and iTunes.
'Golden State' is the second single to come off their forthcoming album, following on from the first single 'Allison', which kicked off the Boston band's return from a semi-hiatus earlier this year. Front man Stacy Jones comments, "'Golden State' is a song about starting over. It's about learning from your past and using that information to forge a new path, a more enlightened perspective. It's knowing that everything we do and experience, even the moments that seem tough, can ultimately lead us to a better place." The brand new single can be streamed via the newly released lyric video below, with an official music video to drop next month.
The 10-track record wholly embraces the sound and spirit of classic balls-to-the-wall, guitar rock mixed with the power pop sensibilities that lead to their worldwide smash 'Flavor of the Weak'. Fans will receive 'Golden State' as an instant download when they pre-order the album on iTunes!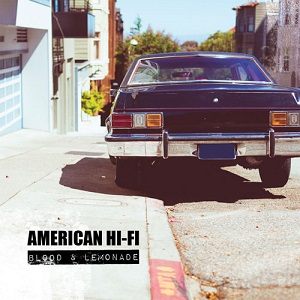 Track list:
1. Armageddon Days
2. Golden State
3. Coma
4. Wake Up
5. Allison
6. Amnesia
7. Killing Time
8. Carry The Sorrow
9. Portland
10. No Ordinary Life
AMERICAN HI-FI's Blood & Lemonade will be available worldwide digitally on Tuesday, September 9, 2014 and in Australia and New Zealand stores on Friday, September 12, 2014through Rude Records/Rocket.
AMERICAN HI-FI is Stacy Jones (vocals/guitar), Jamie Arentzen (guitar), Drew Parsons (bass), and Brian Nolan (drums)
www.AmericanHi-Fi.com
www.Facebook.com/AmericanHifi
www.Twitter.com/AmericanHiFi
www.RudeRecorz.com