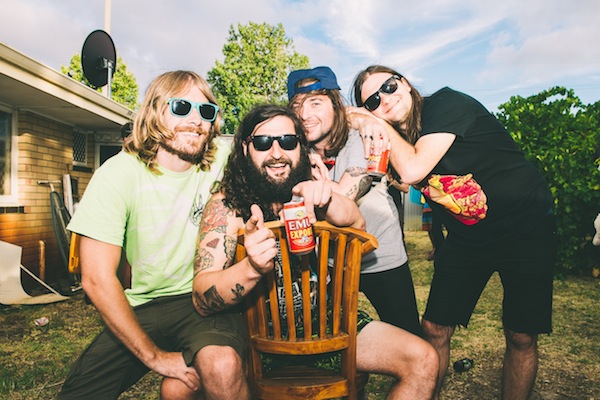 "I think people can expect everything that we can throw at them, like I think they can expect four guys that have probably drank a bit too much than they should have before they played, but somehow will still have a good time with everyone anyway."
From Tour Release: The Bennies stormed into 2014 with their epic 'Knights Forever' tour, which was their biggest wildest, loudest and most successful tour to date. Add to that their first ever tour of NZ, a coveted slot on the Soundwave line-up and an impending tour of China (the band's second in twelve months), and it becomes glaringly obviously that The Bennies are on fire. The quartet also recently recorded an inspired cover of 'Bankrobber' by The Clash, to raise funds for beloved Melbourne alternative bookstore Polyester Books. Stream and pick that up HERE.
Giving me a new lease on life with our discussion on being 'self-employed' we chatted to Craig of The Bennies ahead of their Bong Weekend shows which are going to be a hoot, also about the band, touring, Pandas and more…!
To start off, for those unfamiliar with The Bennies, how would you best describe the band and its sound?
I reckon we pretty much sum it up with psychedelic, reggae, ska, doom metal, punk rock from hell… pretty much just four dudes that just play psychedelic punk.
I feel like you're missing opera and jazz from that list…
*laughs* We're working on that for the next release…
2014 has been a pretty big year for you so far, is it fair to say that 2014 is the year of The Bennies?
Oh yeah, I think 2014 through for the next twenty or so will be the year of The Bennies for sure…
So let's run through a few of the highlights, tell us about the experience of playing Soundwave…
Oh that was absolutely mental, it was a real dream come true, and the whole point when we started the band was that we wanted to play big 'festies' or stuff like that, we always wanted to play a Soundwave or a Meredith or a Big Day Out or something like that, and so to actually get that kind of opportunity was unreal. Then to actually have such a big crowd at 11am in the morning was just unbelievable, it totally blew us away.
Did you get to watch any of the other bands on the day and hang out?
Yeah, big time, I ended up sculling a beer with Phil Anselmo which was a highlight of my life *laughs* and we watched Alice In Chains from the side of stage which was fuckin' unreal as I've always loved them. Jules our guitarist is a big fan of Rocket From The Crypt and he got to watch them, it was a pretty mental day to be honest.
You also just got back from China, how was that tour?
Well… that was another level of mental I've got to say *laughs* that was our second time there, we were there in November last year, but this time we were able to play a couple of festivals over there, mini festivals and it was it was just fuckin' insane. It's such an awesome place, it's really hard to get out of the country, but once you get there it's an absolute fuckin' free for all man, it's awesome. Heaps of food, heaps of beers, so many different bands, it's just great, yeah, that whole experience was out of this world.
Now, don't take this the wrong way, but how does a band like The Bennies get big in China?
*laughs* Yeah I don't know… *laughs* well our good mates The Smith Street Band went there a couple of years ago and they hooked us up with a tour promoter, so we went over there with him and it just seemed to go great, so we went back. I think one of the reasons we go ok over there is, obviously the language barrier is different, but we just give a lot of energy and a lot of the bands we were playing with over there, particularly at the festivals just stand there and pose around a little bit, but we just sort of went out there and did our thing and rocked out a bit, and I think that kind of energy is a bit infectious with people that you can't really communicate with the language, but everyone can communicate with high-fives, so it all kind of works.
Did you get to see a Panda?
*laughs* NO! Spewing about that… hopefully next time.
We're here to talk about the Queen's Birthday Bong Weekend Tour, tell us about what people can expect from this four show run?
I think people can expect everything that we can throw at them, like I think they can expect four guys that have probably drank a bit too much than they should have before they played, but somehow will still have a good time with everyone anyway. We're playing with our good buddies Fait Accompli who are a pretty radical indie band, it's just awesome, we've been trying to play shows with them for ages, so it's really good to be able to finally get the opportunity to do these shows with them.
So, I have to ask, who came up with naming it the 'Bong Weekend' tour?
That was our singer Anty, we were throwing around a few ideas and that was obviously the perfect pun *laughs*
You released your second album late last year, are you continuously working on new material or have you been that busy that you haven't had time?
No, no we're continuously working, actually last night I was up pretty late writing some new tracks with the view of recording in August this year, so yeah, we're gonna do something with that, we haven't really decided what yet, we're shooting for an album, but if it doesn't work out, we'll see what happens. We'll have some new music out late this year or early next year…
Maybe an EP or two as that seems to be what many are doing these days…
Yeah, it seems to be the go, an EP though we always just feel like it's not there you know? But I think maybe like a 10" or something like that, maybe just a bit more than an EP will do the job, but ultimately we'd love an album, or a double album *laughs* see what happens.
Ooh be careful, they say the double album can be the curse of death…
Yeah, but death could be the way of the future, see what happens…
Tell us about your recording of The Clash's 'Bankrobber' and why it's recipient of the funds, 'Polyester Books' is so important to the band…
Well, basically our guitarist Jules works at Polyester Books, so we're connected with it that way, but when we heard that place was struggling, we were like 'fuck!' I mean I didn't give a shit when Borders went down, but this place actually means something to people that are trying to find out information that's not always around. It almost feels like an independent record store, you know what I mean, you can see they're flying the flag for the non-mainstream, and I think if we can do anything to help that, we should. Because that's kind of what we're doing as well, and artists and there's so many different forms of that, but we had the opportunity and we were going to put out the song anyway, so we thought it would be great to help them out and coincide it with the benefit show we did for them, so put it all out at the same time and just give it a boost. You've got to get behind them, that's just our way of doing that really.
What are your touring plans for the remainder of the year of The Bennies?
Yeah dude, we've got a couple of really cool national tours that we can't quite discuss yet, but that's going to be the back end of the year while we're recording. We're also heading over to America to play over Halloween and we'll be doing a couple of weeks tour over there as well. It looks like it'll just be us, but we're getting in touch with a couple of bands, so you know we've just got to cross all that shit off.
Now internationally, you've mentioned China and America, is this something you're going to continue to take to different territories?
Definitely, I think particularly anything with the word ska in it, particularly in Australia is a bit of a dirty word, so we've always had a lot of good times overseas and our music seems to be well received over there, so we'll continue to take it away. Plus it's a pretty fun experience to take it as a band and live the dream travelling and meeting new people and playing new places and stuff like that. I think it'll always be part of what we do.
Where's the one place you really want to go?
Hawaii, I'd love to go there and try and play some chilled out Hawaiian reggae, I think that would be a pretty fuckin' great time.
So let's try and predict something special that will happen, so looking into your crystal ball or bong as this may be, finish this sentence for me, by the end of 2014, The Bennies will…
Have conquered the Northern Hemisphere *laughs* just shooting for the small things now and we'll take both hemispheres later… *laughs*
Essential Information
From: Melbourne, Australia
Sounds like: Psychedelic Reggae Ska Doom Metal Punk Rock From Hell
Band members: Anty – vocals, korg, Jules – guitar, Bowie – drums, Craig – bass
Latest Release: Rainbows in Space (out now)
Website:  www.thebennies.com.au
CATCH THE BENNIES ON THE QUEEN'S B'DAY 'BONG' WEEKEND TOUR
With guests Fait Accompli

Tickets on sale now via: www.thebennies.com.au
Thursday June 5 – Karova Lounge, Ballarat VIC
Friday June 6 – Ding Dong Lounge, Melbourne VIC
Saturday June 7 – Captain Cook Hotel, Sydney NSW
Sunday June 8 – Crowbar, Brisbane QLD