"It's funny how the years pass and you can think of the camaraderie and the busses and just the thrill of the band when things would take off and send a shiver up your spine on stage when we literally blew the roof off places or we just walked off the stage with 60,000 people out there knowing that every one of those people were totally engaged…"
From release: On May 30, 1990, Midnight Oil interrupted their North American tour for a "special guerrilla action" outside Exxon Oil headquarters on the crowded Avenue of the Americas in midtown Manhattan. The agitprop event from the back of a flat-bed truck drew more than 10,000 people out of the nearby office buildings and onto the street. The Oils were responding to one of the worst environmental disasters in US history when nearly 11 million gallons of oil were spilled onto the pristine Alaskan coastline by the Exxon Valdez. Twenty five years later the effects of the spill on the landscapes and wildlife of southern Alaska are still being felt.
We had a great chat with Rob Hirst about the above and the re-release of 'Black Rain Falls' and memories of the day, as well as their upcoming exhibition in Sydney, and of course the burning question of if we'll see The Oils back out there again…
So to start off, Rob, Why was now the right time to essentially re-release 'Black Rain Falls' to the world?
So it was originally on VHS back in 1990, shot by Larry Jordan the film part of it, and for a long time we've been looking for an excuse to actually get it on to DVD so that you can hear the concert in all its glory. So the opening of the exhibition in Manly on June 20 sort of provided the opportunity to get Sony to release it now on DVD and also to remaster all of the early albums to bring them up to sound like the later Midnight Oil albums. So it's been an opportunity to get all the ducks in line finally, to clean up some business and get everything up to quality and to speed. We were going to do that last year to coincide with the release of The Essential Oils double album with thirty six songs that we put out last year, but didn't get any further, but it's really good now that we've got the 1990 Exxon protest gig now sounding really good. I always loved the film clip shot by Larry that day, the shots of the New York cops, and the look of it and the grainy black and white stuff, I just love all that.
What do you remember from that show?
OK so I remember getting rudely woken up by Willie McInnes our tour manager at about 11, having played the night before at Radio City Music Hall, and said you've got to get on stage in the next fifteen minutes or the cops are going to shut us down. So we decided that the hotel was near the gig, so we decided not to drive there because there was already this huge traffic jam had formed, so Jim and Martin grabbed their guitars and I grabbed a pair of sticks and we forced our way through this crowd, got on stage and the cops said "OK you've got one song, that's it, we're gonna shut this whole thing down…" because they were vastly unamused by the whole thing… so we started playing, I think it might have been 'Blue Sky Mine' and the Gary our manager was just sort of down with our American record contact, mason was at side of stage and we looked down thinking do we have to get down now after one song? They signalled to us and said no, the cops have said keep going, because the cops apparently said to Gary, "These guys are good, these Australians, we're gonna give them another song…" so we actually went from song to song to song and actually managed to get six or seven songs in which was good because by about the third or fourth song it was midday and then our crowd which was originally about a few hundred went to about, I don't know maybe ten thousand as people poured out of the Rockafeller centre and the Exxon building and the big banner behind us was unveiled, the 'Midnight Oil makes you dance, Exxon makes you sick' banner, and we actually got away with this protest show is the best way of putting it, this guerrilla action. In a perfect New York day, blue sky and like anything it's over before you even think you're up there, we're still wiping sleep out of our eyes when we got there.
Well you could always go back for a sleep afterwards…
Exactly… and we did… *laughs*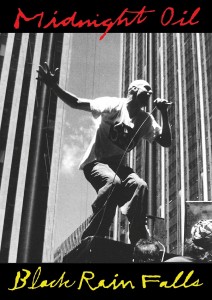 Twenty Four years on, do you feel that what you did that day helped?
I think we were just part of that group that decided that Exxon really should clean up their act, if you remember back, their share price had hardly taken a bump at all and it was clear that the oil company had sent a few people with a few bags to clean up a bit of oil, but they weren't gonna take the clean-up seriously. Americans and Alaskans in particular were horrified by the unfolding disaster where by the whole coastline of these fishing villages and the employment of all these people had been destroyed, and Exxon seemed to be treating it with callous disregard, and we were just part of that group back then saying 'Hang on, clean the fuckin' thing up.'
As a band, were you ever worried that people may take your message the wrong way or see the band as 'trouble'?
Oh I hope so… well there's no point in doing this type of action unless at least half the people get their noses out of joint, in fact I remember Troy, looking up at the Exxon building which was right above us *laughs* at these angry faces pressed against the glass going 'what's going on down there?' as they couldn't see the banner so they're going 'it's nothing to do with us is it? It's just a coincidence that it just happens to be directly under our building…'
To coincide with the release you mentioned there'll be an exhibition called 'The Making of Midnight Oil' can you tell us a bit about it and what that will entail?
OK so about three years ago I started cleaning out my attic and I realised I was an inveterate hoarder because I had posters and song lyrics and badges and stickers and agency forms and record company contracts going back to the mid-seventies when the band was still called 'Farm' and I thought I really don't want to put this back in the attic after taking it out, and then I was just walking past the manly art gallery and museum and an idea came to me that because the band's spiritual home is the Northern Beaches of NSW and we played our first shows to a real audience at the Royal Antler hotel in Narrabeen that we should really put all this stuff up and exhibit it. So with that idea in mind I literally just walked in and met Jackie Dunn the pervious curator there and she called back the next day and said 'yeah we'd love to do it' and so although she's no longer there, a fellow named Ross Heathcote came in shortly after as curator with a background at the police and justice museum in Sydney, but also a lover of music, and very knowledgeable and a guitar player as it turned out, and between us, Ross and I we sort of put this together over the last couple of years, and it covers and amazing amount of stuff, including the Exxon banner we've just been talking about Troy, but a whole lot of stage stuff we used to wear, we're setting up the stage with the exact instruments, drums and guitars and even the same PA that we used to use back there in 1987 on the 'Diesel and Dust' tour, with the water tank and the stuffed dingo and kangaroo will all be there. We've also got footage shot by Bones of the band in busses and backstage and a new documentary by Robert Hambling about the making of '10, 9, 8, 7, 6, 5, 4, 3, 2, 1', and there's even me trying to recreate what it was like back in the Antler in '79 complete with sharpened elbows in the ribs, and sticky carpet, I won't tell you exactly what it is, but they refer to it as 'Rob's Folly' so that's a wildcard in there as well. Also there's a massive number of posters, and the posters talk about our band, but they also talk about all the bands we used to play with and were on the circuit at the same time, we were playing this incredible pub and club circuit around Australia where you could play in front of 1,500 people any night of the week if you wanted to, just go round and round, and it was just this incredible testing ground for bands like ourselves, and The Angels and Chisel and The Tatts and even back to Acca Dacca of course.
I remember someone telling me once about the wheel you used to have to pick the songs…
Oh we've got the wheel, the chocolate wheel had about a hundred songs on it.
I heard once that 'U.S. Forces' came up three times and you played it and then it came up again and you said no and didn't play it again…
*laughs* That's right… *laughs* I think Bonesy, our third bass player who was playing with us I think he looked at the chocolate wheel with horror, as he knew the songs from when he joined which was in the late eighties, but then these songs would come up from the late seventies that he'd never played on or knew, so he kind of would yell out to Jim or Martin, "what key? How's this done" *laughs* so that was Bonesy looking at the chocolate wheel and his face depending on what came up, because the rest of us knew the songs back to front.
Well, will we see you at the exhibition at all when it's on?
Yes, I'll be lurking around taking school groups through you know *laughs* "Now, back in the old days… back in the Jurassic period of Australian rock… all these bands, and this was before the internet, so we had to put up street posters and pole posters and do interviews and talk to the street press, that's how it used to be done back then kids…"
They won't believe that…
*laughs* They won't… I'm finding it hard to believe myself… *laughs*
So, I have to ask, will we ever see The Oils back up on stage?
Yeah maybe… *sings* 'Don't know where, don't know when… I'm sure we'll meet again… some day…'
*laughs* We'll leave it at that for now, so what are some of your fondest memories of playing with Midnight Oil?
It's funny how the years pass and you can think of the camaraderie and the busses and just the thrill of the band when things would take off and send a shiver up your spine on stage when we literally blew the roof off places or we just walked off the stage with 60,000 people out there knowing that every one of those people were totally engaged. It's a massive thrill, not that I need that these days, I'm very happy playing with The Break, which is the band I play with Jim and martin and Brian from the Violent Femmes and Jack from Hunters & Collectors, we go out and play surfy sci-fi spaghetti western instrumental music *laughs* and I also play with Backsliders, so I'm fully engaged with the bands now, but there certainly was something special about the chemistry of the five Midnight Oil men when things were working really well.
That resonated around the world too as you guys just seemed to be a band that people attached to…
Yeah we were lucky Troy, because we had everything in place to make it work, you're not aware of the stuff at the time, but we had the songs, mainly from Jim and I, we had a fantastic front man in Pete, a great guitar player and arranger of music in Martin, we had great bass players all adding different things and increasingly with Bones Hillman and an angelic voice so he could do all those high harmonies and stuff that I'd been trying for years to do behind the kit. We had very strong management with Gary Morris at the time and an incredible loyal road crew, people that were with us for years, and great lighting that created all the all the Diesel and Dust dawns and the dusks and all of the colours and stuff. So yeah, we had a lot of stuff going for us, everyone working with us to make it all work, I mean people like Willie McInnes our American tour manager was very important, so many others I could mention…
This may or actually will be hard to do, but is there one song from the band's catalogue that you feel defines the band as a whole?
Ooh… it'd be a toss-up between 'Hercules' which is on the 'Species Deceases' just because of its raw energy and that's what the band sounds like when we get in a room and because of the lyrics. Then maybe 'The Dead Heart' that's such a different sounding song and it does sound like the band bashing its way across the desert in a Toyota, which is how I came up with that rhythmic idea of those eights on the kick drum on that song and the acoustic guitars, Jim and Martin became a defining part of the band, mid period Oils if you like.
Lastly, let's predict the remainder of the year so if you could finish this sentence for me, by the end of 2014, Midnight Oil will…
Have got all our shit out of the attic…
I was hoping you were going to say gotten up on stage…
*laughs* No, Pete's writing his memoirs and I think that's going to take longer than he thinks, so maybe some time.
Essential Information
From: Australia
Band members: Peter Garrett, Rob Hirst, Jim Moginie, Martin Rotsey, Bones Hillman
Website: http://www.midnightoil.com
Forthcoming release: Black Rain Falls – DVD (June 20 – Sony Music Australia)
In addition to the 'Black Rain Falls' release, Sony Music is for the first time releasing the physical remastered versions of these 7 classic Midnight Oil albums: Midnight Oil, Head Injuries, Place Without A Postcard, 10,9,8,7,6,5,4,3,2,1 , Red Sails In The Sunset, Diesel And Dust and Blue Sky Mining, as well as the EP's Bird Noises and Species Deceases.
About 'The Making of Midnight Oil' exhibition
The exhibition is located at the Manly Art Gallery & Museum is at West Esplanade, Manly NSW  2095. The Gallery is open 10am – 5pm Tuesday – Sunday and "The Making Of Midnight Oil? will be on show from 20th June until 7th September 2014. Entry is Free  – More details HERE