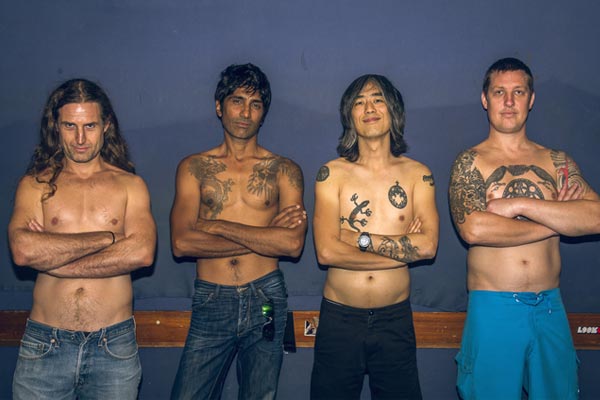 "The attitude to playing in a band is quite different now because when we started there was a very unique and healthy underground scene where bands like the Hard-Ons who were never really on TV or radio but they could still go around playing five gigs a week all around the suburbs and all the venues were packed."
From tour release: Within a proverbial blink of an eye, the legendary punk / pop / metal / psych hybrid Sydney band the Hard-ons turns 30 in 2014. To be precise, on the 21st of July 2014 the middle-aged yet brilliant trio will celebrate the 30th anniversary of their inaugural public appearance. In 1984, on that day, the multiracial band of bare-chested teenage misfits climbed onto a pub stage for the first time. It is fair to say, they have not looked back.
We had a great long chat with Ray from the Hard-Ons about the bands thirtieth birthday celebrations and tour, as well as new music and an amazing insight into international touring… well worth a read.
To start off, the Hard-Ons turn thirty this year, so Happy Birthday, you are heading out on tour to celebrate, what can fans expect to see at these upcoming shows?
Well we're going to be nothing but songs from the first line-up which is kind of I guess that was the peak of Hard-Ons popularity, so it's kind of like a nostalgic set.
So what's the idea behind playing only the older material?
Because people asked for it, so many people have asked us for songs from the first line-up and that was when the band was at its peak popularity wise and that's what people have asked for. What we did was an online survey on our website asking people to tell us what songs they want to hear on this tour and all the songs were from that line-up, so we're just giving people what they want to hear and we're doing that for the first time in our lives.
Was that a bit of fun for everyone online; was there a lot of interest coming through?
Yeah but there were no real surprises, everyone picked the songs we expected them to pick.
Now you're also reissuing 'Yummy' to coincide with the tour, what was the idea behind doing that at this point?
Well we've been reissuing all our back catalogue as none of our CD's have been available for a long time, and we actually got the rights to our songs back from our original record company, they just gave them back to us. They weren't available on CD for a long time, a lot of people had written to us and asked us to reissue the CD's, and we'd noticed these days that a lot of CD's are very cheap and they come with bonus tracks and that sort of stuff, so we thought we'd do the same. There are 158 minutes of music.
Also, some kick ass split 7" records, teaming up with other artists, how did that idea come about?
We just didn't want this year to be a completely nostalgic retrospective look back, so we've done a new album and that's going to come out after we finish touring, unfortunately we didn't get it done in time, but we've got four songs to go on four 7" singles with bands that we really like from around the world. So there's a Japanese band, an Australian band and two American artists. The first one is a single with a band called The Necks, which is not actually a rock band, it's a jazz band from Sydney, so that'll be available at the shows definitely.
Then the biggest thing, you mention a new album on the way, can you give us an insight as to what to expect and when?
It's a schizophrenic album, it goes from very mellow almost folk pop with beautiful charming guitars, straight into rampaging thrash metal. All our albums kind of cover everything. We think it'll come out towards the middle of August and around that time we're heading to Japan, so it'll be ready for our Japanese tour.
Internationally the band has some success as well, are you planning on doing anything overseas at all other than Japan?
Yeah we're going to Europe in September as well, and we were offered a tour of Brazil in December but unfortunately we can't go. We've been offered lots of tours to Brazil before, but unfortunately the timing isn't right so we'll go next year.
Looking back over your career what has been your favourite moment?
Oh look, I don't actually have a favourite moment, but if I had to pick one it would be touring with The Ramones back in 1991, they were our High School heroes when we were growing up and they asked us to tour with them. It was mainly the lead singer Joey who really liked the band, he made sure that we got on the tour, so that was really nice of him to do that. They were super nice guys and at the time they had a new bass player CJ and they'd replaced the old bass player Dee Dee with CJ, he was a young guy, he was our age and he was incredible, he was the highlight of the band, he played so well, he was young and fit and was the most bustling performer out of the whole lot.
Obviously music has changed a lot in the thirty years since you first started the band, how have you personally seen the music industry change?
Some of the attitudes are quite different, but I don't think it's anyone's fault. The attitude to playing in a band is quite different now because when we started there was a very unique and healthy underground scene where bands like The Hard-Ons who were never really on TV or radio but they could still go around playing five gigs a week all around the suburbs and all the venues were packed. Going to a pub to see a band seemed to be a really popular pastime amongst people, but that kind of got replaced in 1991 – 1992, that was a really turning point period wasn't it? Because in 1991 Nirvana became really big, so all of a sudden the underground music scene wasn't invisible to the mainstream anymore, all of a sudden all these people who were listening to the mainstream stuff like Vanilla Ice or stuff like that were all of a sudden listening to bands like Sonic Youth and Nirvana, they were completely invisible before, now these underground bands were becoming quite the mainstream. It was going to happen anyway because bands like Soundgarden in 1989 – 1990, Faith No More came around in 1990, all these bands were starting to hit the mainstream anyway but Nirvana basically just broke the door down. Then at the end of '91 the beginning of '92, the first Big Day Out happened and that was kind of the beginning of the end for the pub scene, because all of a sudden the paradigm of watching a band went from a small pub to going to a massive festival a few times a year. So I can't see anyone who's like a teenager who'd go and see bands a few days a week like they used to back in the early 80's because  if you've got all these festivals with all these bands, it'll actually be a better option to go to all these festivals instead you see…
Plus it doesn't help when venues continue to close…
Yeah I'm not sure what to make of the venues closing, but if people have decided that they don't want to go to a pub to watch a band, I don't see what you can do to foster it… I'll tell you what some people do… for example, when The Hard-Ons go to Holland or Belgium to play venues, a lot of times we play youth centres or community centres that are run by the council, and what they do is they ask The Hard-Ons to go to a town and they say we'll give you a hotel, we'll give you dinner, we'll give you this amount of money, we'll take care of the promotion and all you've got to do is turn up and play. We've got all this money and we've got 150 people and I say it's 5 euro to get in, they've given us hotels, dinner and this much money and charge people 5 euro to get in? How would they afford it? They would've lost money… you talk to them, they say it's not about making money, it's about whether The Hard-Ons from Australia is a worthwhile cultural event in our town, and we think it is. I say well who pays for it then? Who pays for my hotel room? They say the city council does… so that's a different way to approach getting people to go out. Make the tickets really cheap, so you can still pay the bands, and if I've come all the way from Australia and lugged all the gear and drove to the gigs and done band practise, I've done my bit for the band, now what can the venue do? The give us the hotel, food and money and the punter says, look, there's an economic crisis, what can you do for me? The venue then says we'll make it 5 euro a pop to see The Hard-Ons. Now you ask the city council what gives and what makes them think they can get away with doing this? They say well because rock and roll to us is a worthwhile cultural event worth funding, we put money away from peoples taxes so we can put on shows like this. Now that's just not going to happen in Australia… have you seen the budget cuts?
Would you have done anything differently over your thirty years together?
Nah… its been really good, we've been to Europe sixteen times, we're just about to go on our seventeenth tour of Europe, why would we want to change that? We've done really well.
Did you have to fight to be noticed back in the 80's when you began?
No, not at all, the band's called the Hard-Ons, so all of a sudden we've got all this interest because the band's got a unique name and we've got three different skin colours in the band, so we've already got this unique shtick and plan and people are interested in it because we're a little bit different to other bands because we stood out a little more, so we haven't had to fight at all. When we decided to call the band the Hard-Ons, there was no way we were going to get on TV, radio, no mainstream coverage, we knew that, but what did we need that for? None of us wanted to play in Sherbet, none of us are interested in being in Cold Chisel, or AC/DC, well it'd be nice to be in AC/DC… but all those top slots are taken. Our ambition was to be a great band and that was it, so we had this obnoxious name as well, as we were little kids when we formed the band as well, so it worked out in our favour, but we did have success but it's just not measured in mainstream terms and that's ok, I mean we still managed to do a lot of things…
Like seventeen number one singles on the alternative charts…
Well that's never going to happen again, so we've got a record and that record will stay, and with Nick Cave & The Bad Seeds, The Scientists, The Triffids and The Go-Betweens we're the fifth band to be in the top five of the NME charts as well, but we're the only Australian band that was based in Australia to crack the charts. So we've had mainstream success in countries like Spain, so we can't complain, what people don't know if the name the Hard-Ons isn't offensive in places like Spain or Italy, so we can actually play quite mainstream shows. One of the best gigs we've played in a long time was in 2011, we played a show on my birthday in Lyon in France and there was about 400 people there and that was a free show, they gave us so much money, they gave us a vulgar amount of money and gave us a really good hotel and we played for free to a bunch of people, and again, was put on by the local city council. The show was incredible, the people got in for free, and you looked at the audience and it was like five / six year old kids in the audience and old ladies in their eighties there, as well as the usual crowd. So it was like a dogs breakfast of a crowd, but the gig was great and the people that were coming up to talk to us after the show were six year old kids and eighty year old grandmothers coming to talk to us as they promoted it as a cultural event, not as a pub gig in a pub somewhere. We did a show in Italy in a town not far from Venice, they put billboards up on the freeway advertising our gig and we played after a harpsichord player from Bulgaria… I asked the promoter, how many people do you expect tomorrow? And you know what she said? Two Thousand … I said get fucked, two thousand Italians are not going to come and see The Hard-Ons. Guess how many people were there? Two thousand and they went absolutely fuckin' nuts, it was amazing.
Let's predict the remainder of the year, so I want you to finish this sentence for me, by the end of 2014, The Hard-Ons will…
Have completed their seventeenth tour of Europe and boy, am I tired…
Essential Information
From: Sydney, Australia
Band members: Keish De Silva: Drums/Vocals (1981-2002), Peter "Blackie" Black: Guitar/Vocals (1981-Present), Ray Ahn: Bass (1981-Present), Peter Kostic: Drums (2002-2011), Murray Ruse: Drums (2011-Present)
Website: http://www.hard-ons.net
Custom-Made Touring, RiSH Publicity and The Music,
by arrangement with Artist Voice, Present…
HARD-ONS 30TH ANNIVERSARY TOUR
Thursday 5th June 2014
Newcastle, Small Ballroom – NSW
Tix www.oztix.com.au
Friday 6th June 2014
Penrith, Tattersalls Hotel – NSW
Saturday 7th June 2014
Sydney, Manning Bar – NSW
Tix www.manningbar.com
Thursday 12th June 2014
Ballarat, Karova Lounge – VIC
Tix www.oztix.com.au
Friday 13th June 2014
Geelong, The Wool Exchange – VIC
Tix www.oztix.com.au
Saturday 14th June 2014
Melbourne, Corner Hotel – VIC
Tix www.cornerhotel.com
Sunday 15th June 2014
Castlemaine, Bridge Hotel – VIC
Tix www.oztix.com.au
Thursday 19th June 2014
Byron Bay, The Northern – NSW
Tix www.thenorthern.oztix.com.au
Friday 20th June 2014
Coolangatta, Coolangatta Hotel – QLD
Tix www.coolyhotel.oztix.com.au
Saturday 21st June 2014
Brisbane, Prince of Wales – QLD
Tix www.oztix.com.au
Tickets on-sale NOW.