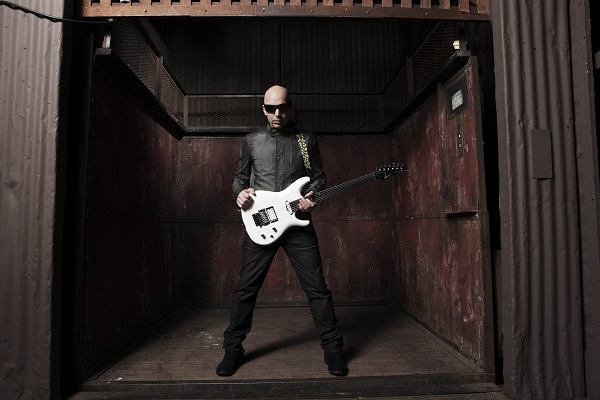 "I think that's always the key, you've got to write great music and put all the entertainment stuff on the side and just try to concentrate on writing great music and you will eventually connect with your audience."
From Bio: One of the most influential and respected instrumental rock guitarists to emerge in the past three decades, Joe Satriani is that rare "musician's musician" who's crossed over into the mainstream with music sublime and complex, appealing to a wide variety of tastes. A true master of the six-string, Satriani worked as a guitar teacher in his early career, with a number of his students—among them Steve Vai, Kirk Hammett (Metallica), Larry LaLonde, David Bryson (Counting Crows), Charlie Hunter and more—achieving their own considerable successes.
We had a great chat to Joe about his upcoming return to Australia, G3 and a great insight into how it all works as well as new music, projects and an impending guitar lesson…
You're about to announce your solo return to Australia for some shows which is great news…
Yes, it's been I don't know how many years it's been since we did a straight solo tour, so I'm very excited to return to Australia with my own band this time for a full show.
So what can Aussie fans expect to see on this upcoming tour?
I know that we're going to continue to bring the music of the new record 'Unstoppable Momentum' to the stage and we're sort of like in the middle of that tour. We did quite a lot of Europe and North America last year and we stopped at the end of October, I spent some time writing and doing some stuff with Sammy Hagar and getting ready for a Chickenfoot record that never happened, so I wound up with a lot of extra time to do some writing, but sort of right on schedule we're starting up the tour again. Going back to Europe to hit those countries we missed last time and eventually our victory lap is going to be Australia, so I'm very psyched about that.
Australia is a place you've been to a number of times, being touring or doing master classes, what do you think it is about Australia and Joe Satriani that connect?
That's a good question, first of all I find it hard to believe that anybody would ever have a problem connecting with Australia *laughs* it's a great country, the people are interesting, exciting and fun and for most people in the world now it's an exotic place let's face it. You can imagine, you're down there, you've got few neighbours, and every time we're down there it feels exotic and each city is so unique and different. I don't know I never had any problem just feeling at home down there but at the same time feeling like it was a special event to be travelling around the country.
Your shows are always packed, and people flock to see an instrumental show, what do you think it is about the musical connection?
Hmm… well, I just like to think that we as a band we always connect and the songs mean something to the fans that come, they've accepted the music into their lives and let's face it, music becomes part of the fabric of our everyday life you know, you and I are pretty much like everybody else, when we feel good we put on music to help us go with that feeling, when we need music to help us commiserate we put on another type of music, but eventually specific songs and bands and songs and artists, they really fit into our memories as well as our everyday life. So I think that's always the key, you've got to write great music and put all the entertainment stuff on the side and just try to concentrate on writing great music and you will eventually connect with your audience.
You were last here on tour for a G3 run with the two Steve's (Vai and Lukather), it seemed like you guys worked so well together, how was that incarnation of G3 for you?
A lot of fun, I've got to say, every time I play with Steve (Vai) it's like we're kids again, we have a very long history together, we grew up in the same town and went to the same High School, he was a student of mine for a few years when I was still just a teenager and starting to teach, so we pick up or guitars and we start playing and it's like we're kids again and that's always just a great feeling. And of course Steve Lukather, I started to know Steve in the early 90's when we were recording together, I was down in LA doing 'The Extremist' and he was working on a Toto record I think in the same studio, a place called Record One, down in Los Angeles. We became very close friends and if anybody's ever spent more than two minutes with Steve Lukather knows how much it hurts to laugh so hard because this guy just makes you laugh, he's an incredible comedian with a golden heart. Then when he picks up the guitar it's unbelievable, he's such a strong musician and well-rounded in his musicianship that it's really something that I love having him on stage and part of a night's show because he really elevates the quality of the music.
Is G3 something that's on hold at the moment?
It's funny, G3 is on hold every time it's not on stage *laughs* it's the only way I can put it… it's such a difficult thing for me to put on, since its inception, myself and my manager Mick Brigden have kept it going, it's our baby, we manage it, and the hardest thing is trying to get two other guys to agree to play with each other at a certain place at a certain time. You think it would be easy, but actually it's kind of difficult, so we generally will do one, then it takes nine months or a year from its infancy to really happen. So we're always working on it, but it's always put on hold while we talk to six or seven possible candidates and then we float different idea out to different promoters around the world, but I know that we've been talking about doing something next year, so we are still currently sort of in that early stage once again, but it's one of those things that I love and I will keep that concert series going as long as I can because I get so much out of it, I just really love it, and the fans really dig it, they get into it too.
So if you had a chance to create your ultimate G3, obviously yourself, but who would you fill the last two slots with?
*laughs* First of all I have to say that all the people that I've had out have been part of that list, so that's easy to say. I can tell you who I tried to get and failed… I tried to get Eddie van Halen out like almost every time we go out, and it's a super long shot but I ask him anyway, I think he'd be great, I think that he would really grow to love it and he would really shine and of course his fans would love it, he's just such a tremendous guitarist. I've come very close to getting Jeff Beck to come out and he's another one of my heroes, so we ask him all the time, I'll see him in about a month and we're doing a show together in Europe somewhere so I'll have a chance to twist his arm yet again *laughs* and see what I can do, wish me luck… *laughs*One year I almost got Billy Gibbons and Jeff Beck to come out with me, that would've been a great one, so but this is kind of behind the scenes of G3, everyone's got their own career going and they've got lots of offers coming in, so I respect when the other artist says let me think about it for four months and they turn around and say they can't do it because I know like me they're getting lots of offers and some of them may feel more creative at the moment so you've got to do what you want to do.
What about some of the up and comers such as Orianthi and players like that?
That would be great! You know from a playing standpoint of course there are lots of players that are doing the classic thing and reinventing it like Orianthi, and there are players out there that are doing something totally new like Tosin Abasi from Animals As Leaders, you know it's hard to sit down and imagine running through a Led Zeppelin song with him *laughs* with John Petrucci and Steve Vai on the other side, but I know that one thing I've learned from G3 is it does bring all sorts of people together from different styles and so I know that the concert series could make it work and I know that the fans would love it, but it can be tricky to get promoters to like it and that's one of those things that as the G3 concert series kind of manager, that's my first job, to sell it to the promoter. I know the fans are gonna love it, because me and the fans think exactly alike, but to get a promoter to take a risk, that's a tricky situation and I've got to respect their sensibility. Sometimes they don't want an artist that's too heavy metal or not heavy metal enough or too bluesy, or too young or too old, they've always got their reasons, and so that's why it takes us again so long to figure these things out as we have to put together several ideas of which three would work great together and we wait to see which territories and which promoters in which territories are interested in any one of those ideas.
'Unstoppable Momentum' has been out for just over a year now, have you had the chance to create new material?
Oh yeah, on the road and at home, when I came home off the tour during the half way mark I immediately got busy doing a lot of Chickenfoot and Sammy Hagar related stuff, I finished that and turned in my demos to the guys and they're all sitting on them deciding what they want to do with them, and then I quickly moved into this digital animation story that I'm working on with guitarist Ned Evett. He came up with a whole story that we would love to create a digital animated TV series for, and we've been just working on several scripts, songs as well as cue music for the show and the show is based on all the crazy characters from an art book that I put out in 2013. So that's been taking a lot of time but I really enjoy it and I think people are going to love it once we finally get it out but I'm sure we're at least three or four months away from delivering that. On top of that believe it or not, I have been working on another solo record I'm about half way through.
Here's a hard one, could be near impossible, but do you have a favourite song of yours that you've created?
Oh no… *laughs* I think I'm always in love with the thing that I'm almost finished working on, like the most recent song, and then once it's finished I kind of go 'ok what's next?' and I move on… it's a funny thing, but whatever that one thing I'm getting into at the moment is the one that kind of sticks in my heart, until that other song, that other piece of inspiration comes along, but yeah *laughs* that's actually a funny question because I was thinking about the other night, I had to write some orchestra music for the animated series and I had this thought about a scene that doesn't actually exist in the story yet but it had to do with the character and a loved one that had passed away, and I wrote this little piece and I thought well here's a song that has no home you know what I mean? It doesn't relate to the story, it doesn't work on a solo record or a Chickenfoot record, but I recorded it anyway and I sent it off to Ned my writing partner and he loved it and he said we should just write a scene around it, but for about four or five days it was all I thought about, was like having a heavy feeling in your heart about something, but it was really just that song.
Mine is 'Always With Me, Always With You' of which I can play maybe half of before it gets too hard…
Oh well thank you very much, I'll teach you the other half when I get there…
Deal, but in terms of your presence in the music world, how important was this song for you?
Well, there's two ways to answer that, the first way is that any time I'm successful on a personal level, getting a feeling it comes from the heart and turning it into music, to me it's a total success whether or not anybody likes it or not. I remember when I finished that I thought wow this is great, I never actually wrote a song exactly like that and it perfectly matched that feeling I was having. From a musician's point of view, I remember when I was working on it a little voice in my head was saying 'you know this is a very simple song and it uses the three most popular and most used chord sequences ever *laughs* the 1, 4, 5 progression' but I thought to myself yeah but I'm doing something a little different that no one has really done on it before, I'm adding some harmonies… so I felt like I was doing something different so that added a little sparkle to the song for me, just from that musician's angle.
Oh and I'll hold you to that guitar lesson when you're down here…
Alright… *laughs*
2014 is almost half way through now, so let's predict the remainder of the year, finish this sentence… by the end of 2014, Joe Satriani will…
Hmm… will be visited by an alien being who will bestow upon him the power to traverse time and space, or maybe not… *laughs*
Thanks for your time again, Joe and we'll see you when you're here.
Alright Troy, get ready…
Catch Joe Satriani in Australia at the following dates
Tickets on sale 10am Friday June 27 (with pre-sales preceding)
The Tivoli, Brisbane – Tuesday November 4
State Theatre, Sydney – Thursday November 6
Palais Theatre, Melbourne – Saturday November 8
Her Majesty's Theatre, Adelaide – Sunday November 9
Astor Theatre, Perth – Tuesday November 11
NZ shows: 
ASB Theatre, Auckland – Saturday November 1
Opera House, Wellington – Sunday November 2
Essential Information
From: San Francisco, CA, USA
Band members:  Joe Satriani
Website: http://www.satriani.com
Latest release: Unstoppable Momentum (Sony Music Australia)