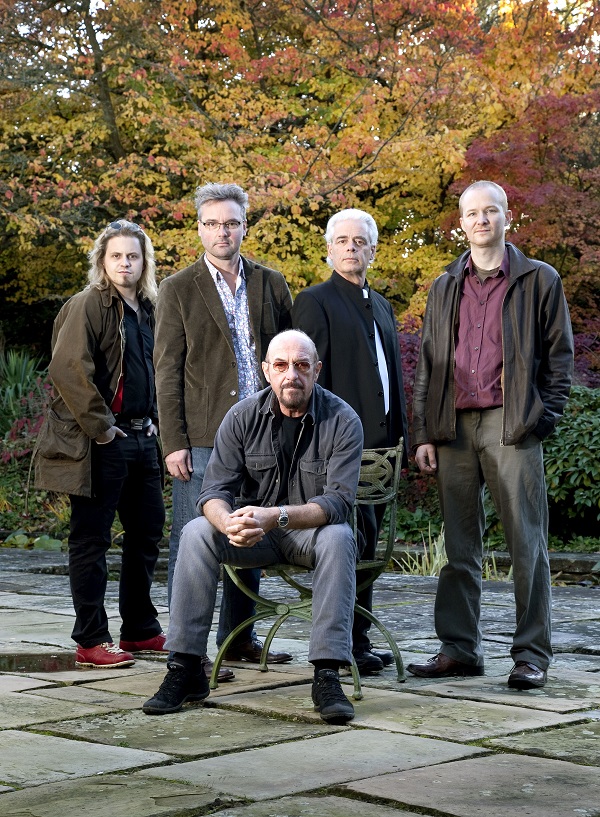 "When we talk about solo albums or the identity of Jethro Tull vs Ian Anderson, it doesn't to me, nothing changes, I'm just doing what I do, after all these years living on the increasingly, incredible, unbelievable identity theft of a historical character's name I would prefer my twilight years to be performed as Ian Anderson rather than Jethro Tull…"
From album release: Homo Erraticus is the new album from Jethro Tull frontman, released on Calliandra Records in conjunction with Kscope/Tombowler on April 14th. In 2012 Ian Anderson released Thick As A Brick 2, the follow-up to Jethro Tull's legendary concept album. The album was a critical and commercial success, charting around the world. In April he returns with Homo Erraticus, his new studio album. The original Thick As A Brick album, released in 1972, was based around the poem of disgraced child prodigy Gerald Bostock. For Homo Erraticus Anderson is reunited with Bostock, using lyrics written by Gerald based on an old historical manuscript. The manuscript examines key events from throughout British history before going on to offer a number of prophecies for the future. Suitably dramatised and exaggerated by Bostock as metaphors for modern life, he presented Anderson with ideas for 14 songs, which have now been set to music. The result is Homo Erraticus.
We had a chat with a legend of the music industry, Ian Anderson who you'll know from Jethro Tull, but going out now under his own name, he talked to us about his upcoming Australian tour, why music resonates with people after so long as well as new music and about how the flute workd with Rock and Roll…
You're about to announce a tour of Australia, what can fans expect at these upcoming solo shows?
Well… expectations are a dangerous thing, what they will get is what you really mean, what they will get at these particular seven shows in Australia /New Zealand, they won't be getting the same production tour as for instance in The USA or Europe or we've just done in The UK, because we didn't visit Australia / New Zealand back in 2012 / 2013 when we were doing the 'Thick As A Brick' production tour. So we're going to backtrack a little bit to present a show which contains a big chunk of 'Tick As A Brick' material and then we go on to the best of Jethro Tull including some elements of the new album 'Homo Erraticus'. So it's more of the big picture of what we've been doing in the last three years and it's perhaps in a way more apt as it was indeed 1972 on our first trip to Australia when we arrived off the plane to play 'Thick As A Brick' so it is a perhaps truly an anniversary concert in presenting that big block of music in a fairly authentic way with a lot of video and theatrical stuff is something we didn't get a chance to do two years ago so we're catching up now.
After over 40 years, what do you think it is about 'Thick As A Brick' that still resonates with people?
Confusion I suppose, because it's a deliberately quite surreal and anarchic in its intent, I mean it's to the point of being written by a fictitious ten year old school boy or poetry set to music, then it starts off being a little preposterous and demanding a little suspension of disbelief in order to enter into the spirit of it, but then so does Harry Potter, so does Peter Pan, so does the Walking Dead, so when you present improbable scenarios and get over that first hurdle then people do seem quite willing to enter into the spirit of the improbable and so 'Thick As A Brick' perhaps falls into that category of being quite surreal but that's more than an element of truth and experience about it because young prepubescent boys do often have a very distorted view of adult existence and adult life in the sense that they build their beliefs on sometimes quite distortion filled references for children.
For my generation post war it was the 'Hero' comics of the day, which still talked about The Hun and were still very wrapped up in that almost Nationalistic and sort of Victorian spirit which was quite improbable but strangely welded together the poorest working classes with the rock aristocracy, we were all British and that's the way we were taught to be. Of course things changed a lot in the sixties and seventies and these days you might argue that the world of computer graphics and video games etc presents an equally distorted view of the real world to young pubescent children who might become somewhat clouded in their judgement as a result, so we're always faced with these anomalies in the growing years when we pass from the naivety of childhood to the beginnings of trying to get to grips with what these grownups are all about.
I love the track 'Enter The Univited' and is that somewhat similar to what you mentioned above and essentially how did you come up with the concept behind that one?
Well yes, I think on 'Enter The Uninvited' initially in the first part of the song making reference to the various invading forces into Britain and its earliest period of its recorded history and we had many uninvited guests, The Romans and then the Anglos, the Saxons, The Danes and The Normans then The Germans had a good old try, so did The Spanish, but you know, we've become the mongrel race of all time I think as a result of people leaving behind elements of their culture, their artistry, their engineering, and we're all the better for it. In our way, particularly during the Victorian period of the British empire we sort of turned the tables on others and sent our adventuring forces, not just in terms of others with guns and boots, but of commerce, of engineering, of trade, out across the world to leave behind some positive aspects of British imperialism as it was then. So many of these things are not ultimately for the bad but they certainly ruffled feathers at the time. I play sometimes in Indian casinos in North America, I'm always mindful that this is tribal ground that this is playing on where the white man came and in return for a couple of beads and mirrors and a musket or two did some pretty unsavoury deeds, I won't get on to talking about Aboriginals in other countries, but we all are responsible for that uneasy relationship with those that we displaced in our hunter / gatherer momentum to try and find a place where the grass is greener.
Sorry I keep mixing metaphors here but they do keep a bound in my life, so 'Enter The Uninvited' does talk about the positive side of the migration of the aesthetic as opposed to the migration of the invading forces, it talks about the culture in particular post war and American arts and entertainment, I make reference to my son in laws work at the moment in the American drama series 'The Walking Dead' on a couple of places because being my son in law we tend to be talking about these things and it becomes an example in the way that American culture in the most contemporary sense does manage to blend essences of scary, horror style movie making with lessons about humanity, lessons of how to get to grips with people, how to make things work, how to overcome prejudices, how to find your way through, and in a sense 'The Walking Dead' does have a fairly positive side to it, the zombies are the least important part of it and what we do learn from good American film and television making is that there's some good, solid ideas behind them and we Brits along with our American cousins are pretty good too at sending not men with guns and boots to invade other countries, but we send our television and out movies and our music to invade other countries and we tend to do rather well *laughs*… From The Beatles on wards…
Your newest solo album, 'Homo Erraticus' was released this year, what's the most important element in terms of your song writing these days?
When we talk about solo albums or the identity of Jethro Tull vs Ian Anderson, it doesn't to me, nothing changes, I'm just doing what I do, after all these years living on the increasingly, incredible, unbelievable identity theft of a historical character's name I would prefer my twilight years to be performed as Ian Anderson rather than Jethro Tull just because I feel increasingly embarrassed and forgive my impertinence or vanity in wanting to just go out on a note where people will say 'he was really called Ian Anderson, he wasn't really called Jethro…' but as the song writer, the producer, the manager, the travel agent, connecting with Jethro Tull and the huge body of work over all these years, or at least as the ever changing band Jethro Tull, I kind of like the idea that I'm not doing solo albums as much as just rebranded my box of corn flakes, I'm still sitting on the supermarket shelf and when you open the box it's the same old corn flakes inside.
I do have to say that the flute is probably the most rock and roll thing out there, and a serious question, is it hard to blend such a classical type instrument with the modern sound?
Well yes it is, I got up at 5:30 this morning to start work on recording a lengthy flute instrumental passage for a track by Hugh Cornwell of The Stranglers who is recording today and tomorrow and I said I will send him the flute part which I will later today, and of course it's a different piece of music. He's actually doing a cover of 'Macarthur Park' made famous by Irish actor, Richard Harris, and so 'Macarthur Park' was a big hit back in the early seventies, and for some reason Hugh decided he was going to do 'Macarthur Park' *laughs* and he kind of does it pretty much in the original arrangement, apart from the middle that sounds like punk Stranglers, sort of from their first album also with a Latin title 'Rattus Norvegicus' the common rat, the Norwegian rat. He asked me to play on it and I have to figure out how to make the flute credible in this piece of music, which is not only an orchestrated pop song from the seventies but it's also got this kind of punk credibility because it's Hugh still angry guy that he is, kind of doing this strange thing where he's striking this line between a very romantic approach to music and a sort of disillusioned kind of fallen out of love, grumpy, late middle aged guy which is what he is.
So it's twice as hard when I'm trying to find a way to make the flute work on somebody else's song, because I really had to get to grips with the song as well as find a way for the flute to find things to play which are in part related to the original arrangement and in part the inventions and improvisations, so it's not easy and it took me probably an hour this morning to get generally where I was going with it and I got about half way through recording it when I had to start doing interviews and I will return to finishing it off later today. But yes, the flute is a difficult instrument to fit in to rock music which is probably why after all these years I'm still the main guy doing it as far as the world at large is concerned. There's never really been the choice instrument for the majority of wannabe rock stars, and after all these years and it's still quite surprising that I'm still the only one in the international sector of relatively well known musician to be playing the flute, I'm certainly not the only one, I'm either just the best known or the loudest.
Lastly, let's predict the remainder of the year so if you could finish this sentence for me, by the end of 2014, Ian Anderson will…
*laughs* Be getting terribly closer to that moment at 9am on January 1st 2015 when I have to start the next project in terms of actually bringing it to fruition, writing all the words, all the music, the demos and you know giving myself a month to do it. So by the end of the year I will be in Australia, my mind might be somewhere else *laughs* but necessity as it was said is the mother of invention, so by setting yourself deadlines and putting the pressure on I think, particularly as you get older and inevitably towards the twilight years of fishing and golf that seem to consume many people in retirement, I have no intention of retiring or anything, I just want to get to grips with the next thing as fast as possible because time is running out.  So by the end of 2014 I shall be focused on the next thing, not until hopefully when I get on the plane back from Auckland via Sydney to return home just in time for Christmas.
Essential information
From:  UK
Latest Release: Homo Erraticus
Website: http://jethrotull.com/
Catch Ian Anderson and his band in Australia at the following dates:
SYDNEY OPERA HOUSE, SYDNEY THURSDAY DECEMBER 11
QPAC CONCERT HALL, BRISBANE SATURDAY DECEMBER 13
PALAIS THEATRE, MELBOURNE MONDAY DECEMBER 15
TICKETS ON SALE 10AM MONDAY JUNE 23
My Live Nation pre-sale: begins midday Wednesday June 18
Ticket Agent pre-sale: begins midday Friday June 20
For complete tour and ticket information, visit www.jethrotull.com & www.livenation.com.au