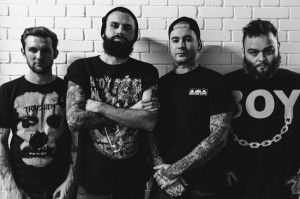 July 4 will see the welcome return of one of the most notorious and thrilling punk bands to ever be spat out of the UK. Returning with a new single entitled 'Chains' (recently showcased as Zane Lowe's 'Hottest Record' on Radio One), Watford punks Gallows are coiled and sprung and ready to detonate once again.
"It's been a quiet year so far for us all as we've been busy on new adventures and projects but when we got together in February it was shocking how quickly ideas were flowing." explains guitarist Laurent Barnard.
Inspiration flowed very quickly. The band roared into life and the proof can be clearly heard on 'Chains'. Released again through the bands own label Venn (in partnership withCooking Vinyl Australia) as a download with exclusive digital bundles and on limited edition coloured 7" vinyl, 'Chains' starts slow and soft, lulling the listener into a false sense of security before the band come pounding in and level the place.
"The song 'Chains' came together really quickly," states Laurent. "It started off with one riff and by the end of the day it was recorded. We did it all live too like we were making a garage punk record. My friend Helena who sings in a great band called Dios Mio happened to be in the studio that day so she came in and added some vocals and textures, which brought a very haunting element of the track. It's very different but still very dark which is what Gallows is all about."
'Chains' is yet another step forward for a band who, since their inception in 2005, have never rested on their laurels or stayed still. And Gallows are back again to take it even further.
"The chemistry when writing together has never been better and it's great to finally have a band moving forward together in the same direction. We are working on more material in the summer so keep your eyes out for more Gallows news coming soon."
Chains/Wristslitter 7" vinyl are available for pre-order now!
http://bit.ly/gallows7aus