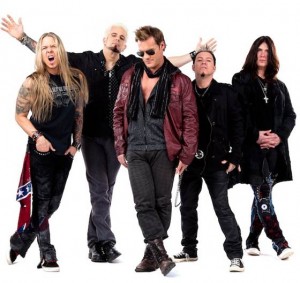 FOZZY have announced they will release their highly anticipated, new full-length studio album 'Do You Wanna Start A War' (Century Media Records) in Australia and New Zealand on July 25th! Fans can now pre-order the 12-track album at iTunes and receive an instant download of the song "One Crazed Anarchist." Preview the track now and watch the new lyric video premiering exclusively at Revolver. Recently, the band unveiled a new lyric video for the debut single "Lights Go Out," which shows the band in a stunning new light. FOZZY have just finished a U.S. run performing at festivals across the country including Rock on the Range, Carolina Rebellion, and Rockfest along with many other shows.FOZZY will be performing June 14th in the U.K. on the main stage of the Download Festival.
Led by the inimitable duo of guitarist Rich Ward (co-founder of the influential underground band Stuck Mojo) and vocalist Chris Jericho (famedWWE superstar and media personality), the band FOZZY has really always been about one thing: having fun. Produced by Ward 'Do You Wanna Start A War' is the bands follow-up to their acclaimed 2012 release 'Sin and Bones' and sixth studio effort since 2000. Featuring 12-tracks, the new album includes the debut single "Lights Go Out," alongside the title track and the return of the Theremin in "Bad Tattoo." As described byCorey Taylor of Slipknot and Stone Sour, "Do You Wanna Start A War is dark, dense and sharp. Sonically and lyrically, this feels like it's going somewhere big. I love it!"
What started out for guitarist Rich Ward as a weekend cover band, called FOZZY OSBOURNE, soon became an internationally signed act with the biggest star in professional wrestling, Chris Jericho, as its lead singer. With adopted stage names and an elaborate backstory written for the movies, the band's early recordings consisted mainly of cover songs ranging from Black Sabbath and Dio, to Iron Maiden and Mötley Crüe.Jericho's singing ability and overall passion for music makes one wonder just how he is able to find the time to excel in pretty much everything he does, while Ward counting Zakk Wylde and Synyster Gates as fans, is probably one of the greatest, and unjustly so, underrated guitarists in rock and metal today. It was these qualities that pushed the band to drop alter egos get rid of the backstory and write original music.
Over the course of the next seven years, the band did just that; three albums worth to be exact. The records were fit in between Jericho'swrestling, TV and writing career. It wasn't until their last release 'Sin and Bones' though that the band really started to hit their stride. Jericho was winding down his involvement with sports, the band was touring more than ever before and their live show was as strong as ever sharing the stage with such music luminaries as Metallica, Avenged Sevenfold, Steel Panther, Shinedown, and many others. The entertainment, the fun factor, the showmanship were all there and in full force. More so than any point in the bands' career.
By the time 'Do You Wanna Start A War' is released, a horde of seasoned and newfound fans will have seen FOZZY live and heard new tracks off the album. They will have witnessed one of the greatest performances they've ever seen, they will have witnessed one of the best frontman in any genre of music sing some of the catchiest songs they've heard in ages and most importantly, they will have had the best time in their lives doing it.
FOZZY is Chris Jericho on vocals, Rich Ward on guitars and vocals, Frank Fontsere on drums, Billy Grey on guitars, and Paul Di Leo on bass.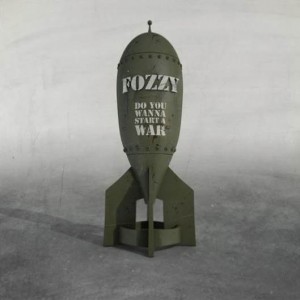 FOZZY: 'Do You Wanna Start A War' tracklisting
Do You Wanna Start A War
Bad Tattoo
Lights Go Out
Died With You
Tonite
Brides of Fire
One Crazed Anarchist
Unstoppable
Scarecrow
No Good Way
SOS
Witchery

Official website: www.FozzyRock.com
Twitter: @FozzyRock
Facebook: www.Facebook.com/FozzyRock