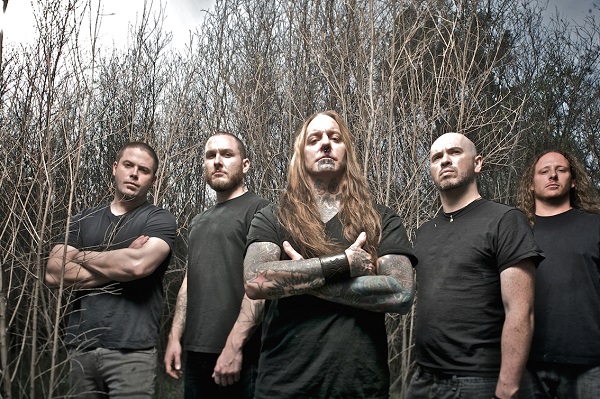 "I love the stage man, there's no two ways about it. I love writing music, I love singing music, I love everything about music. I get up every day and all I do is listen to music, all day long until I go to bed and it's every genre, man…"
From Tour Release: While many bands in the modern era are already withering away, DEVILDRIVER have proven to mutate, grow stronger, deadlier and more immortal. DEVILDRIVER conjure genuine chaos and make it beautifully brutal in their crushing live performances. Who can forget their now legendary appearance at Download 2007, which arguably generated the biggest circle pit in history? Or any other live show they've played for that matter?
Before heading on stage, we caught up once again with Dez of DevilDriver to talk about the band's upcoming Australian tour, new music, the best way to start off in the business today and more…
You're coming to see us twice in one year, gotta love that, what can we expect to see at these shows coming up in September?
Well we didn't do any Sidewave shows and we haven't done a headline tour in three years, so I pleaded with AJ and said look, we've gotta come down there and do this and he agreed. You can expect 110% from us, we've been on the road in the U.S. now for six weeks, we're cranking it out and we're on fire. We're coming with a great package, the same package that we're out with over here with Whitechapel, so you know, it's just going to be a good time, come get in the pit. We're bringing the full production, it's gonna be a full show, it's gonna be nice.
You mentioned you've been out in the US with Whitechapel, with rave reviews, why were they the perfect pairing in your opinion to go out with DevilDriver?
You know I think because we're so different musically it just works, I can sum it up like this, we do a meet and greet each night and I watch Whitechapel kids with Whitechapel shirts come over and say 'Hey I've never seen you but we love the band' and the same goes for us, kids in DevilDriver shirts saying 'Man I've never heard of Whitechapel, this is great.' So I think it's diverse, yet somehow it's really meshing, plus we get along with the guys really well, they're all very cool, all the crews are getting along, and that kind of stuff just means the world when you're out on the road or coming to Australia. So I'm glad to be helping them come over, they'll be coming to a big crowd as we definitely have a following there, it's gonna be interesting.
You were of course here for Soundwave in February, how was that tour for you guys?
Loved than, man, I always love Soundwave you know that…  I keep bragging about that festival and the people that put it on, and AJ and his wife are wonderful family friends, so for me it's always a great time to be invited and most certainly every time we are invited we'll come down. We had good shows man, we were right between Down and Mastodon, it was a perfect slot for us right as the sun was going down, and I think all of us in that metal genre were going up against Green Day and stuff on the main stage and we were all feeling it, we all had to lump together and get it done, it was a good time.
Besides Soundwave, what's your favourite thing about Australia?
Well I'm from California so it reminds me a lot of home man, I can come there and right after sound check I can go and surf for like two hours, it's great. *laughs* I've got a lot of good friends there, the weather there is killer most of the time we come down, so it's a good time.
'Winter Kills' has been out for almost a year now, with the current momentum, are you already working on new material for a new album?
Absolutely, I write daily and the band has been pretty proficient of late, or some of the members at least have been very proficient of late in writing, so I'm looking forward to getting some stuff demoed or down by at least the end of this year and then going into record next year. We like to meet a two to two and half year timetable, I think any longer than that is just too difficult to make people wait longer than that for new music, and why would you? You're a musician; you're supposed to be working. When I was younger you got a record every year from your favourite artist, I don't get it, but we do tour so much that we've got to talk a little time off, so that's why you've got a break. The fact that we take a little bit of time off while we're writing and recording and then the fact that the label and the press need it four or five months before the record comes out, that's where you get your stall time, you know?
So what do you enjoy the most about what you do?
I love the stage man, there's no two ways about it. I love writing music, I love singing music, I love everything about music. I get up every day and all I do is listen to music, all day long until I go to bed and it's every genre, man, I can be listening to 'Bauhaus' one minute, 'Hank 3' the next, 'Black Flag' one minute, 'Black Sabbath' the next, 'Satyricon' the next minute. I'm all over the place musically, I love everything from 'Muddy Waters' to 'Nick Cave'. I love it, people are really surprised when they come backstage or have a cocktail with me before the show that I can go from listening to, like I said, from 'Bauhaus' to 'Black Flag' and all of a sudden I'm listening to 'Hank 3' and then all of a sudden it's 'Pantera' so people are going, "what's going on with you?" well, I love all music you know.
Let's look back at the debut album, so, 11 years on, what did you see as being the biggest challenge being a new band releasing your first record?
Well, I don't know how to say this actually… the challenge of a new band, it would be a new challenge for a new band just to release, but the fact that I was from 'Coal Chamber' that was quite a bit different to what DevilDriver was doing, we had some other challenges as well, so we really had to prove ourselves more than most just beginning bands, and I feel that we've done that. We were only together for six months before we wrote our first record, so everything really took time to jive and by the time we got to the second and third records we were really starting to find ourselves, we'd gone through some member changes as well, and everything that's come my way has been a positive blessing. So I think we just keep our nose to the grindstone and keep working, and that in itself is making any other challenge go away. The way that you take the piss and vinegar out of things is you just work your ass off, and all of a sudden the fruition happens, you know what I mean?
It sounds like you never stop…
No sir, that's not part of my nature really…
So how do you feel after all this time you've evolved as a band?
Because there's so many different influences within the band and within myself and I know what I want out of music and you know quite frankly say 'I like that song' or 'I don't like that song' or 'that's not a DevilDriver' song' you know what I mean, and everybody talks and everybody writes and with the different member changes along the way from guitar players to bass players, certain guys get out here and they can't tour as much, they break down, they just can't do the touring we do, they want to be more homebodies, I mean I get it. The changes that have come have always been very positive and have blessed this band, and change is a good thing, and you have to know coming from me that's a difficult thing, I'm a Taurus, I do not like change for one day. I'll give you an example, today I woke up and we had to get on a different bus for six hours while our bus went to get a repair done and I was pissed *laughs* just because I love to live groundhog day out here on the road and I don't like change one bit. I've realised that change in life is actually what makes life fulfilling, so all that actually being said, we changed record labels and it's been great, we changed members over time and it's been very positive, we've changed styles over six records and it's still been DevilDriver yet all the records sound different which I think is important, that way you can keep moving forward with your art. There's a whole lot to it you know. Don't get me wrong, I'm a huge fan of different bands and it's cool if they've been around twenty or thirty years but they're making the same record over and over, at some point I want to hear them do something a little different, that's me man.
What's your favourite thing to do in your downtime?
I hang out with my family absolutely, my wife and my children, my Great Dane and my Doberman, I hang out at home, I'm quite a homebody, I like to cook for my family, sit and have a good glass of red wine with my hot wife sitting next to me and watch her run around in her little bikini in the backyard, it's great man, I'm just like every dude. When I come home I really shut off, I'm really not on the phone doing too much business, at night time I'm usually painting or throwing pottery with my girl, we're potters as well, so I hang out at home and do various arts, and I do write a lot. My life has been very blessed, you've got to realise that, I ran away from home when I was fifteen years old living under bridges, just a punk rock kid stealing food, so I can't believe every day that I've got what I have so I'm a lucky man. Around me are my family and I've worked my ass off for it, so I feel very blessed, I've taken some hard knocks and I've always taken the hard knocks with my chin up and I think that's what part and parcel makes me, me and if I can empower anything to someone it's that, I would say keep your chin up and keep moving forward because I'm a living testament to it.
So do you have a message for anyone that wants to start a band and get into the music business?
Have fun with it, play your instrument and be in love with it, be in love with writing music, don't let the things that can make everything go south get in the way, hard drugs, alcohol, too much alcohol, ego, especially ego, stay the fuck away from that, no one cares… just be in love with it man, so remember once you get in that it is a business, so you've got to have a good business head or you're not gonna do it too long and from there just move forward, take yourself seriously.
Ego really is a dirty word isn't it…
For me it is man, and I've only come across a few of those guys in my whole life and I've been fortunate to meet all my heroes and they've all been extremely cool down to earth people. I  have met a few over time that I've never listened to their records again and if I ever see them backstage I'll never extend my hand, you know what I mean… Because you do music you're more special than somebody else? I don't get it man, or because you do heavy music you're more special than the pop guy, or the pop guy makes more money than me so he's more special because you're an underground heavy metal guy? I don't like any of that man, and because you've been in the industry twenty or thirty years and you've got a chip on your shoulder? Fuck that man, that's not what it's about at all…
Lastly, let's try and predict the remainder of the year, so if you can finish this sentence for me, by the end of 2014, DevilDriver will…
Definitely be demoing for a new record, be done touring until mid-next year, and be extremely stoked as to what's happened to us on our new record.
Catch DevilDriver in Australia at the following dates with Whitechapel
Tickets on sale Friday 20 June, 9AM Local time
FRIDAY 5 SEPTEMBER – BRISBANE, HI-FI – 18+
www.thehifi.com.au
SATURDAY 6 SEPTEMBER – SYDNEY, HI-FI– Licensed All Ages
www.thehifi.com.au
SUNDAY 7 SEPTEMBER – MELBOURNE, 170 RUSSELL – 18+
www.oztix.com.au | www.170russell.com
Presented by Soundwave Touring
Essential Information
From: USA
Band members: Dez Fafara – vocals, Mike Spreitzer – guitar, Jeff Kendrick – guitar, John Boecklin – drums, Chris Towning – bass.
Website: http://www.devildriver.com
Latest release: Winter Kills (Roadrunner Records Australia)