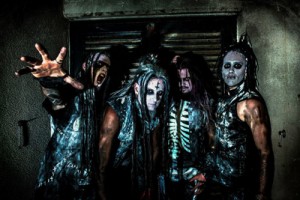 The rumours of the Death of Rock n Roll have been greatly exaggerated. Darkc3ll are the living dead embodiment of it – and if anyone has say so over whether it is alive or dead, it's the graven industrial metal gods from Brisbane, who have had a massive start to 2014. They embarked on the entire Soundwave Festival tour and co-headlined their own tour alongside Witchgrinder and they are now releasing their filmclip to their track 'Death of Rock n Roll', taken from their LP 
Dark Verses
.
Darkc3ll recently completed the clip for their latest single, "Death of Rock n Roll", from their latest album 'Dark Verses'(RTD Records). Capturing the unique and exciting intensity of the Industrial Rockers with fan submitted footage from their Soundwave 2014 tour, Wednesday13 tour and more recently their Industrial Revilution Tour, as well as pro shot footage, once again, the band collaborated with Darklight Studios to bring chaos to the screens of fans everywhere.
As an added unique bonus, the band involved fans to celebrate the release by asking them to help the band get 666 likes on their Facebook image. Within 24 hours, with no advertising or expensive marketing hype, the band achieved this through the support of their Army of Darkn3ss.
Darkc3ll released their second album, Dark Verses, on 27 September 2013 via RTD Records/Rocket Distribution. Two singles have been lifted from thealbum; Six Hundred & Six Six (released 12 December 2012) and Exorcist (released 5 July 2013).
Having shared the stage with Wednesday 13,Combichrist, Hanzel und Gretel and Otep and stepping up to the Soundwave stage this year, DARKC3LL is known for their unrelenting horror-themed industrial metal shows. J.Dracman (Vox) & Postmortem Matt (Guitars, Electro, Synths) form the backbone of the chaotic live act, rounded out by the abrasive Rit Derelict (Bass) and Jay Macabre (Drums).
For more information about Darkc3ll, go to http://darkc3ll.com.