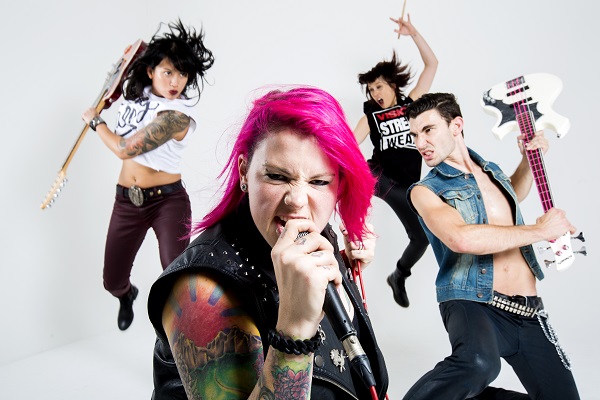 "We go for catchy melodies and riffs, we try to say something we think is profoundly important in the space of one sentence, and we always try to put something special in there that people can sink into – like a groove, a breakdown, or a dancey bit."
From Bio: Bonney Read was born out of the teeth, nails, and tears of high school cheerleaders, band geeks, and choirgirls. She was born out of leather-clad fists pumping drunk rock anthems from the darkest recesses of freshly broken hearts. She was born out of creatures of the Sydney scene and everything that comes with that – think glitter and confetti, bourbon and cigarettes, lipstick and fist fights, rock n' roll and laser lights. Think dive bars, tattoos and piercings, eyeliner and hairspray – LOTS of hairspray. Think love, betrayal, anger and resilience, and 'It was a good idea at the time!' This is her clamour.
Bonney Read is a family of four with something to say. They forged her from the desire to scream and the hunger to connect. She is now voice and army, true friend and safe refuge. She is home and hero, and she will slay your sorry ass if you ruin her birthday party. Please join her for a dance at your friendly neighborhood disturbance.
We've got a good history with Bonney Read and of course when it comes time for them to release their debut EP (June 5th) it's the perfect time to feature them, so check out what Bonney Read are about and pick up 'Live To Tell' you'll dig it, trust us…
Let's start with the basics; for those that aren't aware of you, can you please give us the abridged version of the Bonney Read story, how you all came to be and the decision on the name of the band?
Long story short: Coop and Kat made rad drunken jam plans and actually executed them, Astrid made out with Cooper's best friend, and Jeremy somehow managed to eat Kat's food without getting killed. A whole lot of luck brought us together, but we're still here because something special happens when we play together. Come to a gig and you'll get it. We're not exactly sure what goes on, but whatever it is, it's just SO. MUCH. FUN.
As for the name… When it comes down to it, we have a rock n' roll ethos. This band is all that it is because of AND in spite of the worlds we each came from. We wanted a name that conveyed  'defiance'. Anne Bonney and Mary Read were the two most ferocious female pirates to scour the western hemisphere. When their crew surrendered to the navy, they turned around and fired at them. You can't get more rock n' roll than that.
Can you now please introduce each band member including yourself, and give us a rock 'n' roll fact or myth about each of you?
This is Jess Cooper. She owns a vest for every day of the fortnight and will slay your sorry ass in a game of pool, unless of course you happen to be holding a little baby lamb.
This is Astrid Holz. She hits too hard for some venues, drives a big strong van named 'Bertha,' and loses every ounce of composure when placed in the presence of dolphins.
This is Sir Jeremy Goldfinch, first of his name, lord of the hairspray, and protector of drunken band mates. He has a way with older women. Actually, all women, and a lot of men.
This is Kat Ayala. Hell hath no fury like this girl when she's hungry. Always feed her.
You're just about to release your debut EP, so instead of giving us a standard review, let's say if you had to give us your best door to door sales pitch to try and convince someone to listen to it before they slam the door in your face, what do you say to them?
"It's #morepopularthanabbott."
Just kidding.
We'd say, "You're in one of these songs. Listen."
I have to ask, it's called 'Live To Tell', what does it represent to you?
We took it from the chorus in the EP's opening song, 'Fall.' It's about understanding that doing something may result in severe consequences, but doing it anyway because you know it's intrinsically worth it. It's our way of saying, "Fuck it. Let's go."
'Live To Tell' represents giving our all and putting everything on the line for what we believe in, which is what we're doing right now.
In terms of your song writing, what do you consider to be the most important ingredients that make up one of your songs?
(Pardon this comparison, but 50% of the band are obsessed with fishing, while the other half happily oblige.) Writing a song is a lot like catching a fish: you need a hook, a line, and a sinker. We go for catchy melodies and riffs, we try to say something we think is profoundly important in the space of one sentence, and we always try to put something special in there that people can sink into – like a groove, a breakdown, or a dancey bit.
You worked with a couple of great names for the EP but in particular Mark Opitz, what was he able to bring to the band that you had never thought before?
He taught us the "What the fuck is that doing there?!" songwriting trick. It was a steep and painful learning curve, but completely effective. He managed to capture our sound as accurately as a photograph, and for that we are incredibly thankful. Two for you, Mark Opitz. You go, Mark Opitz.
Lyrically and musically, currently what or who inspires/influences your music the most?
Lyrically, we write from experience. Each song has at least one face that goes with it. All our songs have rooms, daylight, dark corners, mistakes, triumphs, and I-just-wanna-dance moments – and we get to conjure them up every time we play. It's pretty cool being able to share in that kind of… witchcraft with your best friends.
As for musically, it's the songs on the radio, in the clubs, oozing out of someone's car, or drifting across the park. The songs that sneak up from nowhere and everywhere, and compel us to move or to feel. We want to write songs like that – songs that you just can't ignore.
On the other side of that, what bands did you grow up listening to and how did they help create the style of music that can now be heard throughout your music?
There's no doubt anyone can hear some 80s and 90s pop/rock/punk influences in our music, and hell, we're not ashamed of it! Bring out the Spice Girls, make them fight with Joan Jett, pull in Guns and Roses, pour the Distillers on top and wrap everything up with the Baby Animals, The Divinyls, Fleetwood Mac and Blink 182.. that's just some of what we were listening to in the van last weekend anyway, and I haven't even started on the emo bands!
In terms of touring, you've just done a few shows pre EP release, but can we expect some further shows in support of the EP and to draw them in, how would you describe a typical Bonney Read live show?
We have one last show for the tour, and then we'll be chilling out for a bit, catching up on sleep and licking our wounds from the debaucher-filled nights out together.
A typical Bonney Read show is FUN. We know how to have it, and we're taking you with us. We dare you to stand there and not move a muscle 😉
For a bit of fun, say you get the chance to open for any artist or band in the world, who would they be and why?
The Baby Animals, because they are our heroes. Enough said!
If you could cover one song in your live set that no one would ever expect, what would it be and why?
We wouldn't tell you. We like surprises.
What kind of movie do you think your music would be best suited to and why?
A comedy/drama about life in the 2010s – a cult film like The Breakfast Club, or Reality Bites, but the present day version. Something that feels real, because that's what we try to play… and hey, any skate/snowboarding film would suit nicely.
Lastly, with 2014 well underway, here's a chance to gaze into your crystal ball and see the future.  So, by the end of 2014, Bonney Read will:
1. Play a support slot for The Baby Animals 😉
2. Start recording our very first album
3. Reach the ears of as many music-loving-humans as possible
Catch Bonney Read on the last show of their EP release tour ON release day at 'Brighton Up Bar' in Sydney on Thursday 5th June. It'll be a rockin' night!!
Essential Information
From: Sydney, Australia
Sounds like: Rock
Band members: Jess Cooper – Vocals, Kat Ayala – Guitar, Astrid Holz – Drums, Jeremy Goldfinch – Bass
Latest Release: Live To Tell (EP, out Thursday June 5th)
Websites: Official Website
Twitter 
Facebook
YouTube