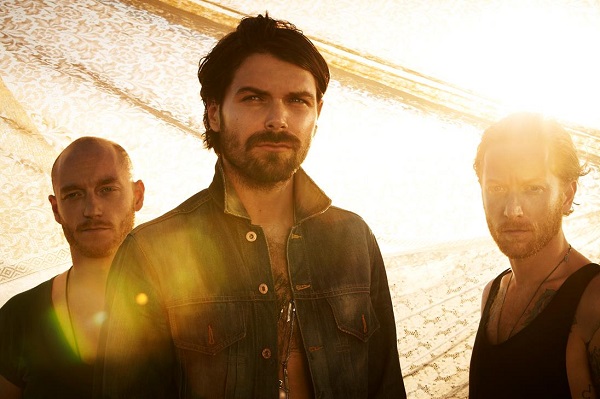 "… I'd almost go as far as to say we're grownups now, possibly… I don't know… we're certainly the right age to be grownups, but I don't know we're mentally grownup yet, we kind of went from school bus straight onto tour bus, so that's just put us in a perpetual state of adolescence…"
From Tour Release: Biffy Clyro have firmly established themselves as one of the biggest bands in the UK following the amazing success of their current album Opposites – which debuted at #1 in the UK and #22 in Australia. The album features radio hits Black Chandelier, Biblical and Sounds Like Balloons. The band just released an exclusive Australian Tour Edition of Opposites to support their recent appearance on Soundwave 2014. The tour edition is a 2CD pack including the standard version of Opposites plus 'Opposites – Live From Glasgow' featuring tracks from Opposites as well as Biffy classics – Mountains, Many Of Horror and Living Is A Problem Because Everything Dies.
At home in Ayrshire on the west coast of Scotland we chatted to Ben of Biffy Clyro about their upcoming return to Australia, touring in general, new music and a tough question he now has in the bag…
You're heading back to Australia to see us which will be twice in one year, what can we expect to see at these upcoming headline shows?
Hopefully Biffy at our best, and like you say, it's twice in one year which is something we've been trying to make happen which is something we've wanted to do since we first came to Australia cause we hate the idea of being there and then waiting two years and coming back and then it's two years again, that kept happening and it just felt like we were starting again. At least this time we've got the momentum of Soundwave behind us and hopefully these songs will sell well and you'll get to see a longer set and more of a story I guess… we'll get to show another side of our band and explore more of our back catalogue and just play for longer. That's the main thing, we'll just get to play for longer and show what we're capable of, so we're looking forward to that.
Let's jump back to February, how was the Soundwave experience for you guys?
It was absolutely mega, it's such a cool festival, the amount of good bands on the bill is mind blowing, because there's so much music we grew up listening to and a bunch of our heroes on that bill, so we were like fan boys. Also we got to play a really good slot, we were on the big stage and I think we got to play to a few thousand kids which was amazing, we were so stoked to play in front of that many. It was a real honour and a great billing that we got, and I don't know if we deserved to be on such a great slot, so we were kind of thankful to the guys at Soundwave to give us that opportunity, so yeah, it was just a blast, we got to see some great music and we flew in and played some great shows, it was excellent.
You had a very early slot on the bill, but you put in more effort and a better show than many that played after you, how were you able to do that so early?
It's tough, I guess it's like a switch, it sounds corny as hell but it's music… we genuinely love the music that we play, so it's easy to just feed off that and to look out and see and look out at all these kids early in the day and they're giving us so much energy back, there wasn't like full on moshpits, but they were singing along and getting involved and all had big smiles, so yeah especially for that time of day it's a big deal, because if I was a punter I'd still be in my bed, I wouldn't be up. So we really respect that people made an effort, but yeah, what we did was we got a lot of early nights and we made sure on the days we were getting up early, we were up at 8am, possibly even earlier, just to make sure we could get ourselves into that gig moment and get ready to put on a rock show because it's not rock o'clock at all at that time, it really is not, it should've been difficult but it just wasn't. I think maybe jetlag helped, that might have had a bit to do with it I think, because of the strange jetlag situation it felt like night time to us, so it was a bit easier than we thought to get our rock and roll heads on.
Now on touring, you've just gotten back from Russia, how was that experience?
Oh it was wild, it was really cool, that's the first time we've been and that's what this year has been all about, just going to a lot of places for the first time, we've done South Africa for the first time, and we went to Israel for the first time as well, so it's been a very fun year so fun just getting to touch these corners of the globe that we've never been and are kind of unknown entities. As you know, nobody buys records anymore, so it's really hard to judge if you have a following in a country or not, so you just have to go and have a bit of faith, so that's what we did. So we went to Russia and were playing in an arena that could've held three thousand, maybe four thousand people which is ridiculous and I think about fifteen hundred turned up which is again ridiculous, considering it's our first time playing in the country, we never ever go to a country for the first time and play to over a thousand people, so that's mind blowing to us, and we still think we're cheating, so we're really grateful to the Russian fans for turning up en masse.
So how much longer are you out on the road with this album, and are you exploring any other new territories on this tour run?
Until the end of the year, I think we're going to put a cap on this album campaign at the end of the year, so we've still got some awesome places to go, we've still got Chile and Argentina and China, yeah we've still got a few cool places to go, we're going down to Mexico, it's escaped me now, but there are another couple that we're going to, but it's just so cool to get to do that. We just said let's just have fun and this is a great job and obviously it's a hobby, but it's a job but we can travel, we can go anywhere we want, so if we've got fans let's go see them, and it's just been amazing. So we've got a few more boxes to tick before the year is out, but we'll see how we go but by all accounts, by all accounts South America should be pretty wild.
Not bad for three guys from Scotland huh?
Not bad for three Scottish dudes from Ayrshire, there's not many people from this neck of the woods that get to do much, and on a world stage, so we're very, very happy with how things have gone *laughs*.
 'Opposites' has been out for a while now, with the rigorous amount of touring you've been doing, have you had a chance to write any new material?
We always wait until we're off the road, I think if you can split touring and writing when you can, you tend to concentrate on the live show when you're on the road and just putting on kick ass shows and concentrating on those songs that you're creating in the set at that point. Sometimes in sound check we'll play some ideas that we have, but yeah, we've been lucky enough to have some time off, and we don't really do time off in a sense of let's sit on the couch and watch television and do fuck all, we get in a room and we play because that's what we like doing, that's our hobby anyway like I said before. So yeah, we've actually managed to get about fourteen demos done already, just since we got back from that trip, we did America, Oz, South Africa and we came home and we just started putting stuff down and it's been great, we're just putting absolutely no guidelines whatsoever on what we're writing and definitely not trying to sit it in any form of genre, and it's a lot of fun, we're coming out with some interesting stuff… *laughs*
Well 'Opposites' was a double album, maybe a triple album this time?
It would be fun *laughs* but I think the double album was risky enough doing that and we managed to get a number one record and we proved a lot of doubters wrong which was doubly great, so it was really nice to silence some of the doubters let's say, but yeah, I think a triple would be a bit crazy, anyway Green Day did that last year and we don't want to copy Green Day, but yeah I think we'll go the opposite way, I think we'll go for a shorter album this time, possibly as short as twelve tracks… we already have too many songs for that, so we're in a good place, we'll just keep writing, we'll just keep going, we're in no rush to get it recorded at all, we've been playing our asses off and we gave you guys twenty tracks last time, so like I say we're in no rush to record but there's no doubt anyway with the songs, so it will all happen in due course.
It was four years between 'Only Revolutions' and 'Opposites', we're not going to have to wait that long again for a new album are we?
Umm…. Well it could be… things take time to record and then get your artwork and your package and it just takes longer that you'd like it to. Ideally the minute you've got a song ready you just want to record it and release it the next day, but in real life it's not like that. Then people have strategies and you have to release albums at certain times of the year and blahdy blahdy blah… so yeah, it will be out when it's finished, that's all I can say.
How would you compare the band now to the band of 2002 when you began?
Wow… hopefully we're a bit better *laughs* we're better musicians and Simon's a much better song writer and lyricist, I'd almost go as far as to say we're grownups now, possibly… I don't know… we're certainly the right age to be grownups, but I don't know we're mentally grownup yet, we kind of went from school bus straight onto tour bus, so that's just put us in a perpetual state of adolescence.  I'd go as far as to say that we're men, I don't think we were men back in 2002, I think we were still boys and we were still learning our craft, and we were pretty green and I guess we're a little bit more cynical, not to the point that we're jaded, we all still love music, we all still love touring and like I said before, this is a hobby and we haven't got to the point where we see it as some sort of labour of love or job or anything, it's still very magical to us to do this for a living, but yeah, I guess we're just hopefully a better band and can earn some respect.
Is there a song in the entire Biffy Clyro back catalogue that you feel defines the band?
Oh that's a total bastard of a question *laughs* you're asking me to pick from literally a hundred songs… oh man… fuck… *thinks* I guess I'll go for 'Stingin' Belle' from 'Opposites', I think that song shows that, it shows that we take risks, you know it's got bagpipes in it for Christ's sake which in itself is just ridiculous, even though we are Scottish it's still ridiculous to put bagpipes on a rock song. I guess that song takes you on a journey, there's a lot of instrumental parts which is a big part of our band, if you go back and listen to our earlier albums there's quite long instrumentals. It's also a pop song, and we've always been a pop band regardless of what anybody says, our early albums were more abrasive and angrier, but we always had pop elements, every song we've ever had has always had a hook, so 'Stingin' Belle' has got that, it's got a hook, and it rocks, it rocks really hard and that's also a massive part of our band. We're a rock band and always will be, we've got our tender moments and we do experiment and we do fall into all different genres all over the place but ultimately we are a heavy rock band and I think 'Stingin' Belle' shows that. I think I answered that question really well if I may say so myself *laughs* it was a fucking tough question.
Well now you're prepared if someone ever asks you that again…
*laughs* I know! I'm so thankful to you as I have the answer in the bag…
Lastly, 2014 is almost half way through now, so let's predict the remainder of the year, finish this sentence… by the end of 2014, Biffy Clyro will…
Have lived out their boyhood dream of headlining 'T In The Park', the biggest festival in Scotland, and also will have lived another dream in headlining 'Isle of Wight festival like Jimi Hendrix did back in the day, so big year for us… and will be looking forward to recording new songs and letting people hear them, that's actually the most exciting thing for us is releasing new music, we love touring and we love playing live, but having this secret you're keeping and the anticipation of what people might think is really pretty cool.

Essential information
From: Glasgow, UK
Band members:  Simon Neil – guitars / vocals, James Johnston – bass / vocals, Ben Johnston – drums / vocals
Latest Release: Opposites (Warner Music Australia) Out Now!
Website:  http://www.biffyclyro.com
Catch Biffy Clyro on tour in Australia at the following dates:
Thursday 4th September The Tivoli, Brisbane www.ticketmaster.com.au 136 100
Friday 5th September Enmore Theatre, Sydney  www.ticketek.com.au 132 849
Sunday 7th September Palais Theatre, Melbourne www.ticketmaster.com.au 136 100
Tuesday 9th September HQ, Adelaide www.oztix.com.au 1300 762 545
Friday 12th September Metro City, Perth www.oztix.com.au 1300 762 545
For more information go to: