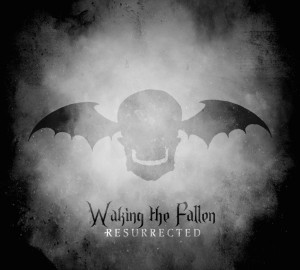 Avenged Sevenfold, one of the world's biggest rock bands, have announced the release of Waking The Fallen: Resurrected on August 29 via Hopeless Records/Unified.
The multi-platinum band personally curated this rare, never before seen look at their fan favourite, genre defining, breakthrough album Waking The Fallen. The new release includes 11 never before heard songs, 23 total tracks, new artwork, the original first cut of the music video for 'Unholy Confessions' and a 30 minute film featuring the present day band, directed/edited by Rafa Alcantara. This is a must own album for any A7X fan!
Resurrected is now available for pre-order at www.hopelessrecords.com/resurrected
Resurrected features a heap of brand new content including:
•  Two new songs, including the lead track 'Waking The Fallen: Resurrected',  which had been lost to history before it was discovered buried deep within the original multi-track recordings. Originally intended to make the album as a full song, it was ultimately reworked into a vocal free intro. Later the band drew inspiration from this lost song's piano intro, building it out into their hit song 'Beast And The Harlot' off of their next album City Of Evil. This song is a previously unknown link between two major eras in the band's career.
• Four never before heard demos recorded by Thrice's Teppei Teranishi including 'Chapter Four', 'Remenissions',  'I Won't See You Tonight Part 1',  'I Won't See You Tonight Part 2'. These early version demos contain alternate lyrics, melodies, and arrangements giving fans a unique and unprecedented behind the scenes look at the evolution of four of the band's most popular songs.
• Five live versions recorded in 2004 from some of the band's earliest shows including 'Chapter Four' (Live In Ventura), 'Desecrate Through Reverence' (Live In Pomona), 'Eternal Rest (Live In Pomona)', 'Unholy Confessions' (Live In Ventura), 'Second Heartbeat' (Live In Ventura), Very little live material from this era of Avenged Sevenfold's career has ever seen the light of day.
• A 30 minute documentary featuring brand new interviews from band looking back on the of the lead up, demoing, recording and touring around the Waking The Fallen album. The 30 minute film includes personal behind the scenes home movies and photos from the band's earliest days.
• The original first cut of the 'Unholy Confessions' music video.
Avenged Sevenfold achieved worldwide success with a string of best-selling albums — including their 2005 platinum breakthrough City Of Evil, 2007's Avenged Sevenfold, which topped the Billboard Alternative, Hard, and Rock Charts, and two consecutive No 1's on Billboard's Top 200 Albums chart,Nightmare (2010) and their latest Hail To The King — achieving Diamond, Platinum and Gold awards for album sales in nearly a dozen countries.
They have also scored a series of Top 10 singles at multiple formats, including 'Bat Country', 'Almost Easy', 'Scream', 'Nightmare', 'Welcome To The Family', 'So Far Away', 'Hail To The King' and their latest, 'Shepherd of Fire'.
The band, which hails from Huntington Beach, California, have become known for their spectacular live shows, routinely selling out arenas worldwide and headlining some of the biggest and most prestigious music festivals. This year Avenged Sevenfold headlined some of the world's biggest festivals including three shows at the Soundwave Festival in Australia, Rock Im Park and Rock Am Ring in Germany, the PinkPop Festival in Holland, and historic Donington Park in the U.K. In September they will head to Japan to headline two nights at Summersonic in Japan.
In November 2012, they made an unprecedented appearance as characters in Call of Duty Black Ops 2 — the biggest-selling video game of all time, which featured the band's performance of 'Carry On', written specifically for the game.
Avenged Sevenfold – Waking The Fallen: Resurrected is out August 29 via Hopeless Records/Unified.
Waking The Fallen: Resurrected
CD 1:
1. Waking The Fallen
2. Unholy Confessions
3. Chapter Four
4. Remenissions
5. Desecrate Through Reverence
6. Eternal Rest
7. Second Heartbeat
8. Radiant Eclipse
9. I Won't See You Tonight Part 1
10. I Won't See You Tonight Part 2
11. Clairvoyant Disease
12. And All Things Will End
CD 2:
1. Waking The Fallen: Resurrected
2. Second Heartbeat (Alternate Version)
3. Chapter Four (Demo)
4. Remenissions (Demo)
5. I Won't See You Tonight Part 1 (Demo)
6. I Won't See You Tonight Part 2 (Demo)
7. Intro/Chapter Four (Live In Ventura)
8 Desecrate Through Reverence (Live In Pomona)
9. Eternal Rest (Live In Pomona)
10. Unholy Confessions (Live In Ventura)
11. Second Heartbeat (Live In Ventura)
12. I Won't See You Tonight Pt. 1 (Live In Ventura)*
13. I Won't See You Tonight Pt. 2 (Live In Ventura)*
DVD:
1. Waking The Fallen: Resurrected Documentary
2. Chapter Four (Live Footage Video)
3. Unholy Confessions (Official Music Video)
4. Unholy Confessions (Original First Cut Music Video)