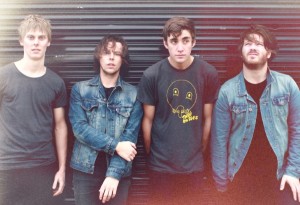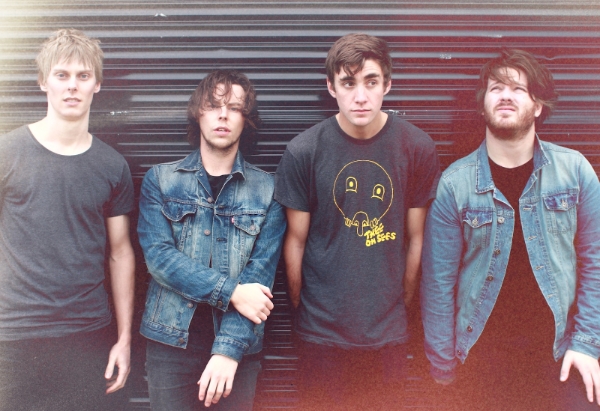 Melbourne rock upstarts APES are about to release their ridiculously charismatic new single 'Pull The Trigger',  and have just announced two single launch shows plus a BIGSOUND appearance. Busy, busy boys.
Concentrating this past twelve months on solidifying their fanbase and tailoring their sound, Apes are the archetype of a young act with a bright future ahead of them. Heavy triple j and BBC radio support has seen their star rise rapidly, as have impressive showings on the Big Day Out and Groovin'  The Moo stages, plus dates with Kingswood, Stonefield, The Love Junkies, Fidlar and Royal Blood. They're currently catching their breath after tearing it up on tour with Band Of Skulls. Next stop is Sydney and Melbourne single launches in August, both tiny club shows that will no doubt sell fast and result in much beer spilt and many hands in the air, followed by a coveted spot on the live program at BIGSOUND 2014. Brash and tight, Apes' live show will do them many favours as the band continue to work their way into the popular favour.
New single 'Pull The Trigger' highlights Apes' versatility, adding another gloriously catchy, garage-rock tune to the bands' striking catalogue. Produced by Michael Belsar of Hunting Grounds, and mixed by Bill Skibbe (The Kills, The Black Keys, The Dead Weather) it is drenched in warm reverb, driven by melodious clean guitars and imbued with an effortless pop rock chorus. An encouraging step forward in he band's songwriting, it's startling these guys don't even have an album under their belt's yet. And, it's already scooped up a triple j rotation add… Check it out below!
Apes have elbowed and shoved their way into position as one of the most promising upcoming Australian rock acts in years. Best get in on the ground level. Big things ahead.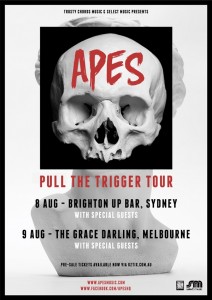 APES – TOUR DATES
SINGLE LAUNCH – Friday August 8th – Brighton Up Bar, Sydney
Tix via: www.oztix.com.au
SINGLE LAUNCH – Saturday August 9th – The Grace Darling, Melbourne
Tix via: www.oztix.com.au
Pull The Trigger will be available July 7 via Inertia Access.
www.apesmusic.com
www.facebook.com/apeshq
www.twitter.com/APESofficial
www.youtube.com/user/APESofficial