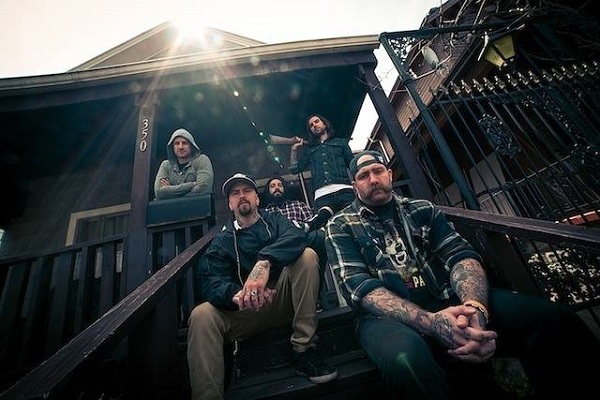 "I think it's honestly like in our head, that the minute that this becomes a compromise and doesn't feel fresh, I don't want to do it anymore, that's the one thing with all of us, the minute it feels like work is when it's time to just hang it up, like I don't want to do that you know?"
From release: Hardcore heroes Every Time I Die will release a new album From Parts Unknown on June 27 via Epitaph Records in Australia and New Zealand. Cathartic and chaotic but always anchored by guitar-fueled hooks, the new album finds Every Time I Die pushing into brighter emotional territory than they've ever explored before. From Parts Unknown is an album of depth from a band that has more than earned their hardcore chops. It has every marking of legendary status.
In Buffalo just chilling at home we chatted to Andy of ETID about the band's new album and its creation, as well as evolving as a band and their goal…
To start us off, the new album is titled 'From Parts Unknown', what does the title represent to you?
I mean if you're asking me personally, to me it's an ode to professional wrestling, but it means something completely different. Keith wanted it to be basically, his lyrics on this record he kind of pulls an uplifting route, the lyrics are very positive on this and I think it's something that we haven't done before and I think that's what he means from parts unknown. Then again, I could be way off on that, for me, that's where The Ultimate Warrior is from…
Yeah you mention the word positive and I've also seen hopeful used in the creation of these songs, was that a conscious decision or just something that in essence happened?
For him I think it was conscious, for us, with us playing guitar, we're writing a record just trying to get songs out, so whatever he comes up with is definitely going to be the vibe of the band, the image of whenever he figures out what's going to be on the record, you know what I mean? Then we honestly don't hear lyrics, it's the last thing we hear just due to the fact that he does vocals last usually, so then when you hear the lyrics or read the lyrics you're like 'holy shit, alright, I get that…' he's in a very uplifting mood, and it's pretty awesome.
In terms of your playing on the album, how did you go into this creative process?
It was kind of weird, like 'Thirst' there was a few songs that I had written, I think I had like five songs written way in advance, like I had 'Thirst' written, I was talking about 'Thirst' like fuck, when we were in Australia, maybe even before, we could've played that song when we toured Australia last… so I've had songs written for a while, but I'm sitting at home and I'll pick up a guitar and fuckin' play, and at some point in time we're gonna need to make a record, you know what I mean? Then the big problem we had with this record is that we only had eighteen days to write it, so the five songs I threw at it were like ok, here… it wasn't trying to throw a vibe out or this is the songs, it was this is what I have, if you guys like it we can use them, if not we can cut them up and use some riffs from them and take the best parts of each bit and write around it. Then we said yes to the A Day To Remember tour right in the middle of it, so we were supposed to have two months to write the record, but then A Day To Remember offered us this thing and we went to Europe and did it, like we had eight days before that tour and ten days after that tour, and it was just like 'fuck dude, just write anything, whatever comes into your head just get it down, fuckin record it, have it and then we'll just figure it out. So we were in a crazy pressure cooker and then it ended up that everything we were writing was very thrashy and we were like 'fuck it let's just go with this'.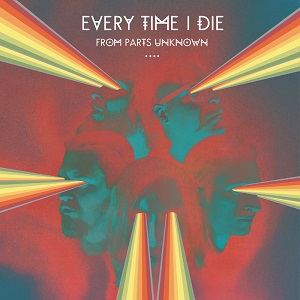 It comes out at the end of June, so as no one has heard it yet, give us three words you feel best describe the album…
Wow… *pauses* shredded fucked-up trash. Yeah fucked-up being one word. *laughs*
You worked with Kurt Ballou of Converge as producer on this album, what did he bring to the band that may have been missing previously?
Honestly a sixth member, like that honestly was like the biggest thing, he literally just locked into the way that we do things immediately and he questioned us, he made us feel uncomfortable when we needed to feel uncomfortable to kind of shake things up and it was just the coolest thing he said about the whole thing was "listen, my name's on this, so I don't want to put out something that I don't feel is good" and that was like, OK this dude gets it. That was the biggest thing, he was honestly like a sixth member of Every Time I Die in the making of this and it was awesome.
That could then set up a future relationship for touring as well doesn't it?
I would hope so, I think that would be a killer show for anyone that would come.
Now I dig The Gaslight Anthem, and Brian Fallon makes an appearance on is it 'Old Light', how did that come about?
To be honest the song itself, I have these fucked up, if I could go back and show you in the history of Every Time I Die the songs that I write in my head that are fucked up pop songs, that's what it is. Like I wrote and I wanted to write a pop song, like my version of what I would like to hear on the radio. Then somehow, Keith and Brian are pretty good pals, like we're friends with all the dudes but I think those two are pretty close, and then he was like 'I want him to sing on this song' and I was like 'whoa that's crazy' *laughs* like it worked out, at first, Brian's got a really interesting voice, and when I heard it when the song was finished I was like 'ugh, I don't know if this is going to work' his voice is great but is it going to make sense with this song, and then fuck man, you hear what he did and it's so fucking killer, it's just insane.
The other track that stood out for me was 'Moor'…
That was a weird one, as I had basically I watched this Harry Nilsson documentary and he was talking about how he wrote 'One is the loneliest number' and then obviously Three Dog Night did it later, but he wrote it with a dial tone at the time he was trying to call his girlfriend, but anyway that's how I wrote the song, I heard a constant noise and it fits and I thought cool, Harry Nilsson, he wrote that song through a dial tone going over and over again… so then I went to sleep and when I woke up I got on garage band and started fucking around with piano stuff and I handed it to Keith and I was like I have this idea and I played it on the guitar and Keith played it on the piano and he was like but slow it way down, it just worked out. Dude, that song is so creepy it gives me kind of chills when I hear the song because it's so random for us.
After seven albums, how do you evolve as a band to keep everything fresh and not in a word, repetitive?
I think it's honestly like in our head, that the minute that this becomes a compromise and doesn't feel fresh, I don't want to do it anymore, that's the one thing with all of us, the minute it feels like work is when it's time to just hang it up, like I don't want to do that you know? I think everyone would probably agree with that, I think it's just everyone cylinders are firing at the same time and we all have the same goal to just destroy, we want to just be the best band on the planet and it's just a matter of not being stale. There's one thing we always go back to, like when you watch 'Some Kind Of Monster' with Metallica, they always bring up the word 'stock' in that documentary *laughs* the minute Every Time I Die becomes 'stock' we're fuckin' done *laughs* yeah we don't ever want to do that.
Is there a renewed source of energy for a new album, you'd be touring, you'd be tired but does this invigorate you again?
Yeah kind of, I guess you kind of get a little reset button in there, mentally I don't think we're getting tired, but we were physically we were getting tired, I mean we did that A Day To Remember tour in Europe and the shows were fucking enormous, like we played to ten thousand people in London and it was just like crazy, like we've never played shows like that… we've played festivals, but never a show, and I think when it got announced that we were doing it, everyone was apprehensive to say yes to a tour like that, then we were like well fuck, when are we going to be able to do a tour like that? We should at least say yes… and then I remember these specific shows going on stage and thinking 'fuck man, I'm just not feeling it' like I just didn't have it in me today, and then you go out there and you set your pedal board down and there's fucking five thousand people here and these kids are going crazy, so like boom instantly you get pumped up and you've gone all Hulk Hogan and get fired up and play and that's that. Now we get to do that every single show because we have a new record out, so it kind of gives you a new release. We did have two and half months off too, but I'm really fuckin pumped right now, I need to get back out on the road because I'm going crazy.
You're about to head out on Warped Tour in the US, are you looking forward to these shows?
Yeah, I always look forward to it, believe it or not, I'm the oldest guy in the band and I love doing Warped tour, you kind of to hustle again, like when you're a new band, you kind of have to hustle and do things, it keeps you on your toes, its awesome.
On touring, I do always have to ask, when do you think we can expect to see you down in Australia?
There was talk, I mean I guess I can say it as nothing's in stone and I haven't heard anything since, but Jeremy from Touche Amore hit me up and said 'hey it's about time we do something together, so let's go to Australia' so we talked about that and I sent it to the managers and that was that. So there's nothing after that, so I would say that's probably a thirty percent thing *laughs* I think the plan is to get over at some point in time this year.
You've made the trip down here more than a few times, what do you enjoy most about touring Australia?
Right now my favourite thing about it is the last time we went over there it was almost like everything was stacked against us. Amity Affliction was touring at the same time, Behemoth was touring at the same time, I mean that Amity show was retarded, it was like Chelsea Grin, Ghost Inside and Amity Affliction, then Behemoth, that show was stacked, then someone else was on tour there and then we had no one *laughs* it was Every Time I Die… bands from each city we played in and then us… I remember management were like 'well, at least you guys are going to Australia' but every show was fucking crazy and it was like 'ok, cool, I think we finally put our stamp on this country, no let's move on and get gnarly' and then the first show I met the Violent Soho dudes, and I've had the biggest boner for that band for years, and then to find out that they're ETID fans, man, it was like meeting The Beatles *laughs* and then we talked to them and were like 'Please tour with us, or we'll tour with you' an Every Time I Die and Violent Soho tour would be like a dream come true for our band. We met the dudes, and I geeked out, it was the first time I'd fanboy'd over someone in years.
Well their last album was pretty damn amazing…
Dude, it's literally a piece of art, what they put out was absolutely awesome, they killed it.
After sixteen years as a band, is there anything you are yet to do that you still really want to do?
I don't know, I honestly thought the only thing we wouldn't do in our career was a weekend with Converge, so like everything is an 'I can't believe it's happening' but right now my only goal in life is to wrestle a wrestling match in a ring and that has nothing to do with the band *laughs* I'm just getting old, I'm 37 this year, I don't know how much I've got left in the tank for that, but we'll see. I know we were talking about like an ETID Rock 'N' Wrestling thing, which would be fucking killer.
You'd have to get someone like Rowdy Roddy Piper to come out on tour and MC it…
Oh dude, that would be the coolest thing in the world *laughs*
Lastly, 2014 is almost half way through now, so let's predict the remainder of the year, finish this sentence… by the end of 2014, Every Time I Die will…
Hopefully play a show with Metallica *laughs* that's my own goal… by the end of 2014 let's hope that 2015 happens *laughs* especially after sixteen years of being a band, let's just hope 2015 happens.
Well best of luck with the record and hope to see you in Australia by the end of the year…
You… I'm going to say you thirty percent will…
Essential Information
From: Buffalo, New York, USA
Band members: Keith Buckley – Vocals , Andrew Williams – Guitar , Jordan Buckley – Guitar, Steve Micciche – Bass Guitar, Ryan Leger – Drums
Website: http://www.everytimeidie.net
Latest release: From Parts Unknown (Epitaph)