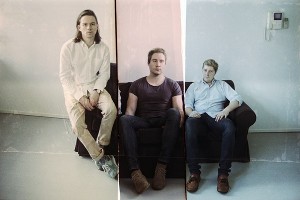 Following on from their successful national album tour in March, The Holidays have today announced an east coast run of new show dates.  The dates coincide with the release of 'Tongue Talk' – the third single from the band's popular sophomore LP, Real Feel.
Real Feel has received solid radio support and media attention since its release in late Feb. It was triple J's feature album upon release, with singles 'All Time High' and' Home' receiving high rotation on the station.
'Tongue Talk' is the freshest cut from Real Feel – an 'album highlight' and 'triumphant pop anthem that will worm its way onto the road trip playlists of everyone who hears it.' (The Brag)  'Tongue Talk' is classic Holidays, with a little added pizzazz thanks to some cacophonous instrumental frustration and lyrical wordplay echoing the song's tongue-tied subject matter.
The critical acclaim garnered by Real Feel coupled with gleaming live reviews has elevated The Holidays to their biggest shows yet – The Metro Theatre in Sydney and The Hi-Fi in  Melbourne.
Joining The Holidays on major city dates will be Triple J unearthed fav, Thief.  Thief is the electronic pop brainchild of PJ Wolf, who traded in his guitars for synthesizers, crafting a fresh minimalist sound that would embrace the aesthetic of contemporaries such as Metronomy, Miike Snow, Frank Ocean and N.E.R.D.  In Newcastle, Pluto Jonze has the opening honour, whilst in Wollongong, Step Panther will support.
'Tongue Talk' is at radio now.  Tickets for the tour are on sale now.
Check out a live rendition of 'All Time High' here, courtesy of Studios 301:
THE HOLIDAYS 'TONGUE TALK' TOUR DATES
Tickets on sale NOW
For further details go to facebook.com/theholidaysband
Wed 28 May    BAR ON THE HILL, Newcastle
Tix: http://www.bigapachee.com.au & campus outlets W: PLUTO JONZE
Thur 5 June     UNI BAR, Wollongong
Tix: http://www.bigapachee.com.au & campus outlets W: STEP-PANTHER
Fri 13 June      METRO THEATRE, Sydney ALL AGES
Tix:http://www.metrotheatre.com.au  & http://www.ticketek.com.au W: THIEF
Fri 20 June      ALHAMBRA LOUNGE, Brisbane
Tix:  http://www.alhambralounge.com.au & http://www.moshtix.com.au W: THIEF
Fri 4 July         THE HI FI, Melbourne
Tix: http://www.thehifi.com.au  & http://www.oztix.com.au W: THIEF
REAL FEEL IS OUT NOW VIA LIBERATION
theholidaysmusic.com | facebook.com/theholidaysband