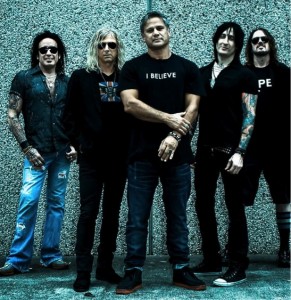 The US summer is synonymous with bands going on the road and for The Dead Daisies they'll be spending it on tour with British classic rock giant Bad Company led by singer Paul Rodgers and American southern rock legends Lynyrd Skynyrd for dates in the United States starting July 10.
Following the release of their self-titled debut earlier this year, The Dead Daisies are proud to announce the Face I Love EP, out Friday 1 August. The eponymous single drops Friday 20 June along with an innovative interactive Facebook Application that will allow fans to be a part of the album cover art and music video. The Dead Daisies are happy to announce that they have signed and will release their new single and EP with local indie label Social Family Records in Australia and New Zealand.
"This is the first group of songs that Diz, Marco and I have recorded with the Daisies," declares Fortus. "I haven't been this excited about a recording in a long, long time and think they really capture what the band has developed in to over the last year of touring. It's new music for classic rock fans!"
The touring lineup includes Jon Stevens (Noiseworks/INXS) on vocals, David Lowy (Mink/Red Phoenix) on guitar, Richard Fortus (Guns N' Roses/Psychedelic Furs) on lead guitar, Marco Mendoza (Thin Lizzy/Whitesnake) on bass, Dizzy Reed (Guns N' Roses/Hookers & Blow) on keys and are pleased to announce the new addition of Brian Tichy (Whitesnake/Foreigner/Billy Idol) on drums.
"I am PSYCHED to hit, and I do mean, HIT!, the road, as well as every drum I can fit on the riser, this Summer with my buds in The Dead Daisies. We clicked the first time and we get to do it again with some of our favorite bands of all time! Bad Company with Simon Kirke! Lynyrd Skynyrd with good bud Michael Cartellone!! Yeah! My goal; groove hard, have fun, and swing for the cheap seats! I look forward to "A Dead Daisies Summer Of Rock, Volume, Ampitheaters, Power And Friends! See y'all there!!! – Brian Tichy
Despite being a band that consists of seasoned rock veterans, The Dead Daisies celebrate technology and are heavily integrated into social media. On Monday, June 23, 2014 The Dead Daisies will launch the "Face I Love" App on their Facebook page and as well as a mobile app. Created to represent the iconic daisy skull logo of the band, Facebook users will be able to upload an image of the face they love to the App to create a photo-mosaic portrait of The Dead Daisies skull – and make it bloom.
"Face I Love is dedicated to all MUSIC FANS around the world especially THE DEAD DAISIES FANS because, without you, we don't get to do what we do," attests Stevens. "It's like having a massive extended family seeing your smiling faces at our shows and for us that makes it all worthwhile."
When the project comes to a close on July 27, the photo-mosaic portrait of The Dead Daisies' floral skull, made up of thousands of images of fans of the band, will be used as the artwork for EP, music video, single and other promotional items. The promotion is a true collaboration between the band and their fans, bringing real meaning to the title of the song, "Face I Love".
Marco Mendoza affirms, "'Face I Love,' was written for our fans and all the faces we see out in the audience when we play. I believe it was one of the first songs that we all collaborated on in the studio for the first time and BAM !!  Magic !!"
This will be the bands second tour of the United States, The Dead Daisies were part of the massive 25-date Rockstar Energy Drink Uproar Festival through the US and Canada a long side Alice In Chains, & Jane's Addiction among others in August and September of 2013.
The Dead Daisies' self-titled debut album was released in the US and Canada through Caroline/Universal in August 2013 to exceptional reviews and was a featured iTunes release. Their first single "Lock 'N' Load", a track co-written by and featuring legendary guitarist Slash received airplay on radio networks across the U.S. including national airplay on SiriusXM satellite radio, both Alice Cooper's and Nikki Sixx's popular syndicated radio programs and was named Rolling Stone's Daily Download. The video for the single has been shown on over 20 outlets including play on Much Music, which beams into more than 30 million homes across North America. The song also stormed the UK radio airwaves and was placed on a number of key playlists including Team Rock, Kerrang Radio, and went to number 1 on Planet Rock Radio. It has also received spins on the UK's largest station BBC Radio 2. Their follow up second single "Washington" was equally successful and went top 20 on the US Rock radio chart (Mediabase).
This year is set to be a busy year ahead for The Dead Daisies with more dates around the world and the global release of a brand new EP and single in July.
The Dead Daisies Tour Dates (w/ Bad Company & Lynyrd Skynyrd)
July 10 – Bangor, ME – Darling's Waterfront Pavilion
July 12 – Mansfield, MA – Xfinity Center
July 13 – Darien, NY – Darien Lake Performing Arts Center
July 15 – Raleigh, NC – Walnut Creek Amphitheater
July 16 – Charlotte, NC – PNC Music Pavilion
July 18 – Camden, NJ – Susquehanna Bank Center
July 19 – Bristow, VA – Jiffy Lube Live
The Dead Daisies
Jon Stevens (Noiseworks/INXS) – vocals
David Lowy (Mink/Red Phoenix) – guitar
Richard Fortus (Guns N' Roses/Psychedelic Furs)  – lead guitar
Marco Mendoza (Thin Lizzy/Whitesnake) – bass
Dizzy Reed (Guns N' Roses/ Hookers & Blow) – keys
Brian Tichy (Whitesnake/Foreigner/Billy Idol) – drums