The fans wanted it.  The 
Baby Animals
 have delivered it.  A deluxe, fully loaded edition of last year's Top 20 ARIA charting album, 
This Is Not The End.
To be released on 
Friday, June 6
, via 
Social Family Records
, 
This Is Not The End
(Deluxe Fully Loaded Edition)
, celebrates the one year anniversary of the original album's release, and includes never before released live versions of the band's biggest hits, such as 
Early Warning,Rush You, Painless, and One Word.   This Is Not The End (Deluxe Fully Loaded Edition)
 offers their legion of fans:
16 live tracks from the 'Feed The Birds' tour
BA365 Rockumentary on the making of the album
A lyrics booklet
The new single, This Is Not The End
Available for pre-order now, the album also comes with a few unique pre-order pack options, PLUS everyone who pre-orders goes into the running to win the jacket Suze wore on the"Feed The Birds" tour and a one-off artwork from Suze herself.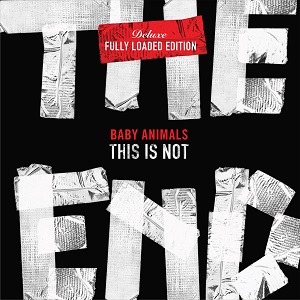 Track Listing
Disc 1
1. Email
2. Bonfires
3. Under Your Skin
4. Stitch
5. Invisible Dreamer
6. Warm Bodies
7. Things That Make You Stay
8. Priceless
9. Hot Air Balloon
10. Got It Bad
11. Winters Day
12. This Is Not The End

Disc 2 (LIVE)
1. Under Your Skin
2. Got It Bad
3. Rush You
4. Bonfires
5. Warm Bodies
6. Invisible Dreamer
7. Painless
8. Don't Tell Me What To Do
9. Stitch
10. One Word
11. Hot Air Balloon
12. Email
13. Early Warning
14. One Too Many
15. Ain't Gonna Get
16. Dirty Bird (Outro Jam)

Pre-Order The Deluxe, Fully Loaded Edition of This is Not the End HERE
Background
The Baby Animals launched back onto the scene last year with their third album (the first in 20 years), This Is Not The End – a genuine rock album with a return to classic Baby Animals form that their fans loved.  This album saw them return to the ARIA charts, debuting at #19, and took them around the country playing sold out shows in metro areas and regional towns.
Produced by ARIA award-winning producer, David Nicholas (INXS, Ash), with Nick DiDia (Pearl Jam, Stone Temple Pilots) lending his considerable skill on the record's lead single, Email, a standout favourite amongst fans.
The LIVE album and new single, This Is Not The End, were produced by the band.
LINKS:
Website: http://www.thebabyanimals.com
Facebook: https://www.facebook.com/babyanimalsmusic
Twitter: https://twitter.com/TheBabyAnimals