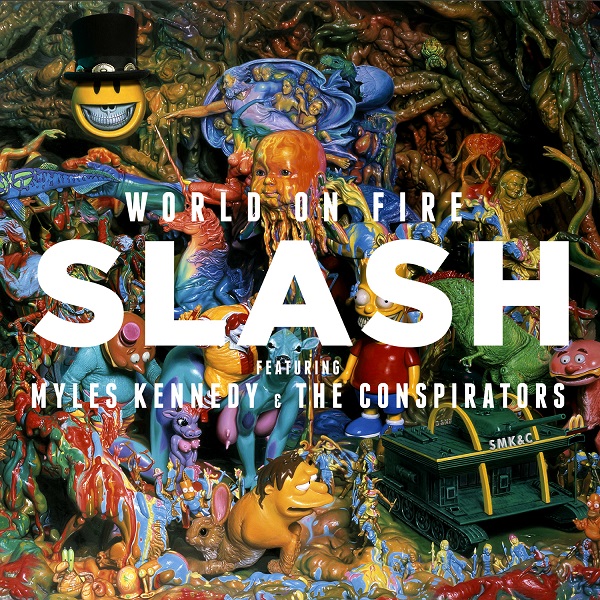 FIRST SINGLE & TITLE TRACK TO ARRIVE AT RADIO FRIDAY JUNE 13TH
COVER ARTWORK DESIGNED BY RON ENGLISH. TRACK LISTING REVEALED!
SLASH and his band mates Myles Kennedy and the Conspirators will release their new album WORLD ON FIRE on September 12thvia SLASH's own label Dik Hayd International and Sony Music Entertainment Australia.
Featuring the blazing title track as the first single which will be serviced to radio worldwide on June 13th, the disc marks SLASH's third solo album and second with his band, featuring MYLES KENNEDY (vocals), BRENT FITZ (drums) and TODD KERNS (bass).
For WORLD ON FIRE, SLASH and his band worked with producer Michael "Elvis" Baskette (Alter Bridge, Falling In Reverse, Incubus). Amongst the 17 tracks on the album is the instrumental"Safari Inn," demonstrating a powerful new turn for the band. The group has also revealed the cover artwork for WORLD ON FIRE which was designed by American contemporary artist, Ron English.
WORLD ON FIRE is the follow-up to 2012's Apocalyptic Love which debuted at #2 on the ARIA charts and is certified Gold, and reached #4 on the Billboard Top 200 chart. SLASH officially began recording as a solo artist with his self-titled 2010 debut album, which debuted #3 in the ARIA Albums Chart achieving Platinum sales, and employed a different vocalist on each track of his first album including Ozzy Osbourne, Fergie and Myles Kennedy amongst others.
WORLD ON FIRE TRACK LISTING:
"World on Fire"
"Shadow Life"
"Automatic Overdrive"
"Wicked Stone"
"30 Years to Life"
"Bent to Fly"
"Stone Blind"
"Too Far Gone"
"Beneath the Savage Sun"
"Withered Delilah"
"Battleground"
"Dirty Girl"
"Iris of the Storm"
"Avalon"
"The Dissident"
"Safari Inn"
"The Unholy"
SLASH and Myles Kennedy and The Conspirators will be touring the US throughout Summer alongside Aerosmith, and have just announced additional solo dates.
Check out the exclusive behind-the-scenes documentary SLASH's "Real To Reel" at www.slashonline.com. The innovative online series documented the entire in-studio recording process from the first day of recording to the last; the multi-segment fly-on-the wall series follows Slash and the Conspirators from pre-production at NRG Studios in Los Angeles to Studio Barbarossa in Florida, as they write, play, create and record WORLD ON FIRE from start to finish.
About SLASH:
SLASH has amassed album sales of over 100 million copies, garnered a GRAMMY Award and seven GRAMMY Award nominations and was inducted into the Rock N Roll Hall of Fame. Time magazine named SLASH #2 on its "The Ten Best Electric Guitar Players of All-Time" list behind Jimi Hendrix. SLASH helped create signature sounds like the guitar riff on the #1 Guns N Roseshits, "Sweet Child o' Mine" and "Welcome to The Jungle." After leaving the band, SLASH went on to achieve critical acclaim with Slash's Snakepit and global success with the supergroupVelvet Revolver.  SLASH's critically well-received self-titled biography climbed the bestseller list in both the U.S. and U.K., hitting #8 on the NY Times Bestsellers List.SLASH debuted at #3 on the ARIA Albums Chart with his first solo album Slash (2010), which featured Ozzy Osbourne, Fergie and more, and went on to achieve Gold sales in Australia.SLASH and his band Myles Kennedy and The Conspirators released the critically acclaimedApocalyptic Love (2012), which debuted at #2 on the ARIA charts, stormed the Billboard Top 200 Albums Chart at #4 as the top rock debut, and produced his first-ever #1 rock radio solo hits, "You're A Lie" and "Standing In The Sun." SLASH released Nothing Left to Fear in 2013, which was the first-ever motion picture he co-produced from his film/TV production company, Slasher Films. SLASH and his band will release their new album WORLD ON FIRE on September 12th, 2014.