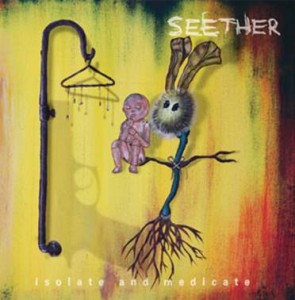 Multi-platinum alternative rock trio SEETHER will release their highly anticipated, sixth studio album 'Isolate And Medicate' on June 27th, 2014 via Caroline Australia. The band has again teamed with ace producer Brendan O'Brien (Springsteen, Pearl Jam) to deliver the most poignant, passionate, and powerful record of their career.  Having racked up seventeen Top 5 multi-format hits including eleven #1 singles, SEETHER; Billboard's 2011 Active Rock Artist of the Year, is gearing up for another long, prolific run on the nation's airwaves.
The first single from 'Isolate And Medicate', the hook laden melodic masterpiece ''Words as Weapons'' will hit the airwaves shortly!
Check out ''Words as Weapon'' 
Since their formation in 1999, 
SEETHER
 (
Shaun Morgan
 – Vocals/Guitar, 
Dale Stewart
 – Bass/Vocals, and 
John Humphrey 
– Drums) has become one of the most successful bands in the world.  The hard-rocking trio, originally from Pretoria, South Africa, has released seven albums, two of which that have gone 
Platinum
 and two more that are certified Gold.  In addition, their live concert DVD has sold over 
500,000
 units bringing
 SEETHER's
 worldwide sales to 
4.5 million.
  The consistent hit makers have enjoyed massive support at rock radio with singles sales topping seven million, a level of success few artists working today can match.  Meanwhile, the relentlessly hardworking outfit averages 120 performances a year, crisscrossing the globe, emerging into headlining mainstays and featured performers on many of the world's biggest rock festivals. 
SEETHER 
has also appeared on multiple late night national television programs including 
Jimmy Kimmel Live, The Tonight Show with Jay Leno, Late Show with David Letterman
and 
Conan.
With over 77 million YouTube/Vevo views and four million Facebook fans, SEETHER's powerful online presence is solid proof of their hard won, fiercely loyal worldwide fan base.
In 2012 SEETHER front man Shaun Morgan launched the Rise Above Festival in 2012, (in honour of his brother) an annual event to benefit mental illness and suicide prevention programs. The festival's name is derived from Morgan's song, "Rise Above This," penned as a deeply personal message to his brother, which unfortunately arrived too late – his brother taking his own life before getting the chance to hear it.  The inaugural event was held over Labour Day weekend 2012 in Gilford, NH and raised nearly $20K for the New Hampshire chapter of NAMI (National Alliance on Mental Illness).  2014 marks the second Rise Above Festival, this year held in Bangor, ME on May 10th and headlined by Avenge Sevenfold. 10,000 fans attended the festival with proceeds benefiting SAVE (Suicide Awareness Voices of Education).
Comments
comments