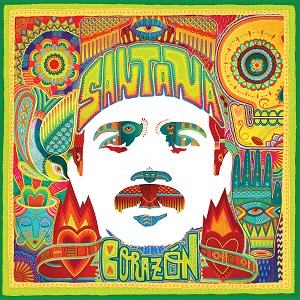 SANTANA COLLABORATES WITH THE BIGGEST NAMES IN LATIN MUSIC ON NEW STUDIO ALBUM 'CORAZÓN' – RELEASED TODAY!
SUPERSTAR PERFORMANCES ON 'CORAZÓN' INCLUDE GLORIA ESTEFAN, ZIGGY MARLEY,MIGUEL, PITBULL AND MORE
Ten time GRAMMY®-Award winning rock icon and Rock and Roll Hall of Famer CARLOS SANTANA releases his first ever Latin Music album today, entitled CORAZÓN.
Superstar performances on CORAZÓN  include ChocQuibtown, Lila Downs, Gloria Estefan, Los Fabulosos Cadillacs,Juanes, Ziggy Marley, Miguel, Niña Pastori, Pitbull, Samuel Rosa of Skank, Cindy Blackman Santana, Romeo Santos, Wayne Shorter, Soledad, and Diego Torres.
CORAZÓN brings Carlos back to his birthplace, in the city of Autlan, just south of Guadalajara and celebrates Carlos' love of his musical heritage, as well as showcases Carlos' own personal influence on Latin music and on today's generation of Latin superstars. Many genres of Latin music are represented in these collaborations including pop, rock, salsa, hip-hop, folk, reggae, traditional and bachata.
CORAZÓN was recorded in Las Vegas with producer Lester Mendez at the helm and is a joint album release between Sony Latin Iberia and RCA Records. The album is executive-produced by Carlos Santana, Clive Davis, Santana's longtime collaborator and Chief Creative Officer, Sony Music Entertainment, Afo Verde, Chairman and CEO for Sony's Latin Region, Spain and Portugal, Michael Vrionis, President, Universal Tone Management, and Tom Corson, President and COO, RCA Records.
Santana performed many of the songs from his forthcoming album CORAZÓN at a once in a lifetime concert event in December, accompanied by many of his album special guests, all celebrating their Latin music heritage in Guadalajara, Mexico at Arena VFG. This one off concert entitled 'CORAZÓN, LIVE FROM MEXICO: LIVE IT TO BELIEVE IT,' will be first broadcast on HBO Latino & HBO Latin America in the US and then released on DVD later this year.
CORAZÓN track listing
1.      Saideira (Spanish Version) feat. Samuel Rosa
2.      La Flaca feat. Juanes
3.      Mal Bicho feat. Los Fabulosos Cadillacs
4.      Oye 2014 feat. Pitbull
5.      Iron Lion Zion feat. Ziggy Marley & ChocQuibTown
6.      Una Noche En Nápoles feat. Lila Downs, Niña Pastori & Soledad
7.      Besos De Lejos feat. Gloria Estefan
8.      Margarita feat. Romeo Santos
9.      Indy feat. Miguel
10.  Feel It Coming Back feat. Diego Torres
11.  Yo Soy La Luz feat. Wayne Shorter & Cindy Blackman Santana
12.  I See Your Face
http://smarturl.it/CorazonAlbum
About SANTANA: For forty years and as many albums later, Santana has sold more than 100 million records and reached more than 100 million fans at concerts worldwide. To date, Santana has won ten GRAMMY ® Awards and three Latin GRAMMY ® Awards.  He won a record-tying nine GRAMMYs for a single project for 1999's SUPERNATURAL(including Album of the Year and Record of the Year for "Smooth"). He has also received the Billboard Century Award (1996), was ushered into the Rock and Roll Hall of Fame (1998), and received the Billboard Latin Music Awards' Lifetime Achievement honor (2009).  Among many other honors, Carlos Santana has also been cited by Rolling Stone as #15 on their list of the "100 Greatest Guitarists of All Time." Celebrating the chart debut of GUITAR HEAVEN (Arista) in 2010, Santana joined the ranks of the Rolling Stones as the only musical act in chart history to score at least one Top 10 album in every decade beginning with the 1960s. On December 8th, 2013 Carlos Santanawas the recipient of the 2013 Kennedy Center Honors Award. He is also currently headlining at a multi-year residency at House of Blues at Mandalay Bay Resort in Las Vegas. In spring of 2014, Santana embarks on an 18 show US tour with Rod Stewart as well as announcing stand alone dates for 'The Corazon Tour.'
http://www.facebook.com/carlossantana